Last night, there was a full moon. Perhaps, that's why I had the worst night of sleep ever. Okay, maybe not ever. I mean, I did have an infant at one point in my life. I sort of think I remember some pretty rough weeks in 2008.
I've only been getting about 5 hours of sleep a night and, yesterday, I think it caught up to me. I was so incredibly tired that I was ready for bed at 7:5o — well, actually before that, but that's after I get T Junior to bed and stuff. So, I stated I would be going to bed. Of course, I didn't actually head up to my room till about 8:30…and then washing my face and brushing my teeth took a few minutes, of course. But I was actually in my bed at 9:01. That's major.
Then I have to read to get sleepy. Also I had a new Runner's World. So I read for a half hour. Okay, 9:30. Still good.
Except I couldn't get comfortable. I was freezing even though I had my heated mattress pad on. My fingers and toes were tingly, and my arms and legs felt weak. I don't know what else it could've  been except pure exhaustion. But I simply couldn't fall asleep, at first.
At 10:30, I woke up when Mr. T brought the dogs upstairs. I'm guessing I'd been asleep for 20-30 minutes. There was drool on my pillow. But then I couldn't go back to sleep. Finally, at 11:15ish, I started to cry. Well, not really. I physically couldn't cry. I wanted to. It just came out as a sort of crackled whine. Mr. T, who loves me even when I'm a drama queen, made me some sleepytime tea.
It felt good to drink it and I read my Runner's World some more to get sleepy…again. The last time I looked at the clock it was 11:30.
At 12:15, I felt something nudge me and just had a feeling someone was watching me. I opened my eyes and in the glow from the nightlight, there was this face right in front of mine: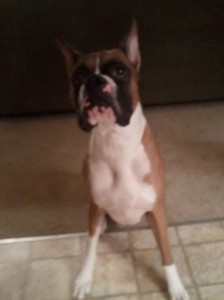 And a pair of paws on my arm. I was so startled because BENNIE SLEEPS IN HIS CRATE. "How did you get out?" I asked him, which woke up Mr. T, who then took The Benj out to potty again and put him away. But Bennie sometimes does this backwards sneezing thing at night, and so when that started, I just began laughing. Not a nice laugh, though. An insane one.
Luckily, he stopped after a few minutes and I did fall back asleep…till my alarm clock went off just after 5. *sigh*
Despite the night from hell, I wanted — no NEEDED — to get my tempo run done today. Run Less Run Faster called for a 1-mile warm up, 3 miles at Short Tempo Pace (8:13), and a 1-mile cool down. Because it was on my lunch hour, I only had so much time. So a half-mile warm up would have to work. And a half-mile cooldown.
The tempo miles were okay. I was pretty tired, so my legs felt a little heavier than normal. Oh, AND I thought my watch was set to show average lap pace, but it was only set to average pace, so…yeah. Miles 2-3 were too fast. Dude.
Mile 1: 8:15
Mile 2: 8:08
Mile 3: 8:06
Tonight, I'm hoping I have enough energy for water aerobics with my friend K, and I think Zoe, too. I heart water aerobics because it combines two of my favorite things: working out and goofing off.
What do you do when you can't sleep? What's worse when you're overtired: A) A tempo run, B) Dogs who keep barking at NOTHING (there is NOTHING out there!) or C) A whining toddler?