If things aren't working, then why keep doing the same thing?
If only I'd kept a food diary back when things were working, then I'd know what it was I was doing different…and wrong.
I read an interesting piece in Eat To Perform about eating enough and eating well for your goals (i.e. to lose fat or to gain muscle or to run a marathon *ahem*). I used their little food calculator (linked at the end of their article) and it made me think…Am I eating ENOUGH?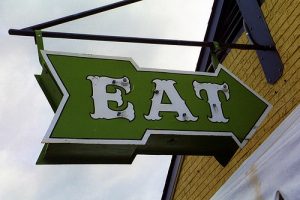 I've just been basing my nutrition on hunger. And I feel like if I'm not hungry, then it is probably okay. Okay, so am I eating right for my goals? Hmmmm.
Last night, I decided to write down my food for the day. So I went back to my MyFitnessPal account (@momvsmarathon if you want to look me up) and wrote everything down that I ate yesterday, and guess what? I am probably eating too much fat.
Yesterday, my nutrition broke down like this: 20% protein, 35% carb and 45% fat. I didn't eat particularly well yesterday, but I would say it was a pretty typical day. I'm not a nutrition stickler, but I try to make healthy choices most of the time.
I went ahead and pre-planned my food for today (Wednesday) in the food diary. And I ate very close to it. Just made small changes if I ended up straying from what I'd planned.
Here's how the breakdown went today: 30% protein, 40% carb and 30% fat. Better. I still need to get some more protein without the fat. Got ideas?
I also ate a ton more today and am still short of what the ETP calculator said I should be eating, which was over 2,000 calories. Even MyFitnessPal has me down for over 2,000 calories.
Surprisingly only ate 1,676 calories. But I don't feel like I can eat any more! I'm so full. Obviously, I've gotten used to less food if I'm this full after 1,676. Not saying that's good or bad. Just a fact.
So, I wonder. Am I eating enough for the amount of exercising I do?
It's a mystery and I think keeping a food diary will help me solve it.
Do you keep a food diary? What do you use?