Dude. I'm 35 years old and I have yet to figure out this food thing. And I'm more confused than ever.
I'm no slacker. I work out. Yes, I have a desk job, but I usually run on my lunch hour on those days. But I can't lose weight. And why is my stomach being a biatch?
Being on vacation for two weeks and eating nearly every meal out was very, very difficult, and certainly did not help my body in any way. We did okay the first week. Even though we stayed in a hotel, we had a fridge, a microwave and a rental car. We went to the store and bought Greek yogurt, raw almonds, cheese sticks, oranges, bananas and apples (BTW, Florida apples that say they're from Washington: lies).
The hotel also had a continental breakfast, so I was able to make a waffle for Karsen, and steal take a bunch of couple of oranges (the bananas were always gone by the time I got to the breakfast room, but there were plenty of apples, of course).
Anyway, we had some very filling and healthy breakfasts on our first week of vacation in northern Florida. This was good because if we ate lunch, it was out, and every dinner but one was eaten out…and it usually consisted of something fried.
The second week of vacation was in Orlando and was more difficult because every.single.meal was eaten out. We had a fridge, but no microwave. And we did not have a car anymore. And we were staying across the street from Downtown Disney. Every day, except one, we took a shuttle to one of the Disney parks and stayed there till 8 p.m. or so. So you know how that goes. By the end of our vacation, we were restauranted out big time.
That was just a super long and detailed way of telling you I gained a little weight on vacation–not much–but I was closer to 160 than I wanted to be, and I knew if I didn't closely monitor my eating, I would stay there. So that's one reason I'm counting calories again. Plus, sometimes I don't eat enough–and I know that messes with your metabolism if you continue to do that. So there's another reason, too. And then the whole stomach thing.
I've actually been doing pretty good. I've even been tracking all of the jelly beans I've been sneaking from the Easter Bunny's stash. Having to write down each sugary bean I eat, keeps me from consuming the entire bag. Here's a look at my MyFitnessPal food diary from Wednesday: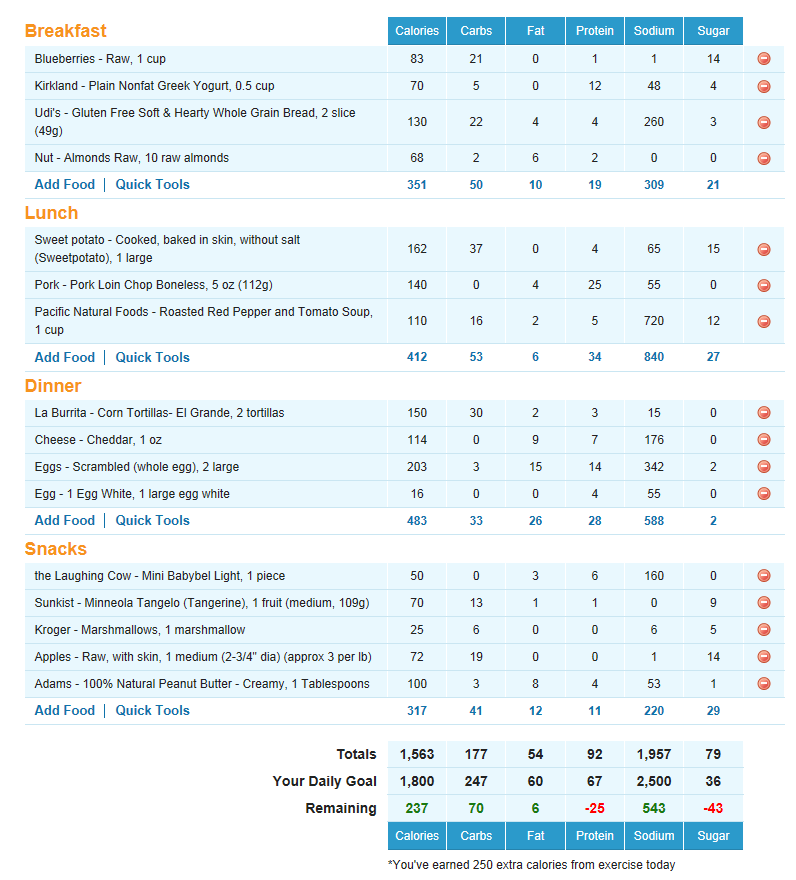 I did pretty good on Wednesday. No jelly beans! (Please ignore the marshmallow I ate. I am simply trying to finish off the open bag in the pantry. That is all.) There are a few calories left over, as you can see. I usually leave at least 100 calories if I can since sometimes I forget to log one or two little things. Like I forgot to put the teaspoon of butter I had on my toast on here, for example.
We are still trying to eat mostly whole foods in our house, but we aren't militant about it. My husband made carrot cake last weekend and I didn't kick him out or anything. And there's that bag of marshmallows…anyway. I will weigh myself tomorrow and see if being extra diligent has helped.
Where I start to get confused about my diet is when I eat mainly whole foods, but then still feel like crap. And by crap, I mean bloating and tummy troubles. I've been trying to eat gluten free because maybe that's the problem. But then I read corn can be a problem, too, and I did get all bloated Wednesday night after dinner's corn tortillas. I've cut out Pirate's Booty (much to my son's delight–he claims I eat them all–whatever) because they're corn (and processed, so I shouldn't be buying them anyway, but we gotta have some treats around here!) and noticed bloating after eating a serving of it. And we don't eat a ton of soy.
A friend gave me a book about food sensitivies, and the author wants you to eliminate 7 foods for 21 days so you can slowly add them back and see which ones are causing problems. The 7 foods are soy, corn, dairy, eggs, gluten, peanuts (!!!!), and sugar/artificial sweeteners. So basically, you can eat rice, meat, some nuts and greens. I can't do this to my family. Also, it's more than a 21-day commitment because you have to add each one back in for a certain amount of time. I mean, it'll be Christmas before I figure out why my tummy gets bubbly almost every night.
Am I just old? Is that the problem?
For now, I'm going to track what I'm eating and see if I can figure out why I have such a hard time losing weight and why my tummy takes a turn for the worst in the evenings.