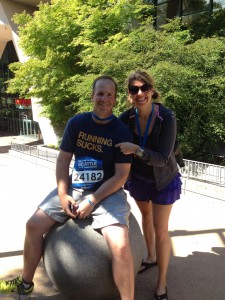 Remember when you got your first smartphone? You turned it on and there was all that new, surprising, stuff that you didn't even expect? Apps! I can Facebook from my phone, what? It was fun discovering all it could do.
That stuff's old news now, which is why people don't like the new iPhone. Nothing new to see…except some colors you're going to cover up with an OtterBox anyway.
Remember your last run? In your same ol' 'hood? That same poodle growled at you. Same number of cracks in the asphalt. (Or worse, on the treadmill.) You ran your same pace you always run. You did speed work…the same speed work you did last week.
Ugh. Gag me with a chocolate GU!
Some people thrive on the "same old" routine. But these are the people who still use flip-phones and have been working at Corporate Co. for 235 years. Not that old-school communication devices and long-term company loyalty are bad things, they're just not for everyone.
Now, think back to your first ever run. You went farther than you thought you would. You saw your neighborhood in a new way–not in a car. You climbed hills you didn't think you could climb (in fact, you didn't even realize there was a hill there before). A bug flew into your eye. Someone honked at you. This was some exciting new shit you didn't expect!
Your last run. Same old shit.
Your first run. Exciting shit.
Getting my point?
You're bored of the same old shit. Unless you're training for the Olympics or something, there's no reason to keep doing the same old running routine over and over again.
Do something new. And keep doing new stuff.
Probably not this (but if you do, definitely record it on your iPhone and post it to YouTube, k?):