Kasey was the winner. Thanks to all who entered!
**
What is Zipfizz?
Here's what Zipfizz has to say about their product:
Ten Calories, Zero Sugar, 4-6 Hours of Energy: The Healthy Alternative to Energy & Sports Drinks
Zipfizz is the only healthy energy drink-mix powder in a tube. Delivering an advanced formula that provides a significant amount of vitamins, fewer calories, lower carbohydrates and superior taste! Simply put, it's different because it's good for you! Zipfizz is designed with a unique blend of vitamins and minerals, but it's our signature Vitamin B12 that gets you movin'! Dedicated to providing consumers with a healthier alternative to energy and sports drinks we deliver an amazing amount of B12 41,667%. Straight to the point…Vitamin B12 equals ENERGY! Zipfizz provides you with an adequate amount without sacrificing your health with high levels of sugar which most energy drinks contain.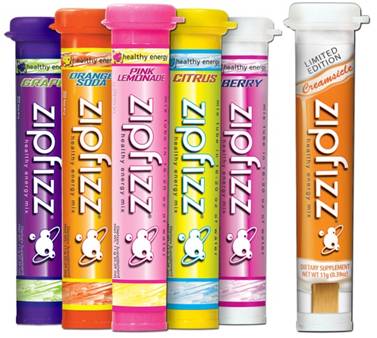 Zipfizz Review
Zipfizz vs. Nuun
Zipfizz, makers of the "healthy energy drink," sent me their five flavors to review a little while ago. I was curious to try them and see how they compared to one of my favorite electrolyte drinks, Nuun. But, as it turns out, these two drink mixes are entirely different animals: Nuun is an electrolyte and carbohydrate drink meant for rehydrating and pre-hydrating. Zipfizz is an energy drink that also delivers a dose of vitamins. Zipfizz isn't something I would take while on a long run, for example, while Nuun is.
Zipfizz Instead of Coffee
I used Zipfizz as a replacement for my morning coffee (with bad-for-you creamer), and that was great! I could see eliminating coffee altogether with this product. It gave me the little caffeine buzz I like in the morning with some healthy vitamins, and it tasted refreshing. Perfect for a summer morning drive into work.
I am not a fan of Rock Star or 5-Hour Energy or any of those trendy energy drinks. Frankly, they scare me. But I feel Zipfizz is geared more toward good health.
Zipfizz Flavors
Zipfizz powder comes in a handy little tube. You pour it into 16-20 ounces of water and then shake it up. Zipfizz is lightly fizzy, not nearly as much as a can of soda. I don't care for carbonated drinks and this was okay. My favorite flavors were the citrus ones: Orange Soda, Citrus and Pink Lemonade. Grape tasted a little too close to a grape Flintstone vitamin – but some people love that flavor, so…
Click the link to check out Zipfizz's five flavors: Berry, Citrus, Grape, Orange Soda, Pink Lemonade, and for a limited time on the Zipfizz website, Creamsicle! You can also see the complete list of ingredients for each Zipfizz flavor on their website.
Zipfizz Ingredients
Here's what's  in my favorite flavor – Orange Soda:
Ingredients: Citric acid, glucose polymers, potassium carbonate, calcium ascorbate, magnesium glycinate, natural flavors, potassium bicarbonate, sodium bicarbonate, silica, beta-carotene color, caffeine (guarana seed extract), L-arginine, potassium citrate, taurine, sucralose, beet color, d-alpha-tocopheryl acetate, niacin, zinc amino acid chelate, grape seed extract, manganese gluconate, green tea leaf extract, pyridoxal-5-phosphate, chromium dinicotinate glycinate, alpha-lipoic acid, D-calcium pantothenate, cyanocobalamin, KonaRed™ coffee fruit, American ginseng root extract, ginger root, selenium-L-methionine complex, xylitol, riboflavin-5-phosphate, thiamin hydrochloride, folic acid and methylcobalamin.
Supplement Facts:
Serving Size: 1 Tube (11 g)
Amount Per Serving – % Daily Value*
Calories 10, Total Carbohydrates 2 g – <1%,
Sugars 0 g – **, Vitamin C 500 mg – 833%,
Vitamin E 10 IU – 33%, Thiamin 0.38 mg – 25%,
Riboflavin 0.43 mg – 25%, Niacin 10 mg – 50%,
Vitamin B6 2.5 mg – 125%, Folate 13 mcg – 3%,
Vitamin B12 2500 mcg – 41667%, Pantothenic
Acid 2.5 mg – 25%, Calcium 60 mg – 6%,
Magnesium 100 mg – 25%, Zinc 2 mg – 13%,
Selenium 5 mcg – 7%, Manganese 1 mg – 50%,
Chromium 100 mcg – 83%, Sodium 60 mg – 3%,
Potassium 940 mg – 27%, Proprietary Blend
(L-Arginine, Taurine, Caffeine (from guarana
seed extract), Grape seed extract (95%
proanthocyanidins), Green tea leaf extract,
Alpha-lipoic acid, KonaRed™ coffee fruit,
Ginger root, American ginseng root extract)
317 mg – **
*Percent Daily Values are based on a 2,000 calorie diet. **Percent Daily Value not established.
Try it for yourself! Giveaway below…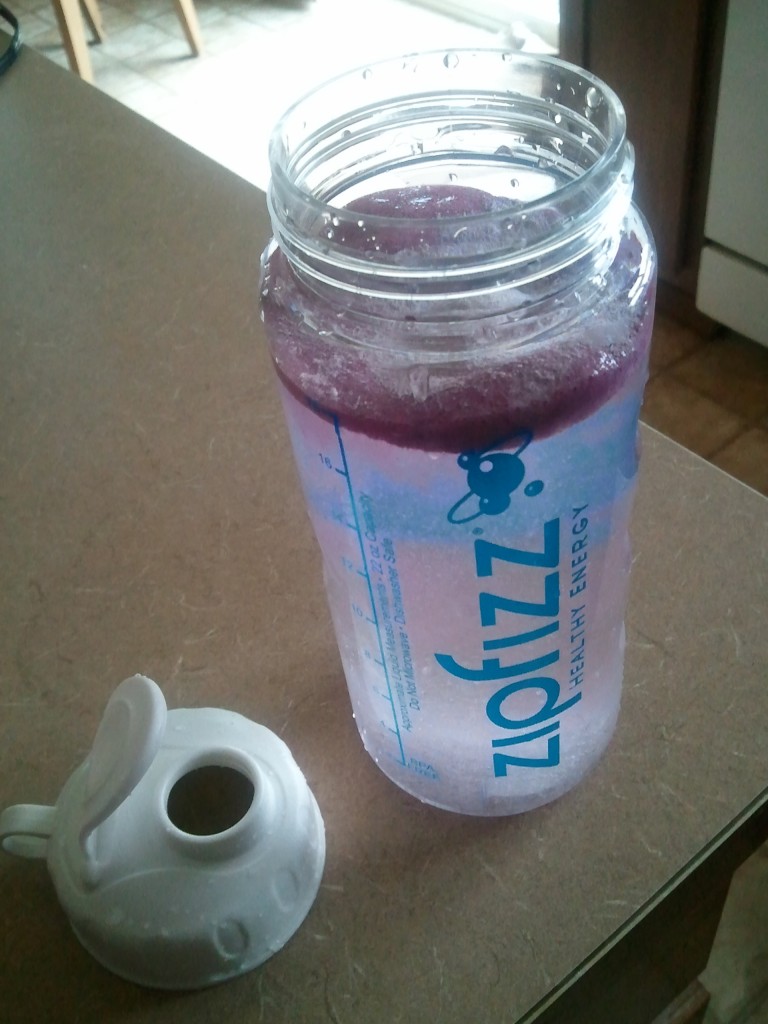 Win some Zipfizz!
One Mom vs. Marathon reader will win a Zipfizz water bottle with the five flavors of Zipfizz. Follow the instructions below. Make sure you leave a separate comment for each entry – you can enter up to four times! Here's what you need to do:
Contest ends Friday, August 9 at 11:59 p.m. PST.