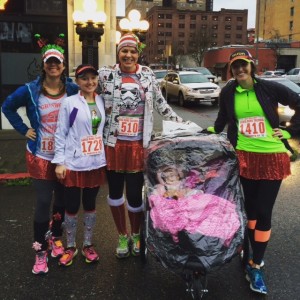 It was weird not to feel nervous about a race.
Normally, I put a stupid amount of pressure on myself to run fast in races—especially at Santa Runs Tacoma's Frosty 5K because (usually) you get a cool mug if you finish in the top 100 runners.
I knew that wasn't going to happen this year. I haven't run much more than a mile here or there since the marathon in September. And I've put on 5+ (okay fine, it's closer to 10 pounds) by eating cookies and drinking eggnog every day since Thanksgiving.
Yes, I've been working out, but I have not been eating well, and so I'm putting on muscle…and fat. Good times.
Luckily for me, most of my friends have been on a running break, too, so we all planned to run together. Zoë even brought her kiddos (Goober, 5, and Giblet, 1) to ride in the double-jogger!
We didn't have a specific theme this year for the race. Two years ago, we all dressed as snowmen.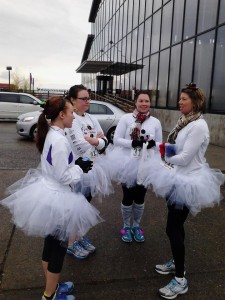 We have been running this race since 2010…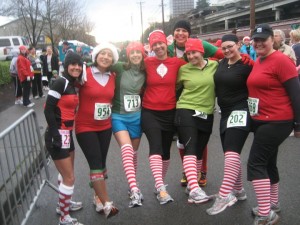 …which was my son's first race…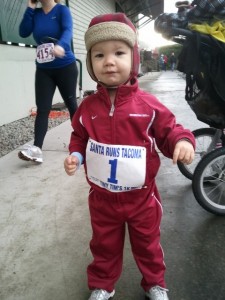 …in 2011, we matched and Kim was here…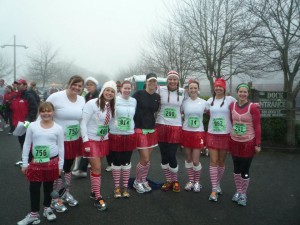 …then I missed 2012…and Zoe missed last year…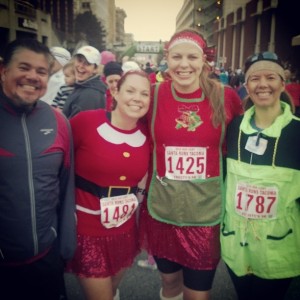 …and, sadly, Tiffany missed this year. It happens.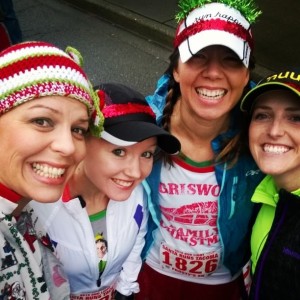 This year, we just Christmassed out. Nobody could've topped the ladies that dressed as nutcrackers. They had awesome costumes. It was raining a little, so I didn't get to wear my Christmas tree glasses.
I ran with Zoë, Mel and Alyssa (and Goober and Giblet), and it was so much awesome. We took it pretty easy and chatted and joked for 30 minutes and 45 seconds, letting Zoë and her stroller set the pace.
The Frosty 5K is flat, except for one small overpass hill, which we had to walk about half of because of the heavy stroller, even though Goob let us know that we better get running again. Little coach in training!
I wasn't pushing anything, but I definitely felt the extra weight I am carrying. Despite that, the pace was perfect and we even passed a lot of people, including some other strollers at the end of the race, and we finished four-wide across the finish line. (Hopefully there will be a cute picture.)
Afterward, we went to breakfast, of course, where I had about ¼ of my mimosa before getting buzzed, listened to Goober tell me hilarious nonsensical jokes, and then losing my Debit card (which I found in my wallet after Zoe paid for me—I swear I didn't plan that!).
Pretty great morning. Running with friends it the absolute best—even better than PRs and mugs*.
*Our fasty friend told us no mugs this year. Hopefully, they'll be back next year.