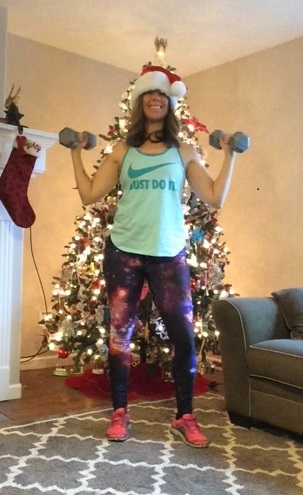 I'd rather shoot my eye out than run for 30 minutes on the treadmill again. So I thought it would be fun to create some circuit workouts based on my favorite Christmas movies: Christmas Vacation, Elf, A Christmas Story, and Home Alone.
Tonight, I did each of these workouts two times through to test them, and they were a lot of fun. That being said, I think you all know that I'm not a certified personal trainer. I'm not certified in anything, actually. So, like, exercise good judgment when doing these workouts (see what I did there?).
Also, rest when you need to during these. Rest to let your heart rate come down, and then go again. I like the rest-based training approach from Metabolic Effect. Read more about rest-based training here.
I took some pictures, but I couldn't record myself doing the workouts because the dogs wouldn't leave me alone. Chloe, our puppy, was especially intrigued by the bird dog move. I did include links for each exercise in case you don't know how to do them.
Equipment:
Dumbbells
Battle ropes (optional)
PS: I'm curious how many people will get what part of the movie the exercises are referencing. Also, let me know how you like the workouts.
Alright, ready? Let's burn some dust here. Eat my rubber. Here are the four holiday circuit workouts based on my favorite Christmas movies:
The Home Alone Circuit
Don't sleep in. Get up early and work out!
Start with a 10-minute warm-up jog through neighborhood Christmas lights.
Do 3-5 timed rounds:
12 each direction overhead circles with dumbbell (or a crowbar)
12 each way down and back spider crawls
30-second double arm waves with battle ropes (or do 12 overhead presses with dumbbells if you don't have any ropes)
30-second sprint (through an airport is optional)
Post-workout snack: Plain cheese pizza and a Coke.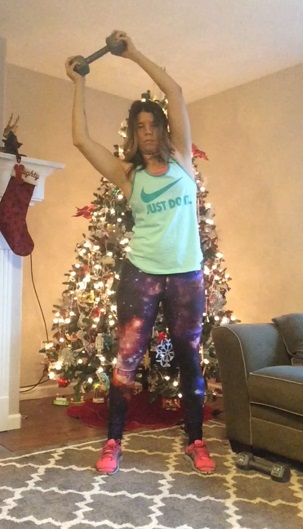 The Christmas Story Circuit
This workout might have you saying the f-dash-dash-dash word a few times.
Start with a 10-minute warm-up jog to the nearest school and back.
5 rounds:
12 each side bird dogs (elbow to knee variety; yell "Bumpuses!" if you want)
12 bunny hops (pink suit optional)
12 dumbbell side lateral raises (you can't put your arms down!)
30 seconds of air punches (cussing optional)
Post-workout snack: Ovaltine and Chinese take-out.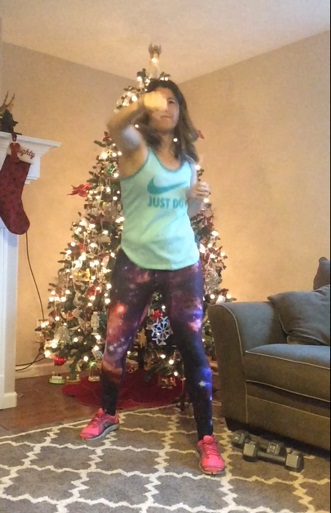 The Christmas Vacation
This workout is the gift that keeps on giving the whole year round. Comes with crunch enhancer.
Start with a 10-minute warm-up jog in the mall.
3-5 rounds:
12 flying squirrels (Where's Eddie? He usually eats these things.)
12 each side mule kicks (Poor Ruby Sue.)
24 crunches
5 weighted stairway sprints (SQUIRRELLLLLL!)
Post-workout snack: Eggnog and turkey. Save the neck for me.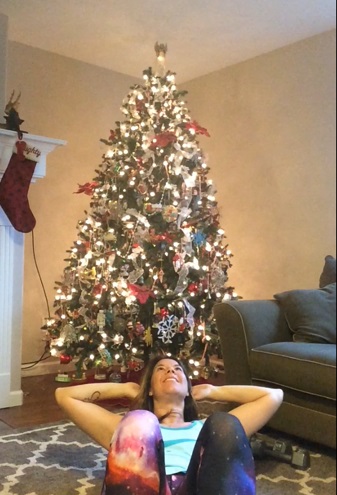 The Elf Circuit
Look good in a pair of (yellow) tights with this workout.
10-minute warm-up jog through the candy cane forest.
3-5 rounds:
8-12 burpees (Did you hear that? Burpees!)
8-12 jack-in-the-box tuck jumps
12 each side Russian twist with a dumbbell (Or you could just do that Russian table dance from the movie if you wanna show off.)
24 double-leg forward and backward line hops
Post-workout snack: Spaghetti noodles with maple syrup and the World's Best Cup of Coffee.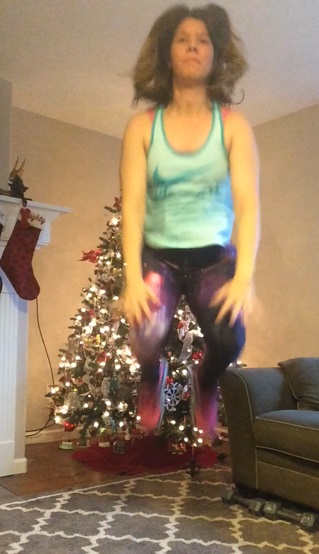 And you might want to stretch afterward.
You can also try doing 2 rounds of each circuit all the way through. Hope you have as much fun with these as I did!