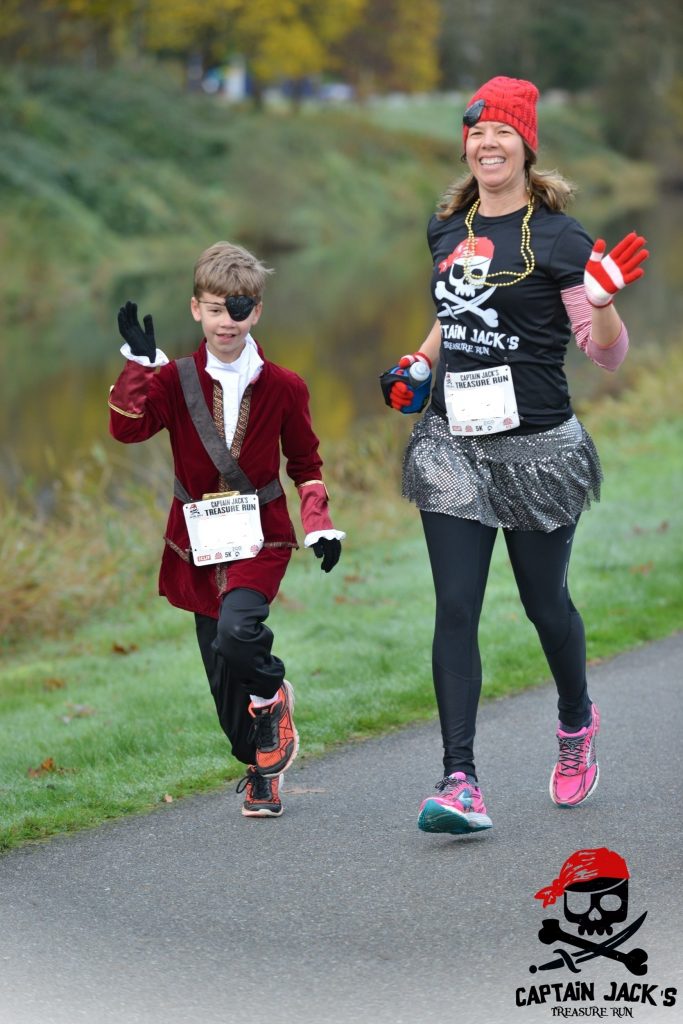 Blimey! It's 2017 and I still haven't written a recap for the Halloween race I did last year. I also never cleaned my garage, but…
My son asked me over the summer if we could run a 5K together. He's run kid races (like 1Ks and stuff), but never a 5K. I was not worried about him not having formal training since he is constantly moving, running and jumping around. The Captain Jack's Treasure Run seemed to be the perfect race to do with my active 8-year-old.
A 5K option? Check. A pirate theme? Check. Dressing up encouraged? Check. Medals for every participant? Check. Free photos? Check. Beer garden? Check. (Okay, we passed on the last one. What do you think this is, Europe?)
Another reason I chose this race is for the later start time—a lovely 10 a.m. I know some of you parents drew the short straw and have kids that wake before the sun, but my kid sleeps in to a reasonable time. Getting him up early is actually chore. So, we rose at a normal time, put on our pirate costumes (my son wore his old Disney Captain Hook Halloween costume here) and headed out for the race, which is about 45 minutes from our house.
Parking was free and not too far from the venue—Red Hook Brewery—so we found a spot and walked to pick up our race bibs. It was a little chilly in the upper 40s/low 50s, so I wished I'd thought to bring warm jackets for before the race. Mom fail. But, hey, it's all part of the experience, right? I'm usually standing around freezing before races, so my son was getting to see what the real deal is.
After we got our bibs, we jogged back to the car and warmed up. Along with the bibs, we got awesome race shirts, which I ended up wearing (wish they had a kids size, though, for my son) tattoos, stickers and eye patches.
Back at the pre-race festivities, pirates wandered around handing out treasure (free toys for kids), and a lively crew put on a fun and funny warm up that my son enjoyed and made me participate in.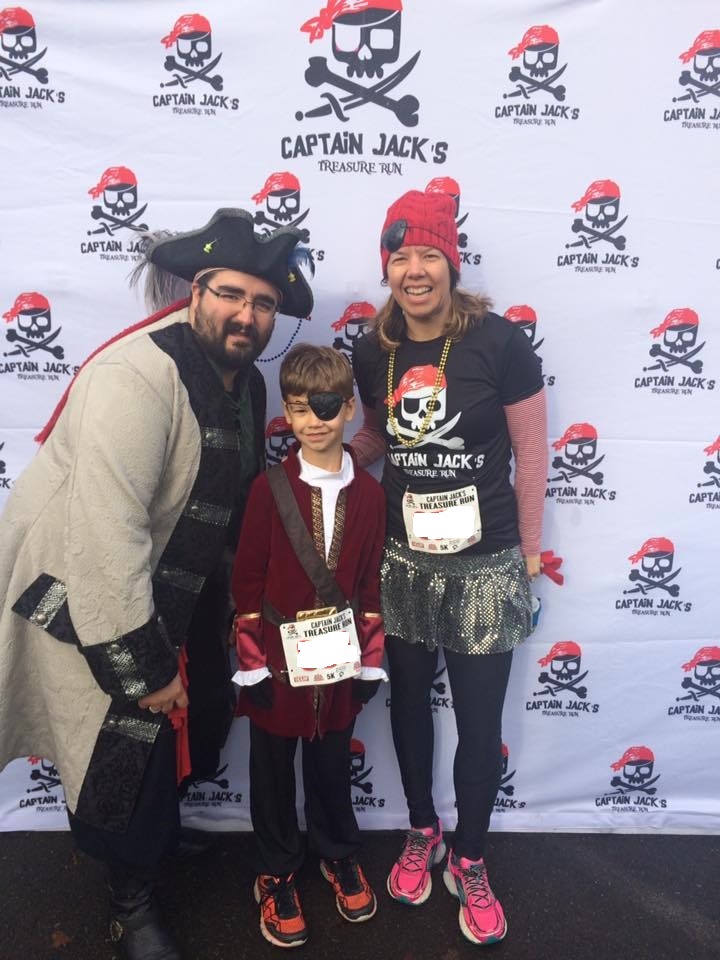 The start area was a little narrow, I thought, but they started us in waves based on how fast we thought we'd run and so it didn't up being that bad. Also, the race was small enough that it wasn't that much of a factor. A pirate had an old pistol to shoot for the start, which was fun, but a little scary. It wouldn't work and then, blammo! I thought he was gonna blow the man down for a sec.
But everyone was safe and running. We started in the back of our pack, so we had a slow start. Also, my son's feet were cold and hurt with each step, so it took us a little bit to get warmed up. The course was nice and flat and paved if just a little narrow (simply a normal biking path). This would actually be a total PR course as long as you start in the front. Starting in the back will make it tough to get around people. The scenery was really pretty with the river and the valley's green grass and fall foliage, and everyone was in good spirits (which is totally fitting since it's at a brewery).
My son did the typical kid thing—sprint, then walk, sprint, then walk. And it worked for him. I gave him advice about running races, such as look before you pass someone since a runner might be coming up behind you, and don't just stop running right in front of people, pull off to the side (that is my biggest pet peeve about races). He also ran the entire race with an eye patch on.
Toward the end of the race, he started to run more steadily. His pace was much quicker than I thought he could do for that long. Proud mom. He enjoyed racing a young girl maybe a year or two older than him for about a quarter mile till she gave in and walked. That made me laugh inside because I would've been that girl (No stinky boy is gonna beat me!). With the finish in sight, I asked, "Do you want to hold hands over the finish line or…" I didn't get it all out because he took off in a sprint to beat me.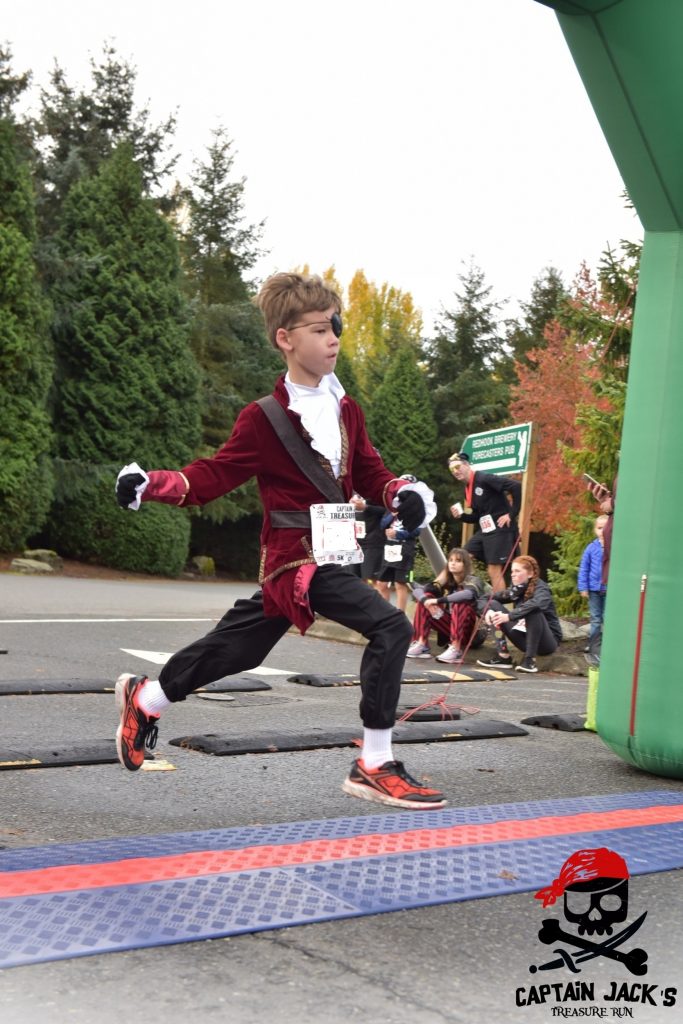 I had to run fast to catch up because I wanted to see my son get his medal. He looked so proud of himself. We then got some water and a banana. Another fun thing this race had was a treasure box. We lined up and then my son chose from three doors to reach into. He got an awesome Brooks trucker hat with a skull and cross bones that I immediately stole.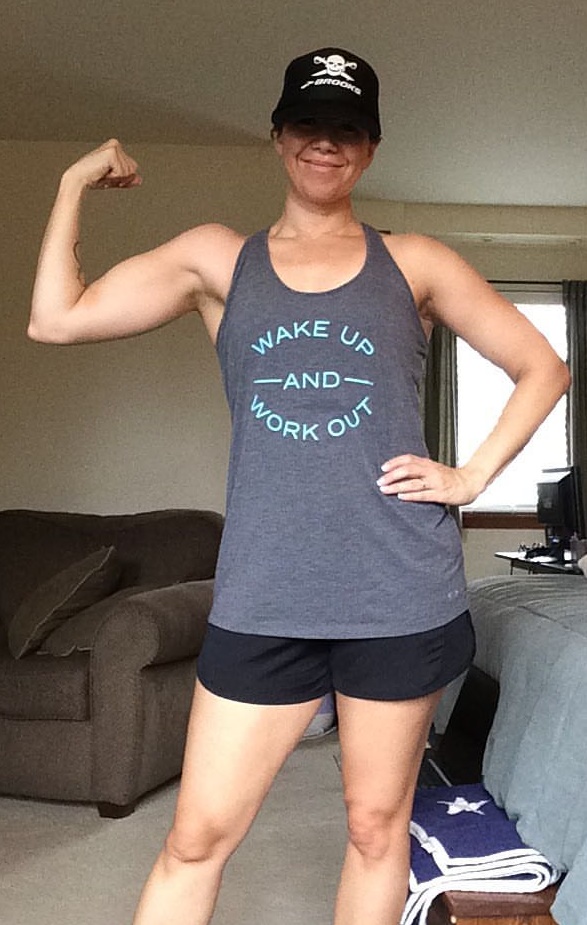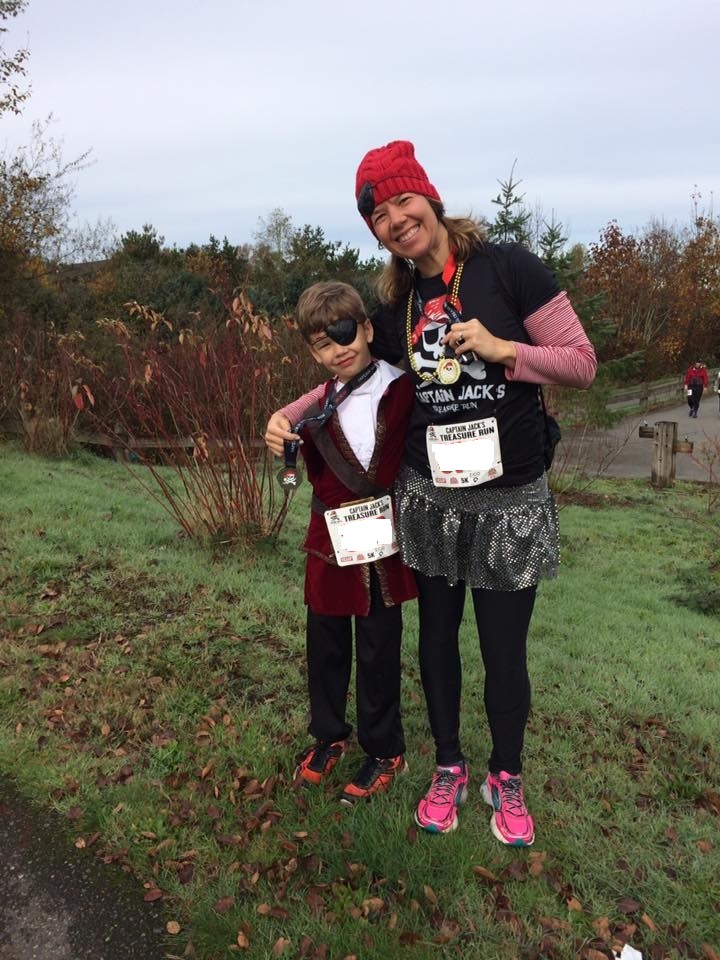 I loved this race and plan to do it again next year with my son and maybe even my husband because he started running last month. If you're interested in signing up for the race on Oct. 29, 2017, don't forget to use my code MOMVSMARATHON to save 10% on your entry. The earlier you sign up, the cheaper it is. Right now it's only $30 for the 5K and $35 for the 8K. So worth it for all the free stuff you get, from swag to photos, and don't forget the free beer ticket thanks to Red Hook!
Avast! Read my disclaimer: As an Orca Running Ambassador, I had free entry into this race. I'm not good at lying (clearly not a real pirate), however, so all my opinions are honest and truthful.