Well, I guess I didn't fool anyone for long with my last post. Give up running? Are you kidding me? And actually I am feeling stronger than ever as far as running is concerned. I'm running more days and my legs aren't feeling too sore. In general, I'm not getting any weird pains *KNOCKING ON WOOD* and I'm feeling happy and hopeful about my more-mileage future.
Thanks for playing along, though. It was fun. Did you have a good Easter? We did two egg hunts on Saturday morning with friends and then dyed eggs later with them. And then the ol' bunny himself hid the eggs for Karsen to find on Sunday morning.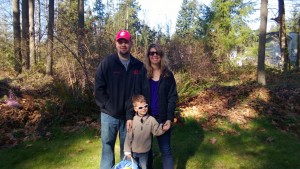 Sunday afternoon, I went for a 5-miler on the trail in almost 70-degree weather. Weird to think that just 9 days before that, it snowed. Anyway, the run was uneventful. I did not take my Garmin, just wore my New Balance watch that tracks time and distance. Of course, I was trying to figure out the math in my head because I couldn't tell if I was going slow enough. (Hint: I wasn't.) Yeah, I found myself speeding up for the middle miles, but I made sure to back off for the final mile or so.
Monday, I ran 2 miles on the treadmill. I can guarantee I'll run slow on there for sure; and then today, I was aiming for 5 miles, but only got 4.5 before I had to be back in the office. I did a lunchtime "progressionish" run with a 1-mile slow warm up, then aimed for 1 mile at 8:50 (actual 8:44), 1 mile at 8:20 (actual 8:17) and a half-mile fast (7:44), and then a 1-mile slow cool down.
I have got to find a way to change my clothes faster. I wore my running socks and bra under my work clothes for the first half of the day and it took me 15 minutes to change. What the hell? I must be the world's slowest clothes changer. How fast can you be ready for a run? Am I super slow or maybe I'm just average?