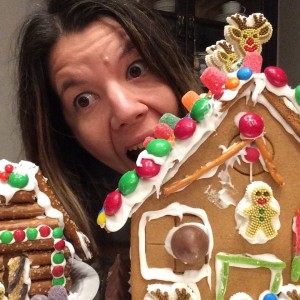 I'm struggling with food. Yeah, again. (It's a cyclical struggle, okay.)
Pretty much every day when I get home, I roam the kitchen much like my hunter-gatherer ancestors did before me, killing every candy, cookie or cracker in my path.
I don't believe any food should be off limits. I believe in moderation (because it's realistic, people, c'mon). Buuuuut, I have like zero self-control around junk food.
I was feeling pretty bad about it because I've been trying/wanting to "eat clean." Then, the universe sent me this article from Precision Nutrition, and it made me feel so much better:
Why Clean Eating is Bad For You: The Damaging Psychology Behind the Latest Health Fad
The universe, which happened to be on point today, then sent me another tip. It came from Alwyn Cosgrove, who is one of the authors of the New Rules of Lifting series of books, and the new book Strong: Nine Workout Programs for Women to Burn Fat, Boost Metabolism, and Build Strength for Life.
I follow Alwyn on Facebook, and he occasionally opens up his page for free coaching. Anyway, I told him about my problem and he suggested I eat a big protein- and fiber-heavy meal/snack an hour before I get home, and then when I get home, immediately put on my workout clothes and go for a walk.
And this totally worked! (Except I did a metabolic circuit instead of a walk.) I had a snack between breakfast and I ate my lunch an hour before I got home, and then when I got home, I didn't feel like grazing at all!
I will do this trick again tomorrow and see if it continues to work. The thing is that I was trying not to have any in-between-meal snacks, but apparently that wasn't working.
How do you combat cravings/grazings this time of year?!