I think we all know by now we sit too much. Even runners aren't exempt from the sitting epidemic. I mean, if Dean Karnazes thinks he needs to stand all day for better health…yikes.
My husband got this cool free phone app Stepz (I'm sure there are many others to choose from with more creative names, but if he gets something, I want it to; that's how it works when you're married). It uses GPS and other technology to count your steps during the day. Some people have Fitbits, but I don't need more gadgets to wear.
I downloaded the app because I know I sit too much since I write for a living and I'm not rich enough to buy one of those fancy stand-up desks.
The number of steps I had by 3:30 p.m. yesterday was appalling. Appalling! Okay, so I ran on my lunch break, but since I didn't bring my phone, those didn't get recorded. No matter, I feel I should be getting more steps regardless of any runs.
When I got home, since I'd already ran, I was tempted to sit around and watch Hook for the 3,000th time with my son or read the Internets even though I really should be doing something constructive, like laundry and stuff.
Then I remembered the steps! I needed so many. Better get to steppin'! I took a pile of laundry upstairs to fold and dumped it on my bed. It was like 50 steps. Well, now what? I usually just stand in one place when I fold laundry.
But then I had an idea! An epiphany, if you will.
Side note rant: Okay that epiphany line is an inside joke that you will not get, therefore, I must explain it. Eleven years ago, I had an editor add "an epiphany, if you will" after my phrase "a light-bulb moment" in a lifestyle story about pumpkin farmers, and I will never forgive her for it. I would never, NEVER write "if you will." Who freaking talks like that? Who am I, Tim Gunn? Totally a cliché. End side note rant.
Back to my brilliant idea, which I'm sure isn't original, but whatever. Are you ready for this?
Put each item of laundry away one at a time.
Is your mind blown? Dude! Steps galore!
Sure, it's not efficient, but I got a buttload of steps done! And then I did more steps while picking up clutter around my house.
And, here's the great news! Our house is super cluttered so I should be able to get a bazillion more steps by picking it all up.
I'm going to be the girl version of Dean Karnazes in no time!
Today's Workout
What I'm going for right now is consistency. Getting up in the morning takes practice. So far, I'm 2/3. Not bad. But I didn't have time for 6 miles. I got outside a little late, so I only had time for 4. But at least I got out!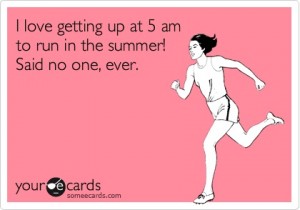 I didn't have quite 7 hours of sleep, but I think it was close. Still had to drag myself up and get dressed, but I'd set everything out again. I even put my headlamp on my hat in advance.
It was dark, and the air was cool and misting, and smelled sweet. And getting out there felt good, even with my headlamp and reflective vest on and my Mace in my hand. Safety first!
I ran around my neighborhood again. It's boring, but it's what I'm going to have to do. I had on the Talk Ultra podcast, which I like—especially for longer runs since it is usually 3-4 hours long! Makes sense.
I got 4 miles in like 41:07 or something like that. I don't want to get up and turn on my Garmin. Also, I didn't do my run strength routine today.
Tomorrow: Weights and walking
Other News
The results for the Grand Ridge Trail Race are in and I came in at 8th place out of 26 in my age group. 46 out of 121 overall. Proud of that. Photos are in. You can see them here. They're not that exciting. They are on the flat part of the course. I think that's kind of lame. There could've been some rad shots up in the downhills.
I weighed myself again this morning. Weighing myself once a day helps me stay focused on eating better. I was down 2.4 pounds. Probably water weight from reducing the amount of carbs I was eating and not pigging out on Cheetos yesterday.
I finished a great book today. Okay, so I love what used to be called "chick lit." I don't know what I'm supposed to call it anymore. One of my favorite Not-Chick-Lit-But-Chick-Lit authors is Sophie Kinsella. Just finished her book, "I've Got Your Number," and I looooooved the ending. I wish it was a movie. As long as I'm talking about SK, I also love, love, loved "Twenties Girl." Must read if you like NCLBCL. I wish both of these were romantic comedy movies.
Read any great non-running NCLBCL books lately?