Okay you guys, I have written this post like three times—one of them was over 1,000 words—and I just realized that I spent most of my words describing what Metabolic Effect is. They have a website. Go check them out.
Their newest program is Metabolic Prime—it's basically new workouts (with videos and Jade coaching!!!) and a slight change in nutrition advice. If you read their book Lose Weight Here, then you'll see the nutrition is very similar to what they describe in there. It is different than in The Metabolic Effect Diet (but still fairly close; and their advice in that book also worked for me). You can check out their books on Amazon with this link.
Their newest nutrition advice is high in healthy fat, lots of vegetables, moderate to high in protein, and pretty low starch (carb). Obviously, if you are a distance runner, you will need to make some adjustments on the days you run longer. Check out Tara's website Prime Life Fit. She's an awesome Metabolic Effect coach and a distance runner.
By the way…Metabolic Effect doesn't pay me to talk about them or anything. I'm just a super fan because every time I follow their advice, my body responds almost immediately. They are natural doctors, trainers, and have the best interest of people in mind. The only reason I stopped following their nutrition advice was to train for long distance running events—ahem, marathon—(I'll talk about this more in a second), during which time my body puffed out again because carbs.
I started Metabolic Prime last week, and just finished up today with my second week. The workouts are 15 minutes with an optional 5 minutes burnout afterward. They are hard, but in a good way. I will be participating in their 12-week challenge starting on Monday (yikes), so I'll be "starting over" with pictures and tracking.
But, last week I posted my before pictures and I promised to update you all. So here are my pictures after week 1: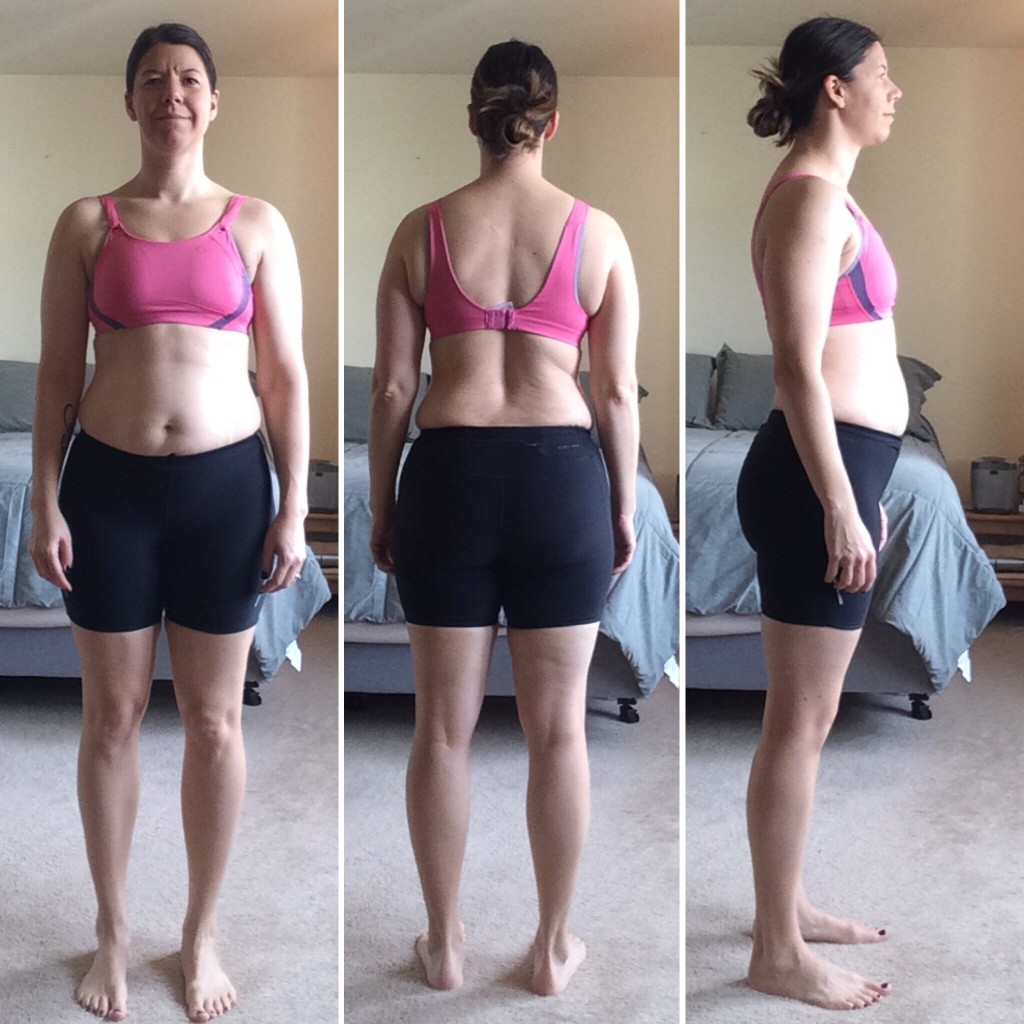 Here's the prior week for comparison: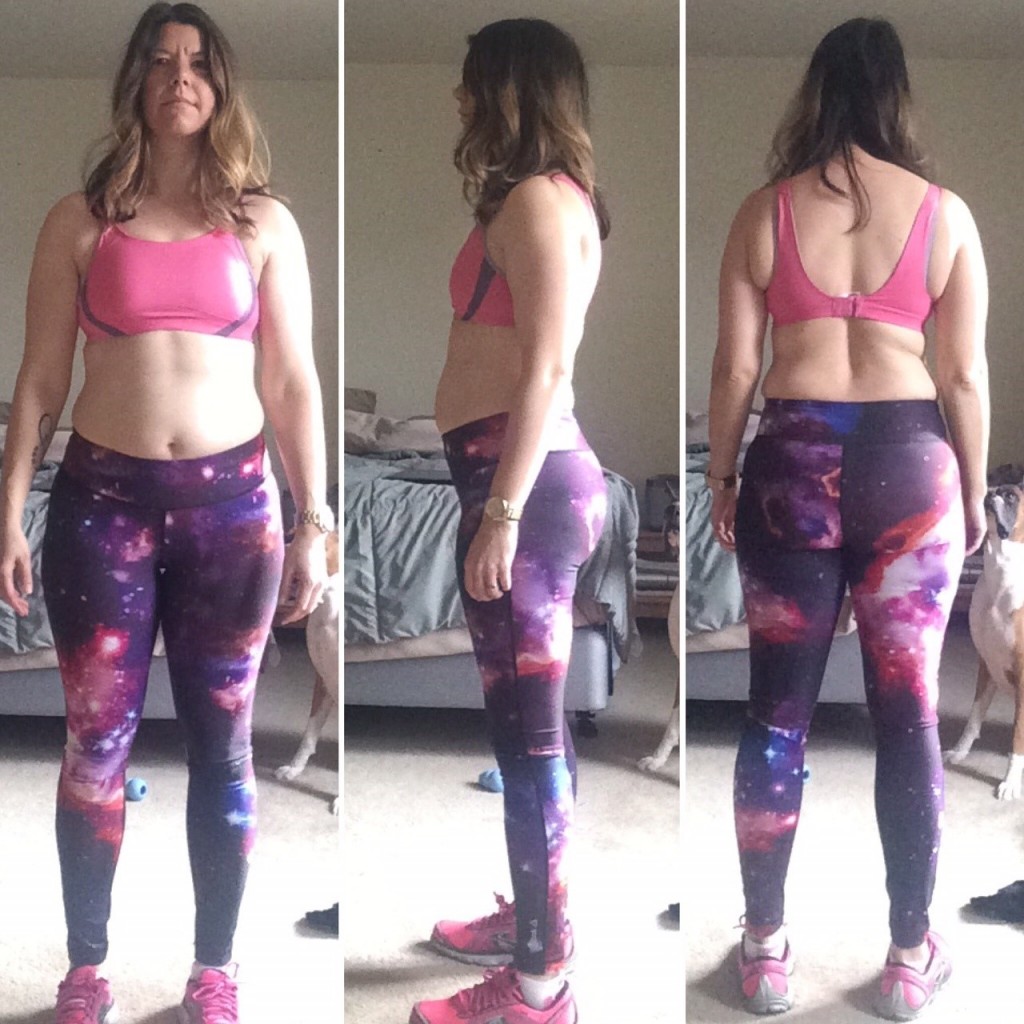 I took the new photos on Monday when I weighed myself. I wore different pants because the space ones aren't embarrassing enough. Actually, they provide too much coverage and the waistband is pretty forgiving. Not so with my black shorts.
Technically, on Monday, it had not been a week, just 5 days, but whatever: I lost 3 pounds in 5 days.
I didn't lose many inches, though, so I think a lot of it was water weight. (When you stop eating starchy carbs, your body stops holding onto so much water.) I weighed myself the next day, too, to try to be closer to a real week, and I'd lost another 1.5 pounds—but I'd also been sick the night before, so who knows.
That's 4.5 pounds in 6 days. I'll take it.
Anyway, the point is that it's working for me and I feel good. I'm enjoying the workouts, and the food, in fact my cravings for sweets and carby stuff is practically gone. I feel lighter and less tired. There were a couple days I felt extremely tired in the beginning, which is normal when you change your diet. I also learned the hard way that it might've been from eating too much coconut oil.
Word to the wise: work up to eating more coconut oil. I'd only really used it for cooking in the past, and I started adding it to my protein shakes to give me a boost in healthy fat and slow digestion. Too much coconut oil too soon can make you feel lethargic…and also make you run to the bathroom.
People ask me about following Metabolic Effect and running. It can be done. In fact, I think it's a great supplement to a training program. You'll need to adjust your diet, though, and probably have a few more carbs than what Metabolic Prime or Lose Weight Here suggest. When I was running and followed the nutrition from The Metabolic Effect Diet, I did fairly well, but I wasn't training for anything in particular, however, at the time.
It just depends on if you are training for a specific time goal or what you are after. I need to be able to run a half marathon and a relay in June, so I do ME workouts M, W, F, and sprint intervals on T, TH (these only total 1-2 miles usually). Tara suggested swapping one of the sprint days with a tempo run. I rest on Saturday, and then do a long run on Sunday, adjusting my carbs and/or snacks as needed. I also try to walk 30 minutes or more a day.
Read my post from 2014 on running and Metabolic Effect here.
Thanks for reading…happy Friday!