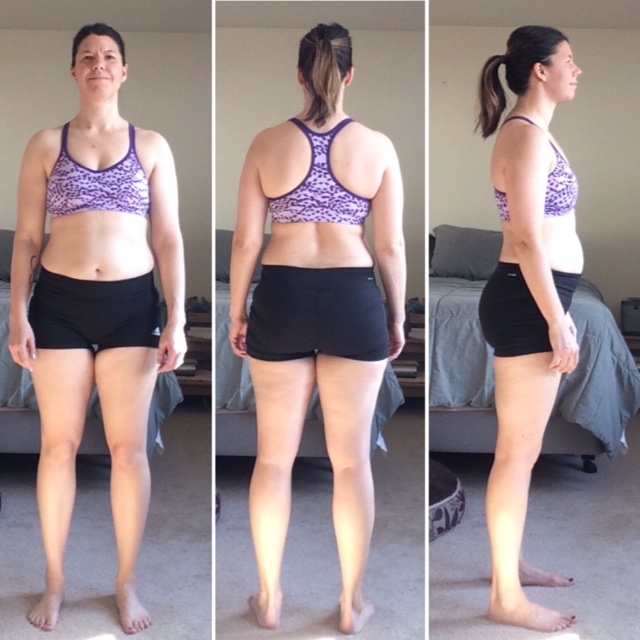 I think things are starting to change. My 3-month pregnant-looking belly might be shrinking.
I am almost done with my first week of the challenge! The challenge, you say?
A little catch-up: I "restarted" Metabolic Prime so I could participate in the 12-Week Metabolic Prime Challenge. It started Monday (March 7). I weighed myself Sunday and took the photos above. I will now weigh myself, and take measurements and photos on Sundays.
Technically, this is the third week of doing Metabolic Prime.
I cheated and weighed myself this morning because I was able to move over one notch on my belt and I have just been feeling lighter–I especially noticed it when I did sprints yesterday. I was curious. Anyway, the scale only went down a half pound since Sunday, HOWEVER…remember that the scale is only one part of the equation. I am expecting to see changes when I take measurements on Sunday.
Since I began MP almost three weeks ago, I am down from 161.4 to 157.4. So four pounds–not too shabby. (The hubs lost two pounds in a week, and he's kinda sorta maybe following my advice from MP, but I DO make the dinners, so…)
I discovered I may have been doing something wrong, though, and I am now in the process of correcting it. I've noticed that my body does better on healthy fat than on starchy carbs, BUT I need to find the right amount of fat. I may be eating too much fat.
I am keeping track of my nutrition in MyFitnessPal (momvsmarathon if you want to connect) in order to keep an eye on my nutrients. I am not sure, but I think my fat intake should be a little lower. So I will experiment with that a little. I should've started with protein and fiber-heavy meals to see how I do before adding in a bunch of fat. This is all just part of Metabolic Effect's way of getting you to learn about your body's preferences. I love it.
On a separate note…I miss blogging here. I need to make time for it again. (But I will also have to teach myself to write less words per post! I'm terrible at that.)
Have a great Friday! See you all next week with a fresh approach to writing here. I'm excited!