Most people run marathons for good reasons. Like to get in shape. Accomplish a life goal. Or to show off.
I'm running mine for the comedy.
Yesterday's post was sort of a "had to be there" post. As in, you had to be there in my head, which is a very eclectic place to be, but not a very cool place, so most people come and go very quickly.
My 36th birthday is coming up and things have gotten too comfortable for my…comfort. When I get comfortable, I drift. Not in an "air mattress on the lake with a beer" kind of way, but more "will work for beer."
And then I wake up and wonder what hell am I doing on the corner with this flimsy cardboard sign?
So I decided I need to decide what I want to be when I grow up. Because I'm a grown up currently.
So, in deciding that decision, I realized that I don't really know what actually interests me. I like a lot of things, but what do I absolutely love to do because I should totally do THAT.
Writing isn't really one of those things. But, wait. The term "writing" is so non-specific. There's copywriting (which is what pays for at least a quarter of our dog show costs) and card-writing. There's letter writing and resume writing and content writing and blog writing and technical writing (kill me now) and novel writing and kid lit writing and script writing and about 66 more types of writing. Probably.
So, yesterday, I realized I like being funny. For about six scary seconds, I thought I might try stand-up. And maybe I will someday, but in crafting my chicken post I realized I really do love to write…comedy.
Chicken sex lives make me laugh. Partly because, in my head, it doesn't stop at the end of that sentence. Nope. I see chickens on awkward first dates. Jealous chickens fighting over a rooster named Vic. And shy chicken virgins who stare at the ground when Vic struts by.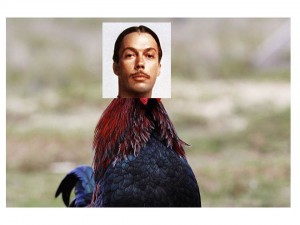 (Sorry. Got carried away there by the all the chicken drama cooped up in my head.)
But my point is that I want to be a comedy writer. Right now, I'm practicing. On you. Muwahahahaha!
But maybe, just maybe, I'll write a romantic comedy. Because I love them. Or a stupid romantic comedy. Because I also love stupid-funny stuff…like The Three Amigos. Maybe I could somehow combine the adventures of Lucky Day, Ned Nederlander and Dusty Bottoms with one of my favorite rom-coms, When Harry Met Sally.
Sure, I'm as clueless on how to craft something like this as I am on how chickens make eggs. But now that I know what I want to do when I'm 36, I can start cracking some books on the topic…of comedy writing, that is, not chickens. Or go to one of those creepy night schools classes on script writing.
I always thought I wasn't weird enough to be a writer or a dog-show person, but…that's what a weird person thinks.
I've spent enough time stealing quotes from movies and passing them off as mine. It's time to quote my own quotes. MY writing. I mean, why NOT me? So now that I've decided what it is I want to do, I can get focused.
Remember when I decided to run a marathon? It took two years, but I kicked the crap outta that. Done. Did it. And then I decided to do it again this year, but I lost my focus. I lost my WHY. Why run another one?
Well, I've found my why! And it's totally stupid and fitting with me and my weirdness. Writing material.
The stupidest crap happens to me when I'm out running. Stupid crap makes for funny stories. People LOVE funny stories!
I can't wait to start training…