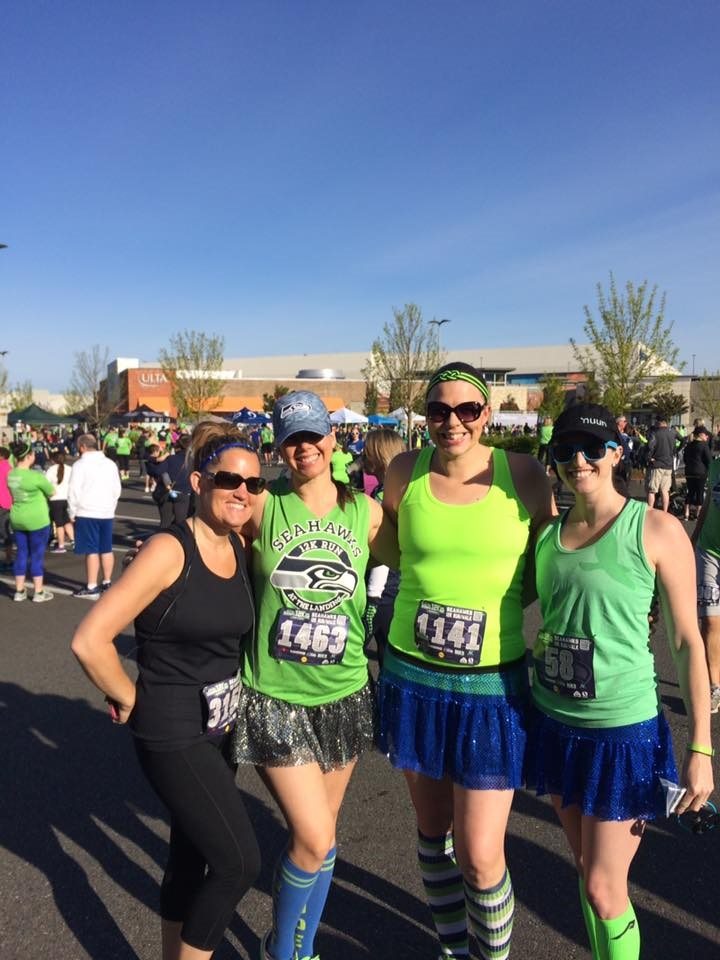 I was all prepared to not do this race this year. I'd accepted that I would most likely suffer from FOMO and embraced sleeping in and drinking all the coffee and maybe even making some pancakes. (Protein pancakes, of course, let's not get crazy.) But then I ran the race anyway.
I suck at not doing races!
My neighbor is awesome and agreed to an 8 a.m. play date for our kiddos so that I could go to the race. (The hubs was out of town.)
For me, this race is all about the outfit. And I couldn't decide on a shirt, so I got a pair of scissors and altered the race shirt, which is not a gender-specific cut. It says short sleeves, but they're practically 3/4-length on women.
I really should have taken pictures of my process. Why do I never think of that? Here's the video I used for guidance:
I ended up just making a tank. NBD. It was easy, but I did practice on a couple of T-shirts that I don't wear anymore to get the hang of it.
The same day I picked up the shirt and race packet, I went to the Seahawks Pro Shop and purchased a few things. They gave me free Seahawks shoe laces and wings. Dude. I had to use them.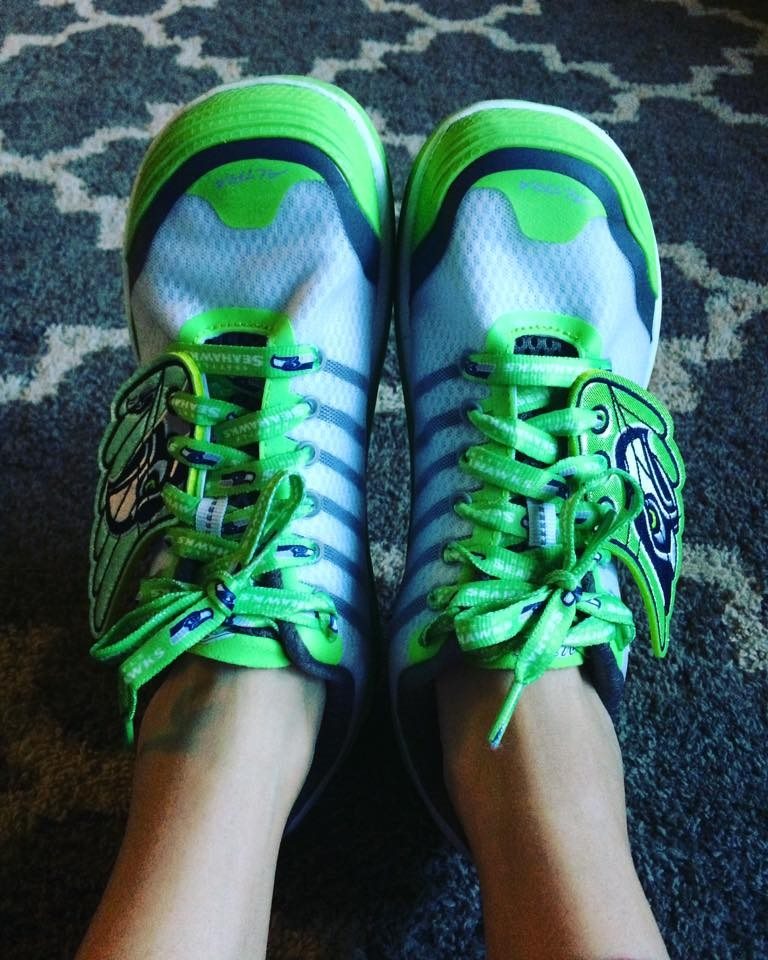 You guys, there's really no racing this race unless you plan to start at the front of the pack with the dudes in singlets and short shorts. I'd rather run in my Sparkle Athletic skirt with my friends and enjoy the atmosphere of the 12s.
In case you aren't familiar with Seahawks football, the fans are called 12s, as in the 12th Man, aka 12th Fan, etc. I can't afford tickets to Seahawks games so this race is the closest I'll probably ever get to the players…and, oh boy, did I take advantage of that this year!
The Seahawks 12K Course
But first, the course:
Like the title of the race indicates, it starts at The Landing in Renton. The actual start/finish is in front of the LA Fitness. Seahawk KJ Wright kicked off the event. Runners turn out of the parking lot and head north onto Logan Avenue N. (toward the Red Robin). Then you turn south onto Park Avenue N., the road that threads Target and Dicks Sporting Goods. Turn left (east) onto N. 8th Street and go around the back of Frys, then go left (north) onto Houser Way N. and now you just keep heading north onto Lake Washington Blvd. N. paralleling I-405 on your right and Lake Washington on your left.
The view of the lake is gorgeous, especially on a clear day like Sunday was. The Olympic Mountain range was in the background and there were bald eagles soaring above the trees.
At about 3.5 miles, you get to a split where you stay to the left on Seahawks Way and then into the parking lot of the Virginia Mason Athletic Center or VMAC (which here we pronounce Vee-Mack).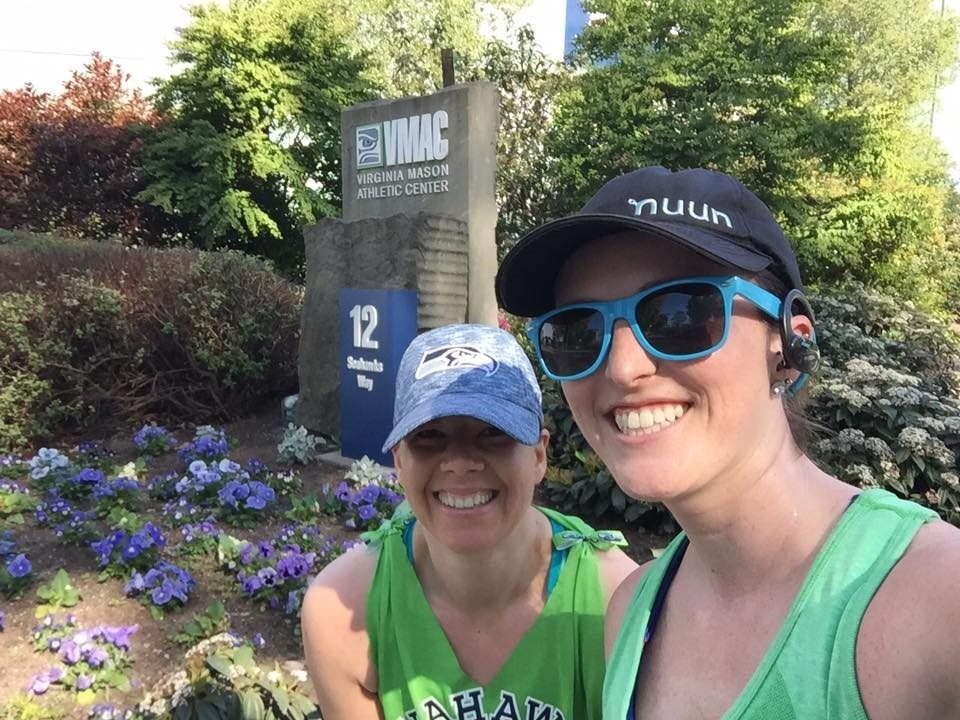 This is the Seahawks practice facility. The water stop is lakeside between the VMAC and the water. One side always features Nuun and the other side is water. Seahawks players and coaches, as well as volunteers pass out hydration.
Loop around the VMAC and next to the practice field, and then up and out of the parking lot to head back to Lake Washington Blvd. N., this time going south. I like an out-and-back course because you get to look for friends and at costumes going both ways. Continue south on Lake Washington Blvd. N. until you get back to The Landing. This time, though, you turn right onto Park Avenue N.—no need to loop around the business like before. Stay on Park Avenue N.—it becomes Logan Avenue N. as you continue south toward the start/finish line. Next thing you know, you're turning left into The Landing parking lot in front of the LA Fitness!
I rocked the course this year. In fact, as I was running, I sort of wished I could race it. It's not a flat course—it has rolling hills. Last year (which you can read here), it felt as if I was running uphill both ways, but this year, I enjoyed the ups and downs. That probably has something to do with the thousands of squat jumps and switch jumps and new jacks I've done over the past couple of months.
Click here to see a map of the 12K and 5K course.
New Things at the Seahawks 12K This Year
They had a couple new things this year:
They did away with shoe timing chips, which caused a huge backup at the finish line last year. This year, throw-away chips were attached to race bibs. This was a huge improvement. Good job, guys!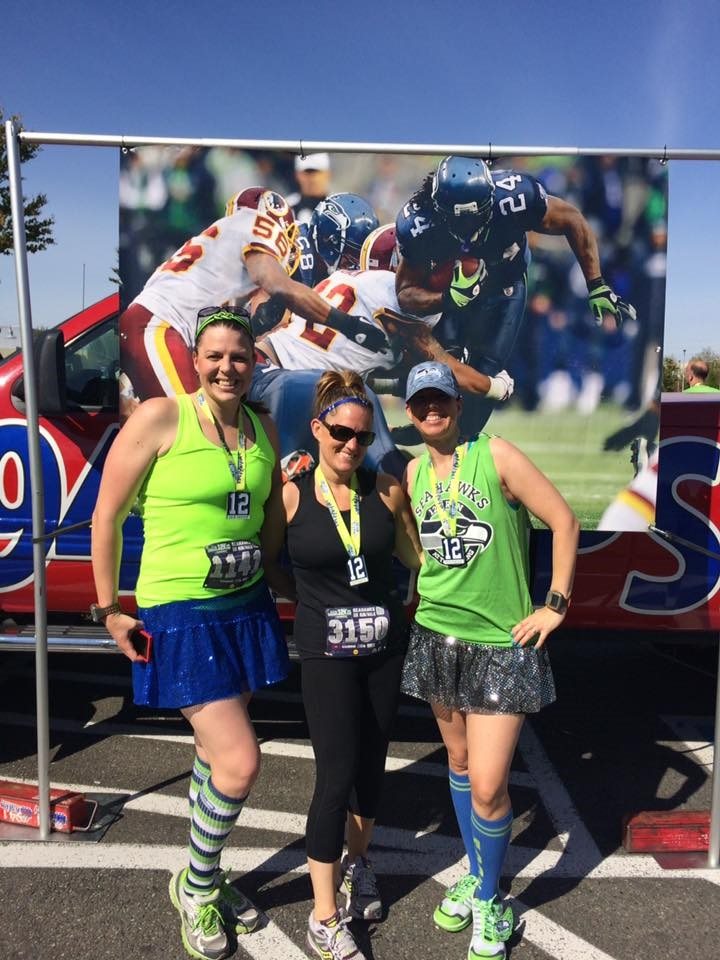 They integrated timing chips with finish line video, which is super cool. Click here to see Zoë and me finish—she's in the blue sparkle skirt and I'm right behind her in the silver one.
I also did something new this year. I decided I was going to hug the Seahawks players. I've never even high-fived them in the 3 other years I've run this race, so it was kind of a big deal.
I never recognize who the guys are without their jerseys and helmets on, as they are usually not the most famous guys from the team. I don't really care about that. These guys have worked hard to play at the highest level, and the athlete in me respects that. Also they are huge dudes with big muscles. The two I knew of are Drew Nowak and Tharold Simon. (At least, I think these were two of the guys.)
"Should we hug them?" I asked Zoë when we got to the Nuun stop at the VMAC, and because Zoë has a bit of a crazy streak in her, of course she thought we both should.
We apologize for the disruption we caused at the water stop. But, dang, it was worth it.
Professional football players are not squishy. These guys are solid muscle, which quite frankly, would not make them very good cuddle partners.
My 7-year-old son describes the best hug as a light squeeze. Want to know what it's like to hug a professional football player? Find a tree with a trunk a little wider than you, place your arms around it and give it a light squeeze.
What I Learned
You guys, running less works for me. I guess I didn't so much learn this as be reminded. I know this, but I get caught up in reading about mileage, mileage, mileage. I can't do that. I get injured and fat. Running less might not be for everyone, but for me, it works for…better running. I know that seems weird.
What have I been doing? Focusing on HIIT/strength 3 times per week doing Metabolic Prime workouts, then sprinting/tempo/fast intervals 2 times per week, and one rest day and one long run at an easy pace.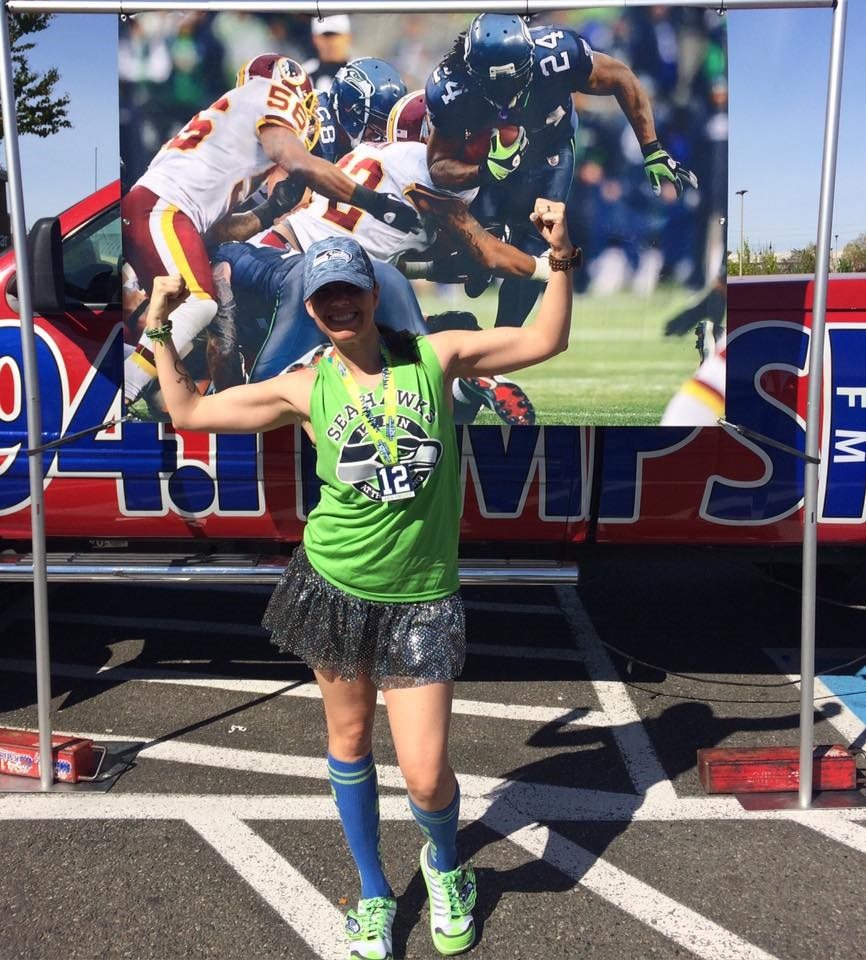 I didn't have to push myself much at all during the race on Sunday. We ran at an easy sub-10:30/mile pace and finished the 7.6-mile course in 1:19:51. We even stopped for pictures a couple times, and of course, hugs. We walked through water stops, too.
Glad I got to run this race again this year. I guess I'll keep the tradition going next year.
Now…I don't have another race till June, but I think I'd like to do a 5K race in the next few weeks, if I can. Any suggestions?