The Seahawks 12K Run at the Landing: A race that is uphill both ways.
Ever run a race that feels that way? Sunday, I ran the Seahawks 12K with Tiffany and Alyssa, and none of us remembered running down the hills that we had to run up on the back portion of the out-and-back course. Not a big deal, just an observation.

Overall, this is a fun race…if you're a fan of the Seahawks. Not so much if you're, say, a 49ers or Cardinals fan. I'm also a big fan of the location of this race since it's only about 25 minutes from home.
This, of course, means I'm the designated packet-picker-upper! Early packet pick up was held at Dick's Sporting Goods at the Landing on Saturday night and it was super smooth even though I was picking up six packets. This worked out great for me since I already had a dinner with friends planned for Saturday evening!
The race seemed more crowded this year than last year. It's only in its 3rd year of being held. It sold out a couple days prior to the race; it is capped at 12,000 runners for the 5K and 12K.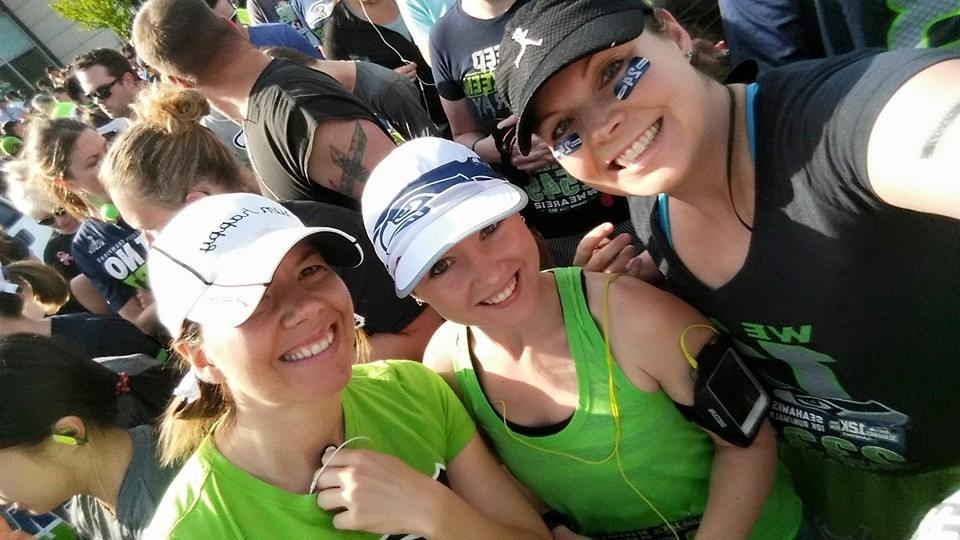 I went into the race undertrained. Back in February, I ran the Hot Chocolate 15K with Kim, Mel, Tiffany and Alyssa, and felt great. But I took a couple weeks (or more?) off running afterward. I was slowly building back up keeping long runs on the weekend at about an hour of running, getting between 5-6 miles and continuing with strength training 3 times per week, when I got sick the week before Easter.
I had the flu first, and then a couple days later, a chest cold settled in. I took a week off. I started back with my strength training and running about April 8. But I was still hacking up a lung (therefore not sleeping well) even the Tuesday before the 12K, so I decided to take the rest of the week completely off.
That was depressing, but it worked. Friday and Saturday before the race I was feeling pretty good, although I woke up early for no reason (thanks, body) both Saturday and the morning of the race, so I wasn't very well rested.
The plan was to run easy and have fun. The Seahawks 12K is not a race you can run for time. The course is sort of narrow at spots and very crowded. Unless you start at the very front, you won't be able to keep any kind of pace consistently.
Even though they start the race in waves, there are no "written" rules about who can start where based on time or anything. So, you could start in the first wave even if you plan to walk a lot. Hopefully, people know not to do that, but also I think a lot of people who don't regularly run races run this race because of the theme. Not a huge deal, just don't plan to run this one for time. Have fun with it!
I met Tiffany and her family (who were running the 5K) about a quarter mile from the start in an open Boeing parking lot. I had tried to park a little closer (in the nearby Target parking lot), but it was full by 7:45 a.m. for a 9 a.m. 12K race start.
In retrospect, we should've run into the Target and bought up some Lily Pullitzer that was being sold out in other Targets across the country. Nobody in the Target parking lot Sunday morning was there to actually shop at Target.
We went to the start at about 8:15 or so, used the Honey Buckets and then I ran into a work friend from years ago. In fact, I saw lots of friends here and there during or after this race, but wasn't really able to connect with them because either A) we were running or B) it was too crowded.
The start was so crowded we weren't even able to get into the chute. We had to wait till the first wave went and then we shimmied our way in. 'Scuse me. 'Scuse me. So sorry. 'Scuse me.
Last year, they shot confetti at the start, which was special. This year, no confetti. Maybe if we would've won the Super Bowl…
Last year, I also got to high-five Blitz (the mascot). This year, I never even saw Blitz, although I heard he was there.
Last year was also hotter than this year, although it was pretty warm. Not complaining! I'll take it over rain and freezing any day. There was also a cool breeze that sort of helped, but there isn't much shade on the course, so you heat up pretty fast. I wore shorts and a t-shirt, and I sort of wished I hadn't worn my knee-high Beast Mode socks. I saw some people in long sleeves and pants! Crazy!
The course is a bit tight, if just a bit narrow for all the people. But, like I said, this is just a race to run for fun. It winds out of the parking lot, through the shops, then around behind the Fry's, and onto Lake Washington Blvd. The road runs parallel with the freeway, which is separated from the road by apartments and houses, so it's not too loud. On the west side of the road and downhill a bit is Lake Washington. You are also separated from that by park, apartments and houses, but there are spots with pretty views.
I like the out-and-back because you get to cheer on the leaders, and look for friends on the other side.
The course is flat for about a total of 2 miles. The first mile, mile and a half when you're running through/around shops, and then the last maybe 3/4-mile when you're almost to the finish. Otherwise, Lake Washington Blvd. is rolling hills. They aren't too bad, except for on the way back because for some reason, you didn't notice running down them. I remember that from last year, too. Engage glutes!
You get to the Seahawks practice facility (VMAC) at about Mile 4.25ish. The out is a little longer than the back because you don't run all the way around/through the shops on the way back. It's more of a direct route to the finish/start line.
At the VMAC (you run around it), there was a glorious water stop. I wish there'd been one a little earlier, too, since it was so warm. The water stop was stocked with Nuun, which I had a small cup of. That, and a short break to take pictures, helped the calf cramp that had been developing in my right calf.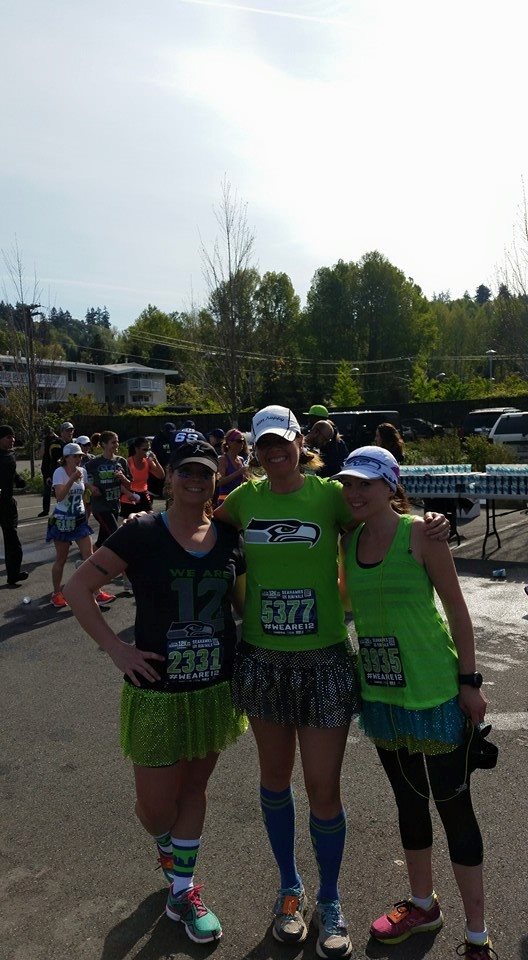 A few Seahawks players were handing out water. They were laughing and having a good time. They genuinely looked like they were having fun. The two I know the names of were Kevin Pierre-Louis and Nate Isles. We took pictures with them in the background, although I regret not just asking for a selfie or something with them because why not? We also snapped a picture by the practice field.
The way back is not as fun as the way to the VMAC, obviously. But I was glad to see another water station with Nuun at about Mile 6. I took two small cups of Nuun and about a half of a cup of water at that stop.
Tiffany and Alyssa are in better shape than me and I was quiet for the last mile and a half as I tried to keep up. They kept checking in with me, though. Running buddies are the best.
The 12K is marked as 7.71 miles on the organizer's map on the website. Since I haven't run over about 6 miles since February, I definitely was feeling it…it was more of a cardio issue than a leg issue, though. My calves, hamstrings and quads were a little sore on Monday and my calves were still tight Tuesday morning.
The only complaint I have about this race only pertains to this year, and it's about the finish. It wasn't an issue that I recall at all from last year. But this year the finish chute was jam-packed. We had to stop a couple steps before crossing the timing mat because of the finish chute back-up.
It was a shuffle-step situation after that. There were waters off to the side, but no volunteers to hand them out, so runners were just ripping the packages open to get them, which I think is why it was all backed up.
It felt like forever before we reached the bananas, timing chip return and the medals. That's right, there were medals this year! And they're pretty cute, too…if you're a Seahawks fan, of course.
After we reunited with Tiffany's family, we got to watch some of the kids 1K run, which was fun.
I also got a pretty sweet tan on my legs, although only from about my knee to mid-thigh, so I've got that going for me.
My week off worked and I'm off cough meds, and I'm sleeping pretty well again for the first time in several weeks.
Now I can start training for that marathon I signed up for. That's right. I signed up for my second marathon! But I'll have to write about that later…
Were you at the Seahawks run? How did your race go?!