I am sore today. Like super sore. Not oh yay you can tell I worked out yesterday sore. This is tender-sore. Like don't touch me sore.
Maaaaybe I should've seen it coming after the impromptu elliptical session yesterday. Hmmm.
Basically it hurts to lift my leg to take a step.
I don't want to drink water because going from standing to sitting on the toilet is more painful than it was after childbirth. I can say that because it's been 7 years so it's been wiped from my memory.
And, please, whatever you do, don't say the word…stairs. *sob*
My quads and glutes are pain daggers jabbing me from the inside.
You might be wondering if I skipped my run today because I'm literally crying when I get in and out of the car.
Yeah, I went. And I suckered my kid into going with me. We did the loop around the lake that is just about a half mile down the trail from my house.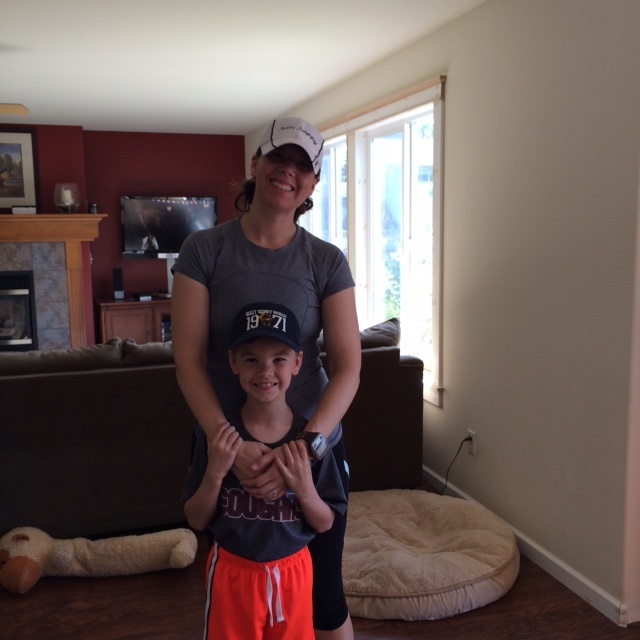 Okay, so I wouldn't call this a steady run, per se. We jogged, we walked, he talked. Like the whole time. Now I know how people who run with me feel. Sorry guys.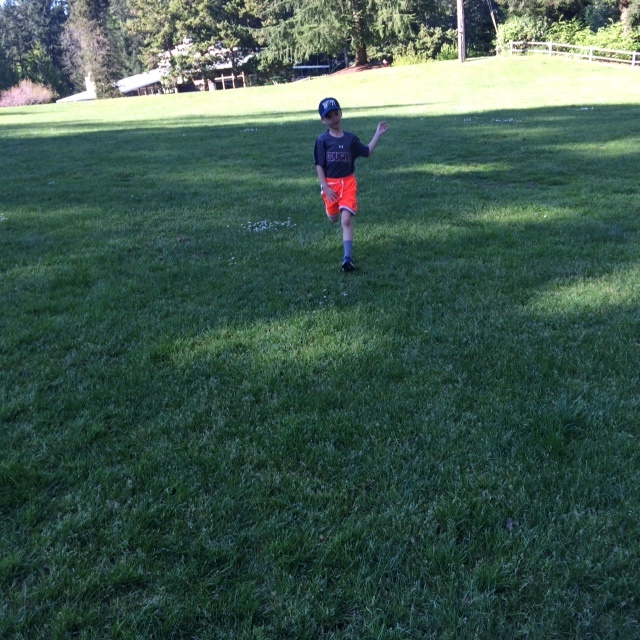 He also got distracted by sticks, rocks and…SQUIRREL.
But we made it–2.75 miles in like 43 minutes. And it was fun.
In other news: I was excited to see some Oiselle shorts I ordered arrived today–the Rogas. Online they look so cute on the runner models. So roomy and comfy. I would even venture to say LOOSE.
Nope. Not on me. Total underwear.
And they were larges! They were just the regular length and I'm sort of tallish, so…I'll try the long version in a bigger size.
Can someone tell me WHY clothes are cut so differently? I wear a SMALL in Athleta capris. I wear a 6 or 8 in Lululemon. And I'll be looking for an XL in Oiselle shorts.
Which brings me to something else I want to talk about.
I love the weight training plan I'm on. I love lifting heavy. But I also feel like my body should look different. Like more muscular by now. And why am I not losing any inches off my waist?
Admittedly, my diet hasn't been on point (see yesterday's froyo reference). But I feel like when I was just doing Metabolic Effect circuits mixed with running and my diet was good, but not totally on point…maybe like just slightly to the left of it…that my body was changing, responding, and quickly.
I'm about to start marathon training for realz on Monday. So like shit's about to get like super real. Like Real Housewives real. Like lots of running, maybe some table flipping.
Perhaps I need to take a step back from the slower more time-consuming weights routine and just do my Metabolic Effect circuits 3x/week.
Or maybe I should just do those for a few weeks to see if I can get my waist to respond a little. I will tweak my diet, too, of course. More veggies, less froyo.
Do you wear shorts when you run? What brand? Because I'm about to just go back to skirts even though I really just want to wear shorts sometimes!
Okay, that's all for now. Gotta hobble.