I have a "runemy." She's shorter, she's lighter and she has more running talent than me.
She also is a total jerk. Talks crap about me all. the. time. Says I'm too fat, too slow and too old to beat her. And we're in the same age group!
I don't like her. And I'm going to kick her ass. Because I will work harder than she will. I will work smarter. And I will beat her.
She's my race rival. A "runemy," I call her. But she's not real. She only exists in my mind.
It seems sort of silly when I write it down here, but without her, I would most likely sleep in a lot. She keeps me going…knowing she's out there talking shit.
Do you have a "runemy"? f you don't, I suggest you get one. If only to have when you need a little extra motivation. Make one up. Can you give her a face and a name?
Mine's name jerk face. And her face looks like a jerk.
She helped me get my run done this morning, though. I had a speed play run and guess what?
NAILED IT…except I was supposed to do it tomorrow, not today. Oh well.
I did 5 min at slow pace, 5 min at easy pace and then 3x(2 min at a 5Kish pace, 2 min at slow pace), then 5 min at slow pace again.
I was really supposed to do a foundation run today. Guess that'll be tomorrow.
Afterward, I took the dog for a 15 minute walk. I noticed that I get very impatient immediately after a run lately. Not sure what that's all about. The walk helped mellow me out, and I had a nice morning getting my son ready for school, and getting me ready for work.
After work, I came home and busted out a Metabolic Effect circuit. Made it 5.75 rounds in 20 minutes with 12-pound dumbbells:
12 squats with rows
12 chest presses with a crunch
12 squats with curls
12 squats with side arm raises
Today, I was listening to Jill Coleman on The Fitcast podcast, and someone asked about metabolic circuits and strength training and she said you need both. So I don't have to stop lifting heavy! My regular lifting workouts will be my strength base and the ME circuits will be like the icing on the cake.
Someone sent in a question for that episode that sounded like it could've been me. It went sort of like this: I've been wanting to train for another marathon, but I've worked hard to get lean. Can I keep a leaner physique while training for a marathon?
I mean…did I write that and forget that I sent it in?
Jill basically said yes, but that it's harder to keep your nutrition in check when you run more. Hashtag: runger.
After my son got home this afternoon, he went to a friend's house to play badminton. It was gorgeous outside, so I went for a walk…but forgot my sunglasses.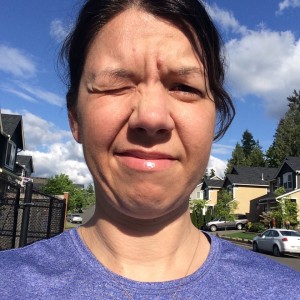 Do you ever walk?
Are you going to try having a running rival?