I gotta bunch of random stuff for you today!
1. RHODIOLA ROSEA: This is an herb that has helped me tremendously over the last couple of weeks. I purchased the one from Gaia right here. I was having a terrible time with anxiety and stress, and after a couple of days taking the herb—along with getting some extra R&R, it helped me feel…even. I also think it helped with my fat loss as it seemed to level out my cortisol, and let my body relax and shed a couple pounds. (I promise I will do a Metabolic Prime Update soon!)
2. SNOQUALMIE VALLEY RUN: Today is the last day to give $10 to a local charity when you register for the Snoqualmie Valley Run half marathon or 10K thanks to Orca Running. The race is coming up fast—June 11! Remember to use MOMVSMARATHON when you sign up and save 10% on your registration.
I wish I was running this beautiful course, but I have a relay the weekend before and a bachelorette party and race the weekend after, so I can't. womp, womp
3. TREADLIFT: Today is also the last day to purchase Jill Coleman's new program #treadLIFT. I did my first workout yesterday and, oh boy, I am sore today—especially my glutes. I have been doing Metabolic Prime for almost 3 months (literally thousands of squats and lunges), so I thought I'd be able to handle it, but whew! I was so sweaty and my legs were Jell-O afterward.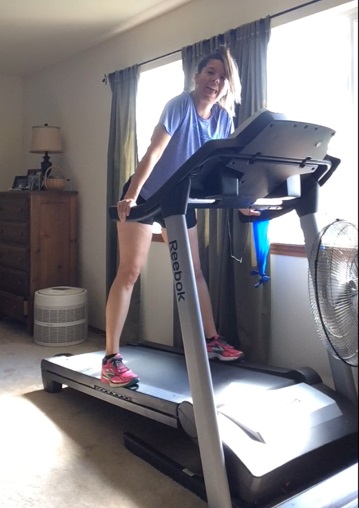 I did a BUILD workout for legs called Sweet Sixteen. It consisted of walking on my treadmill for 6 minutes, bumping up the walking speed every minute while at a 10% incline (as high as mine goes). Then I did 20-second sprints/40-seconds rest until the timer got to 10 minutes. Next, I hopped off and it was time for circuits—as many rounds as I could get in 20 minutes of 10-rep weighted lunge/squat/lunges, Bulgarian split squats, bridges and deadlifts. I only made it 2.5 rounds, so I will use lighter weights next time and try to make it to four. Yikes!
If you decide to sign up, I encourage you to use ME coach Tara Ballard's #treadLIFT link here, so you can be added to her private Facebook group. She has been extremely helpful—especially with nutrition advice and motivation during Metabolic Prime. You are basically getting a coach at your fingertips. Tara is super positive and is also a runner.
4. THE PUPPY RUN VIRTUAL 5K, 10K AND/OR HALF MARATHON: I really want to do the 5K! Registration closes May 11, so hurry and sign up for The Puppy Run here. FitFam, who is hosting the race, will be contributing $1 plus any additional donations to Valhalla Canine Rescue, a 501(c)3 non-profit organization with a mission to help dogs and all animals in need.
5. SPARTAN FIT!: I have been wanting to do a Spartan Race for a while! (But I'm a chicken.) Once I get brave serious about it, I want to read this! Spartan Fit will teach you how to get in shape for a race. The book comes out in August, but you can pre-order it now through July 1 and save 25% by entering FIT25 at checkout. Click the ad below to pre-order!