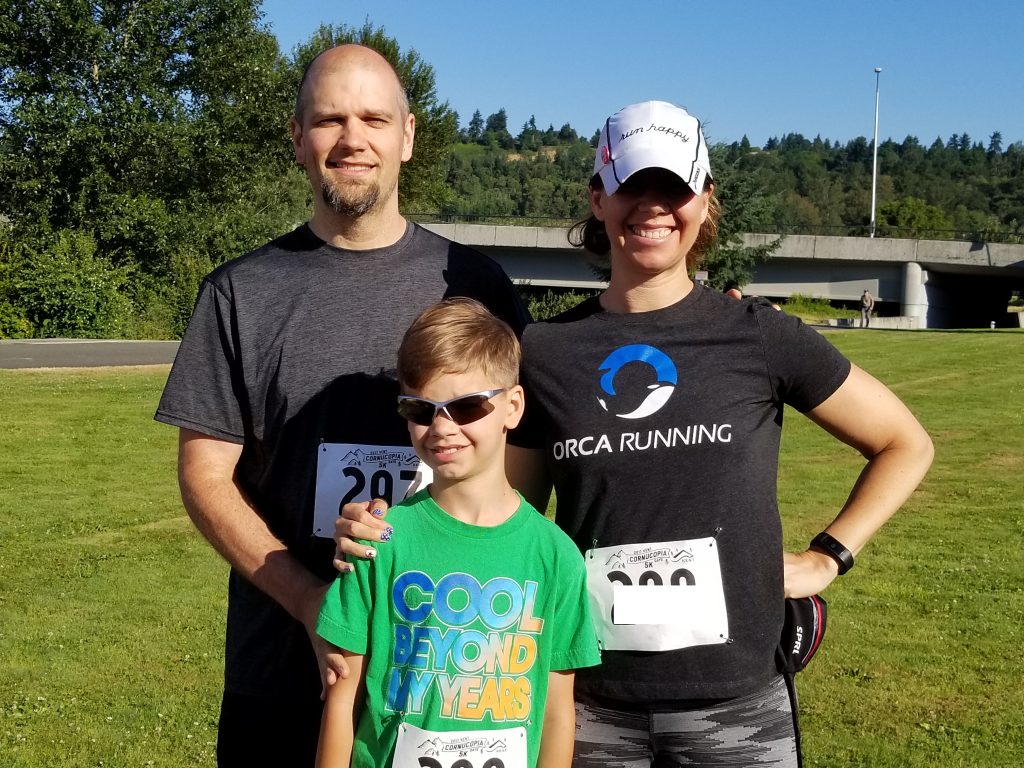 Ever since we ran the St. Patrick's Day race in March, my husband has become obsessed with signing us up for 5Ks. So, on July 15th, we ran the Kent Cornucopia Days 5K—we all ran it together: me, the hubs, and our 9-year-old son.
This was an excellent race for a very first family 5K. I've run one with my son and one with my husband, but we had never run together, all three of us. This race was small, laid back, flat and an easy out-and-back course. It also was only $10 if you didn't want the shirt. (After we got there, I wanted the shirt because they were a fun bright orange color and had a cool design, but I got over it.)
The race didn't start until 9, but we got there at 8 to check in. We were way too early. Since it was so small, there were no lines…not even for the potties. They also had access to the park bathrooms, which was nice, although the door lock got stuck and I panicked thinking I was going to be trapped in the bathroom forever.
It was sunny, but it was early, so it wasn't exactly warm yet and there was a cold breeze. We stood around for a bit, got our picture taken by a nice couple and then finally did some warm-up stretches.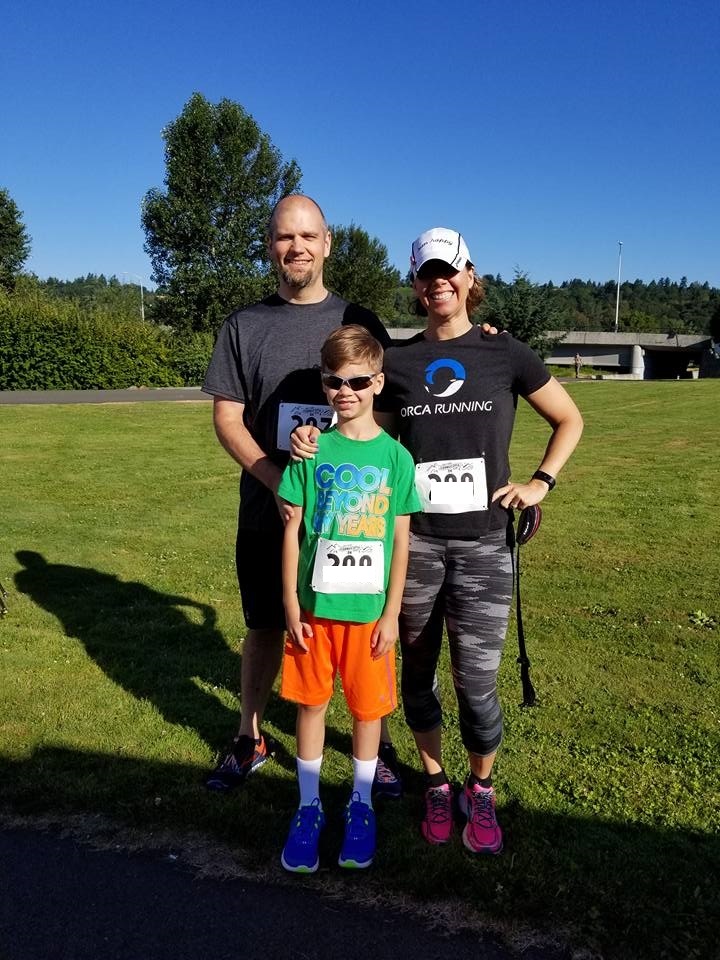 The start was pretty uneventful…which was fine. We were off…sort of. We all had to fit on the narrow trail, so it took a few minutes to thin out.
The course is on the Green River Trail in Kent—a paved trail that runs alongside the Green River…obviously. The scenery was fine—there was a park, some trees—but I don't actually remember seeing the river. That could be just me not noticing it because I was busy watching my son to make sure he didn't cut anyone off.
It warmed up significantly about half way into the race. We all ran together until our son ditched us with about a half mile to go.
After we crossed the finish line, we got popsicles, which was perfect. Loved the popsicles!
The hubs got third in his age group. Of course, why shouldn't he? It's only the second 5K he's ever run. They mailed him his ribbon, which was nice since we didn't stick around afterward.
I really liked this race. If you're looking for a lot of pomp and circumstance or crowd support, this would not be the race for you. But if you're looking for a small race, a fast course, and friendly people…this is your race. This would be a great PR course. Just make sure to start in the front.
Want to run the race next year? Here's the link: Kent Cornucopia Days 5K 2018
What's up next? Well, we all ran Federal Way's Run with the Cops in August, so look for that review soon. And, we plan to run Orca Running's Captain Jack's 5K and 8K in October. We ran it last year, and loved it. Read my review. (PS: Remember to use my code MOMVSMARATHON to get 10% off registration for any Orca Running races!)
PS: You may have noticed some changes to my site. It's a work in progress at the moment. Let me know what you think!