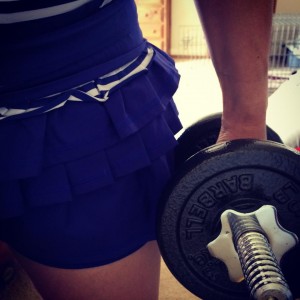 I consider weights cross training, so when it said rest/XT on my training plan, I thought weights. Got up again at 5 a.m., but was a little slow and didn't start working out till 5:20ish. I was going to do a Metabolic Effect workout, but Kim from (Just) Trying is for Little Girls sent me a Lift Weights Faster shoulder challenge.
I love the way my shoulders look since I started lifting heavier weights (I started last summer). So gotta keep it up! My favorite shoulder picture from Rainier to Ruston in June: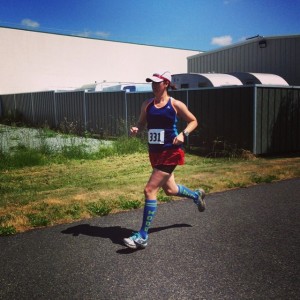 Here's the challenge. You have till Saturday to do it!
Pushups 10,8,6,4,2
Dumbbell Renegade Rows 10,8,6,4,2 (total)
Dumbbell Double Push Press 2,4,6,8,10
Dumbbell Front Squat 2,4,6,8,10
I did mine with 20-pound dumbbells in 7:24. (It IS possible to do renegade rows with round DBs, I learned. It's just more challenging.) Obvs that's not enough workout for me, so I did two reps of the following:
10 weighted lunges with 20# dumbbells
10 Bulgarian split squats with 20# dumbbells
10 hip flexor raises
(BTW-Consistent running-specific strength and hip-focused stretching seems to be helping my hip flexibility. Key word: consistent.)
Then I had to get ready for work.
Also. I weighed myself again this morning. Down another half of a pound. That's three down in three days. Now you know why I need to be careful with how many carbs I eat? Especially processed carbs like multigrain chips (those ones from Costco are addictive!) and ahem Cheetos.
Soooo annnnyway, I might switch training plans. I got Pete Magill's book "Building Your Running Body," and I love that it combines specific strength and conditioning moves into a running training plan, so I don't have to do it myself! I've been pulling my hair out trying to figure out how to incorporate strength with my running!
Now, with Pete's plan, I can just add in two ME or LWF workouts a week (because I really like them and like the way my arms look…it's all about vanity, baby), and I'm good to go! Here's a sample routine from the book.
Do you do strength work? What's your favorite routine?