"With a growing obsession over distance races, and a focus on completion rather than competition, 5-Ks have somehow lost a lot of their badassiness. They have become little more than a gateway drug for marathons." –Lauren Fleshman
When was the last time you really raced a race?
(And not to an empty parking space at Costco.)
Some people like to run easy at races, and that's just fine. But, in my opinion, they are missing out on racing! It's so fun! And you can run easy any time. But at a race…there are competitors!
I'd been looking to race a 5K since I read Lauren Fleshman's article "10 Reasons the 5K is Freaking Awesome," in Runner's World. I've always liked 5Ks (probably because I ran cross country in high school), and it is nice to finally have an elite standing up for them.
So the timing could not have been more perfect about a month ago when Kim asked me if I wanted to run the See Jane Run Seattle 5K. And not just run, but really see what we could do.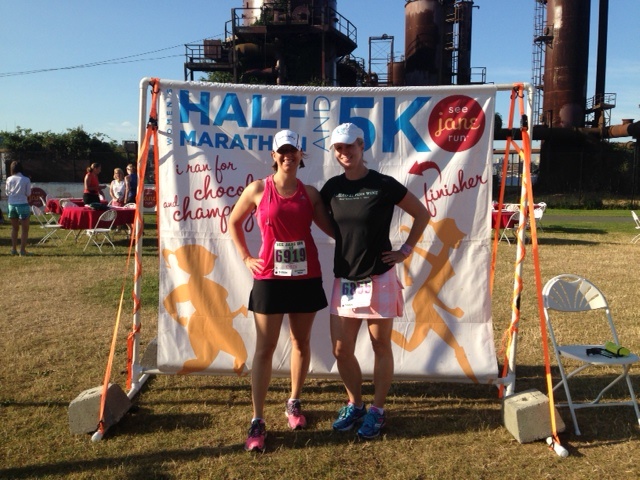 The event also has a half marathon, but I was very glad to not be running that since it was going to be hot. I ran the half in 2011 with Chelsea. Plus, I've only been running 15-20 miles per week.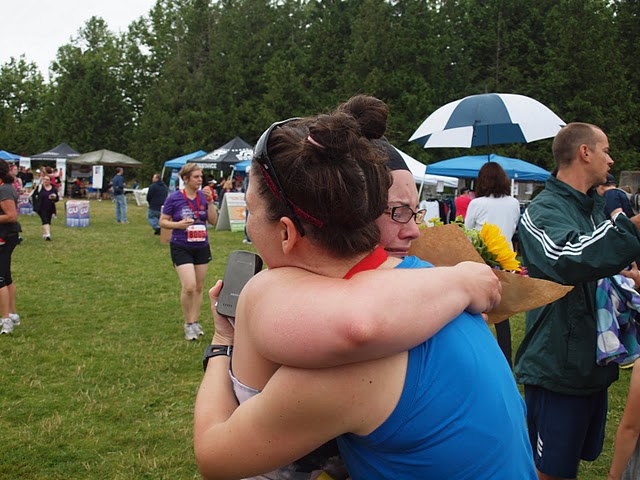 "Goals that are not frightening are not worth having." -Dr. Stan Beecham, Elite Minds
Lately, I've been taking running a little more seriously. I've been working on my mindset a lot. I read Dr. Stan Beecham's "Elite Minds," and am reading "Mastery" by Robert Greene right now. These books have helped me change how I think about myself as a runner.
I believe in myself more and feel more confident in my running ability. I'm not an elite runner, of course, but I have decided to strive for what I might've thought of being out of reach before. Does that make sense?
So the See Jane Run 5K was the perfect way to test my current ability/fitness level. To see where I am at. The plan for both Kim and I was to go out and give everything we've got to see what happens.
Since, I'd run the half in 2011, I knew what the first part of the course was like: flat. The race was also a perfect size for racing—not too many people, but enough. The only thing that could've been better was the weather (it was about 70 at the start, which is warm for us), but that will always be a factor in any race. That is out of my control. You work with what you've got…and I wanted to do it with a smile on my face.
The days leading up to the race, I'd gotten to go on two fantastic runs with friends. As I mentioned yesterday, I didn't care if I was not supposed to run before a race. I didn't want to pass up any opportunity to run with friends. I didn't run hard, so I didn't feel sore or anything before the race.
"The problem is that we humans are deep conformists." -Robert Greene, Mastery
Race morning, Kim and I arrived at Gas Works Park along Lake Union in Seattle at about 7 a.m. We quickly found a parking spot in the neighborhood next to the park. No problem. Someone nearby was having their morning weed. Breathe that in, Kim. It's legal.
We picked up our bibs. No line. Hit the Honey Buckets. No line. So far, so good! Then it was time to warm up. I have to warm up. Really, I don't feel like I "hit my stride" until after mile three. That's sort of a problem in a 5K.
Sometimes, I feel stupid when I warm up for a race, though, and it is tempting to not warm up and instead to look cool. But I am too old to care anymore. Also. Never been cool.
Fortunately, I had Kim there so at least I wouldn't look silly by myself for once. I made her warm up with me by running up this hill. The view was worth it, right Kim? Then we ran down. I did some strides. We stopped at the Honey Buckets again and we did some leg swings and other dynamic stretching.
With less than 10 minutes to go, we headed to the start. The 5K was relatively small with only about 340 people running it. It's a women's-themed race, but there was one young man who decided to run it. He placed in the top 5, too. *womp womp*
They did waves for the 5K, which was great because the start is on a narrow paved trail (the Burke-Gilman Trail) that feels even narrower when it runs by restaurants or if there's a bicyclist on it or anything.
The first wave was for anyone under an 8:59 mile. It surprised me how few people lined up for that first wave. Kim and I positioned ourselves basically behind the first row of runners—the superfast ladies. It can feel intimidating up there, I know. But what the heck. Go for it!
I had made a playlist the night before, so I put in one earbud and was ready to go with about a minute left. I sized up the ladies in front of me. I hoped that maybe I could pass at least one of them out there.
"If you screw up the 5-K, you can just get in your car and try again next week. Boom." – Lauren Fleshman
Even though Kim and I started together, we'd agreed to run our own race. When the air horn blew, we were off. My music was on, I started my watch and Kim and I were running together. What I didn't want to do was go out too fast.
I wanted to keep my pace under 8 for the whole race. But, one of the hardest parts of a 5K for me, is not getting carried away at the start.
At about a quarter mile, I looked at my watch and saw 6:45 in the pace square. Uh oh. I tried to pull back a little. But everyone was running so fast! And it was fun!
Kim and I ran together for about the first ¾ of a mile. She was running very strong. She seemed comfortable and I thought she was doing awesome.
I, on the other hand, felt a little out of breath. But that's normal for me until I get my adrenaline under control and my breathing in a rhythm. I reminded myself of that. Also, I decided I wanted both earbuds, so I had to run at a 7-something pace while untangling my left bud from my bra strap. Try THAT one, Houdini!
I was having fun. And I smiled for as long as I could keep a smile on my face. I signed up for this. I GET to run. I am having fun.
Then there was a part of the trail that had shade on the right side, I happened to be on the right, so I could easily take advantage of it. I felt Kim slow a little to move behind me in the shade. So, I sped up a little so I wouldn't be slowing her down and we could both run in the shade, but as we went around a bend, I sensed she wasn't with me anymore.
"You can run a 5-K in jorts with nary a chafe. 5-K for the win." -Lauren Fleshman
But I wasn't alone. I'd caught a couple of women in front of me. One, a redhead with a frizzy pony tail in a bra and shorts. Another with a short, sweaty blond bob, a bra and shorts. I guess I didn't get the bra-and-shorts memo. I was fully clothed.
I was also wearing a hat. Big mistake! It was way too hot. See, the problem is that I have this annoying medium hair cut that is too short to get into a pony, but too long to run without a pony. So I have to do these little pigtails that stick out behind my ears like sprouts.
Then, to keep the shorter strands that aren't long enough for the pigtails, I put a hat on them because headbands never stay on me. Even the no-slip kind. I should've just bobby-pinned the crap out of my hair and worn sunglasses.
So it was RedPony, BlondBob and me, AKA fully clothed stupid hat girl. In that order. Up ahead, I could see the front pack stretching out. It seemed as if there were about 10 people in front of me. I promise I wasn't counting or anything, I'm just guesstimating in hindsight.
As I hit the first mile, I was right behind BlondBob. She was a couple steps behind RedPony.
One of the things I've come to grips with recently is that I have really tight hips. I have been stretching them more. I do this cool crouch move where it looks like I'm peeing. And I've also been trying something when I run. I think in my head about tilting my hips forward and it seems to loosen them while running.
There was a curve in the trail that went uphill for a second. I mean, like the tiniest uphill ever. But RedPony slowed and I sort of came up between her and BlondBob. But as we went down the little hill, we got back in our positions.
This is when I realized we were RACING.
"Satisfaction comes instead from competing: against yourself, the clock, and others in an intense, concentrated period of time. This adds a whole new depth and richness to your running, regardless of your speed." –Lauren Fleshman
I was pumped! It took my back to my cross country days. The only time I checked my watch for the rest of the race was for distance.
Mile 1: 7:33
Soon, we approached the halfway-turn-around point, which was just at a sign. I didn't see anyone standing there or anything! Not even a cone to run around. So HOPEFULLY nobody cheated and turned around early. Why you would do that, I have no idea. Why sign up for a race if you're going to cheat? But I know it happens.
Just before the turn-around RedPony started to pull a little farther ahead. I knew it! She'd been holding back. I thought she had, she seemed way too relaxed.
After the turnaround, she took off. Not like a rocket, more like a match. With each stop she pulled a little farther ahead, until it was only BlondBob…and me just behind her left shoulder. Like a really annoying shadow…yet. (Later, Kim told me not to worry about it because IT WAS A RACE.)
I saw Kim right after the turnaround, and she looked great. I tried to smile and wave, but I'm not sure what that actually looked like. I imagine some sort of wounded animal.
Yet, I was still right behind BlondBob. We caught up to, and passed, a woman that had started in the front row of the race. Hooray! Part of me wanted to pass BlondBob, too.
Actually, I wanted to pass her several times except I didn't want to overexert myself getting by her just to have her pass me back. I was trying to figure her out. Is she holding back like RedPony? Is she tired? Plus, it was kind of nice just hanging out with her. We bonded. Well, I bonded. With her. Even though she probably wanted to punch me in the teeth.
With RedPony being gone for a while, I felt that we'd slowed a little. I don't think I could've run any faster, but part of me wonders if I'd passed her earlier and "ran MY own race" instead of pacing behind her…maybe I would've ran faster in the second half of the race.
With about a mile left we were approaching a curve. In the middle of the curve was a pack of later-wave runners heading toward us. If I'd kept with BlondBob, I would've had to go to the outside of the curve to avoid the pack coming our way. But Id' been trying to run the tangents the whole race.
I thought this might be my chance to pass BlondBob, and even though we'd I'd bonded, I cut to the inside of the curve to get around the pack as she kept to the outside.
It worked! Haha! Sucka! I don't need you and your Lululemon shorts anymore! I didn't see BlondBob again until Kim and I were getting our Champagne afterward. ("Great race!" I called to her, and she smiled at me, but looked confused or angry, I'm not exactly sure. Also I wasn't sure if it was really BlondBob or not because I didn't recognize her from the front.)
Mile 2: 7:51 (We HAD slowed. I knew it!)
"When you truly study top performers in any field, what sets them apart is not their physical skill; it is how they control their minds."
-Dr. Stan Beecham, Elite Minds
About the same time I passed BlondBob in the race, I was also getting really annoyed with my music. I started to feel like I was fighting it. I ripped my earbuds out, and struggled to wind them around my bra straps so they wouldn't bounce around. I think I will try running without music in my next 5K.
I also wanted to take off my stupid hot hat! I was working really hard even though I was going slower. And there wasn't any shade in the second half of the race. I wanted to walk. My body was like, "STOP!" but I kept pushing through the pain. I was controlling my breathing, but it was really fast.
Note to self: I need to work on some breathing techniques so I can breathe from my diaphragm and not my chest.
I tried to get my legs to turn over faster, but now I was alone and everything felt harder. I missed BlondBob. The new girl in front of me was far enough away that I wasn't sure I had time to catch her before the finish line. I could tell anyway that she wasn't in my age group. Ha!
BlondBob and RedPony might've been. RedPony, by the way, was way up ahead now…in front of NewGirl I couldn't catch in front of me.
This is where my recent reading came in handy, though. I hurt. I wanted to stop and walk. But I knew I was close to the finish. And I didn't think I was going to die. I mean, I was pretty sure I wasn't. I'd pass out first, right?
It was just going to hurt for a little bit longer. I can hurt for 5 more minutes. It probably won't even be 5 minutes. I can't do math when I'm running. But 5 minutes seemed like a good estimate.
Then we had to turn off the trail, and cut through a parking lot. I panicked a little bit. Are we farther away from the finish than I thought? Where are we? We didn't go this way on the way out. I tried to stay calm…until…
I saw that I would have to run over a curb. Will I be able to pick my feet up high enough to get over that curb?! OMG what if I trip over that curb?!
Luckily, I cleared the 3-inch-high curb and it was a short detour so we soon were back on the trail and there was only about a quarter of a mile left. I could hear the sweet, sweet angelic sounds of DJ Chris shouting through the loud speaker at the start/finish line. Hallelujah!
I ran harder. I willed my legs to turn over faster, even though I felt like I was running in slow motion. My eyes started to close. Sometimes, when I run really hard, this happens. Anyone else do this? I have to really force them open.
Mile 3: 8:02 (What?! How did this happen?!)
"When you hit the wall in a 5-K, it hurts a lot, but it's over faster than it takes to make a cappuccino. Literally. I timed it." –Lauren Fleshman
But then finally, through my squinting eyes, I could see the finish! I ran as hard as I possibly could. I felt my stomach tighten. Am I going to puke? I might puke. Do NOT puke.
But it wasn't long before I was running down the chute, which was lined with people. Don't puke. Don't puke. Don't puke. I heard cheering and DJ Chris on the loud speaker.
Somehow, out of my half-closed eyes, I saw race photographers, but I couldn't muster any sort of facial expression other than "dying," which I know from experience is not a good look for me. I was also suddenly very aware of how high my skirt's built-in shorts had crawled.
.12: 6:44 pace
I crossed the finish line and a woman wanted to give me the 5K medal. I held up my index finger then leaned over, my hands on my thighs so I could catch my breath or puke. Wasn't sure. Luckily, everything stayed in my stomach.
I don't know if I've ever had to do that before.
Final time: 24:12
THIS IS NOT A PR. I thought I hadn't broken 24, but I did. TWO YEARS AGO at the St. Paddy's Day 5K on a MUCH TOUGHER course. What the hell have I been doing for two years?
Love that you get medals for the 5K at the See Jane race, by the way. They are really cute and just a smaller version of the half marathon medals. It's nice. After I was able to stand up, I got mine, stumbled to the water table and the next thing I knew, Kim was flying through the finish line.
As I write this, I realize that I really love the racing aspect of a 5K. But 5Ks are a little like giving birth. Moms, you know what I'm talking about. It hurts, but then you magically forget about the pain and want to sign up for another one.
Kim and I checked the results, and saw we'd both gotten first in our age groups! But wait…we checked again a little later, and someone must've started in a different wave and run faster, so she beat my time and I got 2nd. Still happy with that!
(Turns out we both got 2nd in our age group, and we won cute running hats. I've placed a couple of times before and I've only ever received a ribbon, which is nice, but it's also nice to win something.)
Here are the official stats:
Overall: 12/342
Females: 11/329
Age group (35-39): 2/48
I like finishing toward the front of the pack. Not gonna lie. That's nice. But I need to train. What I really, really want is to break 21—my time from high school. I've got some work to do.
By the way, if you'd have asked me if I would ever place in my age group when I started running (again) in 2009, I would've laughed and then been pissed at you for mocking me.
After the race, Kim and I had lots of time to hang out. We had champagne and chocolate, we got our race shirts and had snacks. We took fun pictures in a photo booth. We relaxed in the sun. And we got to see Sally start and finish her half marathon, which she killed, especially considering the sun and temperature.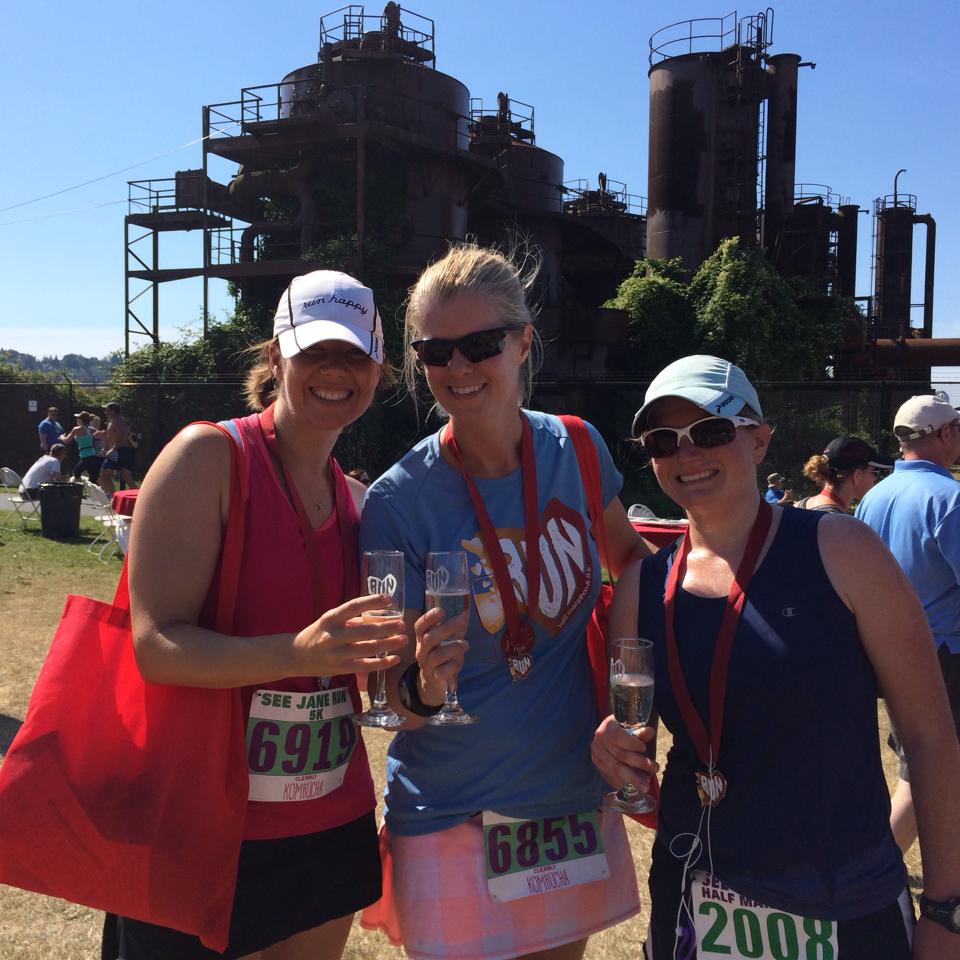 The RD was also nice and gave us our prizes a little early since Kim needed to get to her daughter's final basketball game.
It was pretty much the perfect way to top off a spectacular three days of running. And, now, I leave you with this…from who else, but Lauren Fleshman:
"May your competitions provide endless opportunities for smack-talk sportsmanship, and may your medal racks collapse from the hardware earned by flirting with the edges of your potential."