I just wanted to break 24. No. Actually I wanted to break 21, but I am not dumb enough to think that could happen. I've actually been pretty smart in my training. Just being diligent and working hard and being realistic about my finish goal. Which is why I just wanted to break 24.
But when you are driving to your friend's house at 7 a.m. and it's snowing, you start to rethink your goals. You also start to rethink your sanity. I always tend to rethink my sanity before any race. Why do I do this to myself? Because I get pretty nervous right before most races. But when it's snowing, you just rethink it more.
Me, Karla and Zoe's friend L, piled into Zoe's car. I got to sit next to Goob, who gave me the stink-eye the entire time, as Zoe would be pushing her in the race. I was very excited about my warm clothing choices: warm Under Armour tights, my black long-sleeve half-zip Nike top, a $3 4-leaf clover tie, and a random green running skirt I bought at TJ Maxx like 3 years ago for $5. I also wore my black Brooks gloves and pre-race I kept on my work-logo puffy vest.
We found a parking spot and reluctantly got out. It was now just raining with maybe a few snowflakes mixed in if that gives you an idea of how cold it is. It just rained and rained and rained. Like constant rain — not big drops or anything, but steady rain. The kind where you look out into it and it just looks like lines of rain. Not good. We were all soaked within minutes. We ran to the meet-up spot just to get warm.
We met our friends and I was super suprised to see Chelsea! She came just to spectate and on such a craptastic morning, too! Jill was also there, and Mel and her sister Jayne, as well as Alma, Jamie, Kim and her hubs (running the 10K), and Tiffany and her family. We soon found out that there was a huge line to pick up packets so we left (without a group picture) to go get our race numbers. It was almost 8:15, and Karla was running the 10K that was to start at 8:43 (such a random time).
The line was very long, and not that fast. I left the line at one point, waited in another line for a Honey Bucket, and then returned to the packet pick-up line. The whole time we were standing in the rain…and freezing. I ran in place for most of the time. FINALLY we got our numbers and went back to the meet-up spot. Chelsea helped me get on my bib and stuff since my fingers were basically numb. My body was okay, but my hands and feet and face were frozen. Not a lot of pictures from this race since it was so cold and wet.
Then we found out that they didn't start the 10K on time — about 10 minutes late. I think because of the packet pick-up line. We were all freezing and Goob was getting fussy, so we did a lap around the block, and then Tiffany and I did another lap for about a total of a half-mile warmup. Then we made our way to the start.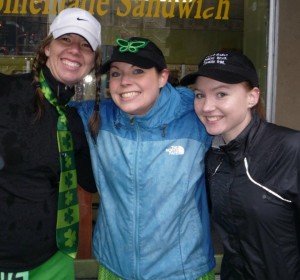 Me, Alma and Tiffany found a spot near the 8-minute-mile crowd with Mel and everyone else. But they started the 5K late, too. My feet were so frozen. I was just jumping trying to stay warm. Finally, as they counted down from 10, I started my music and we were off.
There was a short straightaway and then down, down, down for about .6 miles. This was a nice start — like a slingshot. Here are some of my paces from that beginning:
.1 mile: 5:42
.2 mile: 6:42
.3 mile: 6:06
.4 mile: 5:49
Yeah, I looked at my watch a couple times and laughed inside. Mel, who passed me at the top and was flying down the hill, didn't have a working Garmin on — so mostly these times are for her viewing pleasure. Hahaha!
The not-so-nice thing was that I felt like I had something under my big toe on my left foot. Was my sock wadded up there? Was something wrong with my orthotic? Also, my stomach was growling. I'd eaten half a PB&J about 40 minutes before the race was supposed to start. And I don't know if it was the hunger or the cold, but my arms became immediately weak-feeling — almost numb.
There was a little upill portion, and I was excited to be passing people on it, then it was downhill again. Somewhere on the downhill, Alma came up next to me. I could tell she was being encouraging because of her hand motions, but I couldn't understand what she was saying because my earbud was in, and I couldn't tell her that because I couldn't talk. The course had flattened out a little now and so I was getting into my rhythm. Mostly I was concerned about my arms. They felt weird — like I'd sucked any energy from them and given it to my legs. (Later, Alma told me that she said I looked relaxed and smooth during this portion of the race, and that makes me happy.)
Mile 1 avg pace: 7:09
Alma ran next to me for a bit and we began to close in on our buddy Mel as we approached a gentle uphill at 1.5 miles. We turned around and headed back. I just thought, Half OVER! We passed Mel, who was having a tough go with no Garmin and a side cramp — those are the worst! Alma pulled ahead and I just hoped I could keep her in view.
I felt pretty good on the flat portion, of course. Except for my arms. I'd taken off my gloves and was barely able to keep ahold of them, my hands were so weak. I didn't want to drop them, but it was a possibility. I noticed the thing in my shoe went away, so it was just a case of frozen toes like at the Santa Runs 5K in December. I head people cheer for me, but couldn't raise my arm to acknowledge them. Thanks, guys! I could still see Alma in her University of Washington shirt (booooo), and I could also see the monster hill that would lead back to the finish line looming up ahead.
Mile 2 avg pace: 7:29 (This surprises me. I felt faster here. LOL)
It wasn't the same hill as the original downhill at first. It started on another hill then joined with the first downhill we had taken. The hill, according to my Garmin, started at 2.1 miles and peaked at 2.5. A 300 foot climb over .4 miles. It felt much longer than that. It hurt. And my brain kept saying, QUIT, QUIT, QUIT, WALK, WALK, WALK, but I just kept thinking, I didn't just run my ass off back there to quit at the end. And I want to be done with the fast training so I just gotta do this. It's just gonna have to hurt for a minute and then I can be done. At one point, I did feel like maybe I would throw up. I really did. I don't think there was enough in there for that, though.
Then I saw Chelsea cheering for me on the hill. I waved a glove at her in thanks because it lifted my spirits. Well, I thought I waved my glove, but later she said she didn't even think I saw her. I guess my arms really were weak. The hill was torture. My pace at the very top was a 14-something according to my Garmin. I was so happy to get back to some flat ground.
Mile 3 avg pace: 8:18
But then there was the finish. RIGHT there! I was happy to see it (oh, so happy!), but looking back, I didn't feel like I had enough time to get my legs back under me for a good sprint. I just made them go as hard as I could…and I ran hard through the mats because there were like four of them and I didn't know which one was the official finish. Hahaha! It was pretty cool hearing the announcer say my name, I have to say.
I then wobbled over to a woman who cut off my timing chip. It took her several tries. I was like, "DUDE! I am going to fall over standing here on one leg." Finally, she was done and then I remembered to stop my watch. So I had no clue what my finish time was. I didn't even look at it when I crossed. I was pretty sure I beat 24, though. Pretty sure.
Then I needed food. Fast. I just felt so weak and hungry: banana and a fun-size snickers were devoured in seconds. Alma and I found each other and then gradually found more and more of our buddies as they came in. It was still raining, by the way. We were all soaked. And the wind picked up.
Sweet.
We all found an awning and tried to stay out of the rain — not like it mattered that much anymore. There was a giant puddle in a hole in the sidewalk near where we were standing and people kept just walked through it — their whole feet submerged — and not even caring. When we were mostly assembled someone pointed out the results tent. Yay! I was so curious about my time. I worked so hard for this race, and I wanted to know…officially.
And, I did it. By almost a minute…on a much harder course than the one I ran 3-and-a-half months ago.
23:45
And I got second place in my age group (30-35). She only beat me by 8 seconds (but she is two years younger than me, so there). Damn. (A bunch of my friends got PR's and ran awesome races, too, but I don't want to list them and exclude someone because I can't remember them right now.) Here are my stats for this race:
Overall: 85/1,691
Division (30-35): 2/215
Sex place: 16/1,177
Average pace: 7:40
I got a shiny red ribbon, and it pretty much made my day. Also, being done with all this fast running nonsense made me happy, too.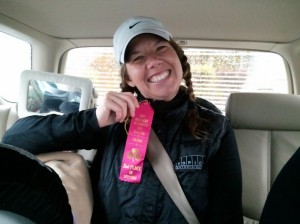 Except as we were leaving, Zoe said, "I bet you can go even faster." So now that's got me rethinking things…