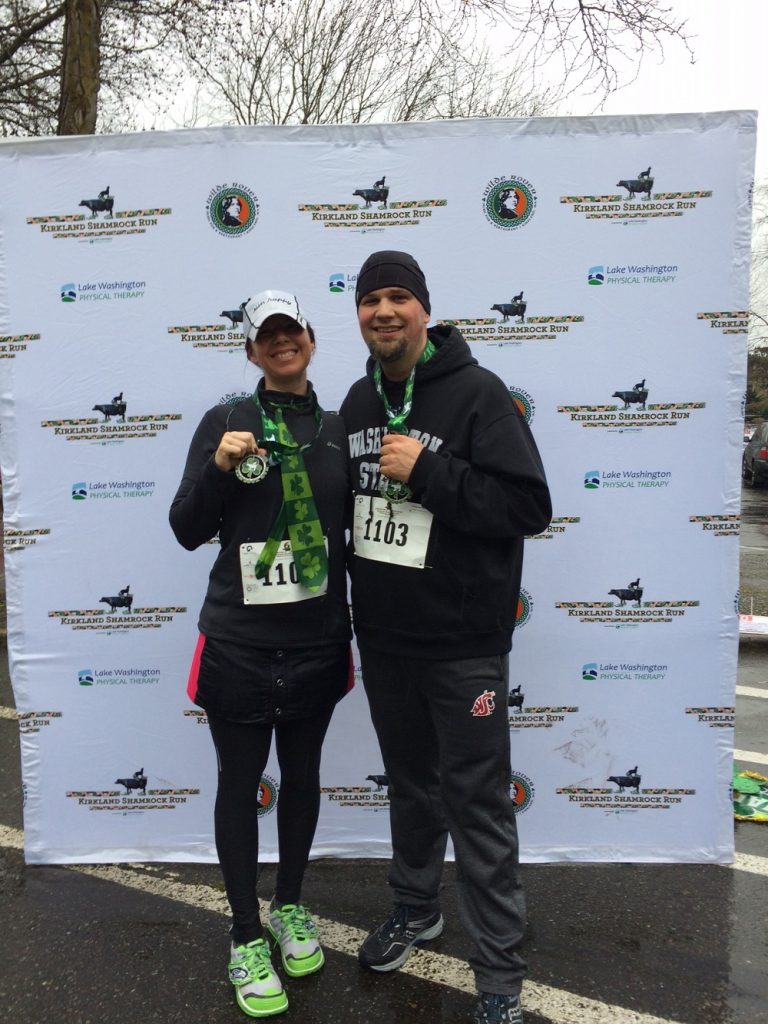 My husband, who is going to hate this blog post, used to—and quite honestly still does—make fun of my running. So, you can probably imagine my surprise when he, himself, began running this winter…and then told me he wanted to sign up for a 5K. Remember how you felt when you found out Donald Trump was really, truly running for president and it was like a serious no-joke thing? That's how I felt when the hubs asked me to sign us up.
A Little Background
As you may know, I have been immersed in the world of crazy runners since I started this blog in 2009. And by crazy, I mean obsessed people. My interests have bounced between 5Ks and marathons, and weightlifting and yoga. I even once considered an ultra. Once. Considered. So, I will say that I was sort of wondering how long it would take my husband to get on board the fitness train with me. Judging from his attitude about my running endeavors, I guessed the answer to that would be never. But then it happened. It was last year around this time, actually. Just 7 short years after I first began my health journey, he fully committed to his.
My husband started small—which is how everyone says to do it—something I, myself, completely ignored by jumping straight into training for half and full marathons before my body was ready (thus getting injured). He began walking on his lunch hour. He had a step goal. Not 10,000, but instead a number he thought was more achievable for his current fitness level. Then he started buying salads from the work café for lunch. Then he started bringing salads from home for lunch. (Full disclosure: I make these salads.)  Next, he increased his step goal to 10,000. Just by making those small changes, he lost nearly 60 pounds in about 9 months.
Next thing I knew, he began training for a 5K before Christmas, and he asked me to sign us up for a race so he could have a goal to motivate him. As it turned out, the 2107 Kirkland Shamrock Run was the exact right timing for his training, so I signed us up. (Full disclosure: As an ambassador for Orca Running, I had free entries. As always, I promise to be honest in my review of the race.)
The hubs confessed he was nervous the night before the race because he'd never run 3.1 miles consecutively. I reassured him since I knew he'd been running consistently—which, by the way, was much more than I could say about my own training. Beyond the Metabolic Effect weights workouts I like to do, I'd only been sprinting once or twice a week, and occasionally going for a longer, slow run on the weekend—and only if it was sunny out! He'd been running in the dark after work, in sleet and rain. He'd become a crazy runner.
The Day of the Race
The morning of the race was way calmer than it normally is when it's just me, which is super surprising, since it was Jamey's first time getting ready for one, and we also had to get our son up and ready to go over to a friend's house. Probably because the race didn't start till 9, which is in my opinion, about the perfect time for a race to start. And also, the hubs picked up our bibs ahead of time.
Another nice thing was that it wasn't raining, and it had been (and has been) raining a lot here—even more than normal in the Pacific Northwest. Of course, after we arrived in Kirkland and found covered, free nearby parking in the metro transit parking garage, it started to rain. Luckily, it was just a light rain for our short walk to the start line at Kirkland Marina. (You may remember Kirkland Marina from me and my friend Chelsea's stand-up paddleboard adventure…in a summertime downpour.)
The best thing about starting a race at Kirkland Marina is the public bathrooms. You KNOW us runners are port-o-potty connoisseurs, and when we luck out with public bathrooms at a race, it's like we're living a life of luxury. Oh, and the line was extremely short—and the bathroom had toilet paper and soap! I might as well have been carrying around a four-leaf clover.
Afterward, we wandered to the start line. We were excited to see bagpipers on stage, but they weren't playing. (Fun fact: My husband is also a bagpiper.) I wanted a start-line photo, so I asked a random man to take our picture.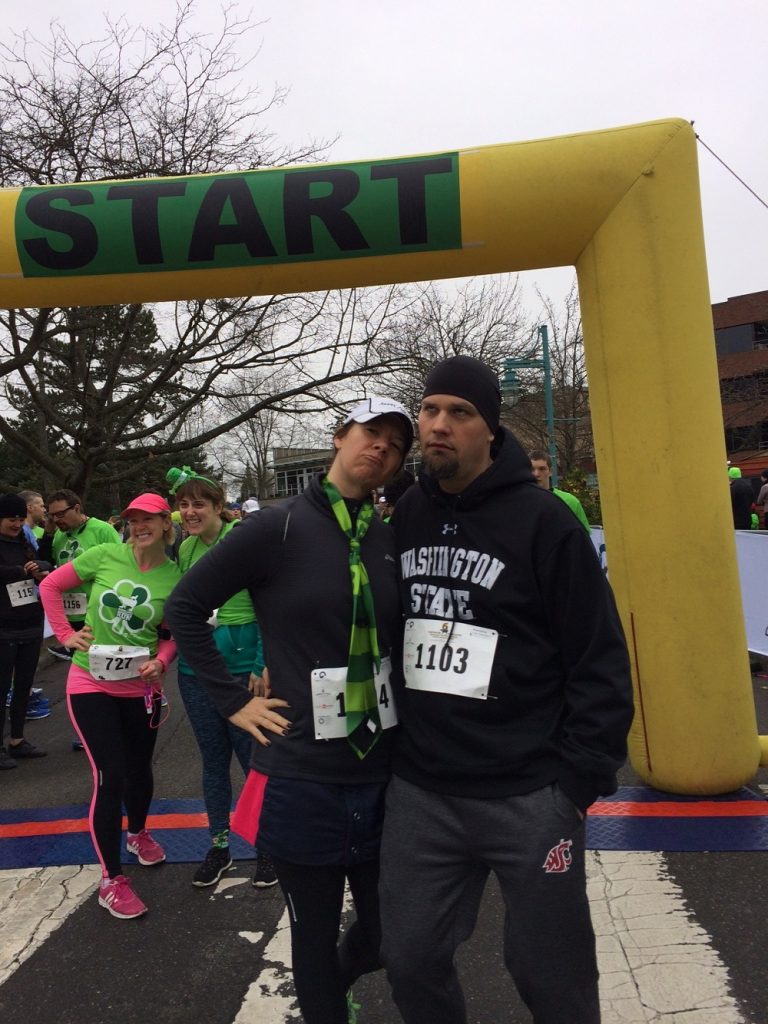 Thanks…I guess. Dudes, you guys need to step up your photography game. In the age of Instagram, this is unacceptable! Then it was time to line up for the start of the race. I love small races, everything is so relaxed, and everyone is so nice. We found a spot in the back of the first wave since it was 11:15 pace and under. There were just two waves.
The Actual Race
Then it was time to count down and the bagpipers played us across the start. We set off like a typical race—slower since everyone is just trying not to trip, and even before we hit a quarter-mile, we were all spread out. There was plenty of room on the road to find your own pace. But we were about to hit the first hill. Being in Kirkland, we knew there'd be a couple hills—I think there were three in all. They were steep, but not super long. We took our time and we were smart about the hills, walking when we needed to. By now it was raining in earnest.
One thing I noticed, or did not notice, was mile markers…or rather, the absence of them. Now, that may have just been me not being very observant, but I didn't see any, and I was looking. I did not wear my Garmin and it would have been helpful to know about how much of the race we had left. It is also useful for writing race reviews. So…I think it was after the first mile that we turned onto a flat dirt path.
The path was thinner than the road. I thought there may be some dodging and weaving, but it wasn't bad. The only trouble we had was with people with dogs a couple of times. The race allows dogs, which I appreciate, but runners need to keep their doggies a little closer when they run so they don't trip anyone—we had a couple of close calls.
The course wasn't spectacularly scenic, but I enjoyed the cute neighborhoods we ran through. I also appreciated the police and volunteers who were standing in the rain and taking care of traffic along the course. We saw one driver who was not happy (and throwing a bit of a tantrum), but an officer calmly told her that there had been signs up about the race for a week. So, yeah. Calm down, lady.
There were a couple of short, steep uphills somewhere in the second mile…I think. Also, it might've been around the end of Mile 2 when my husband said to me, "You talk a lot." Why he thought I would be different running than I am any other time, I don't know.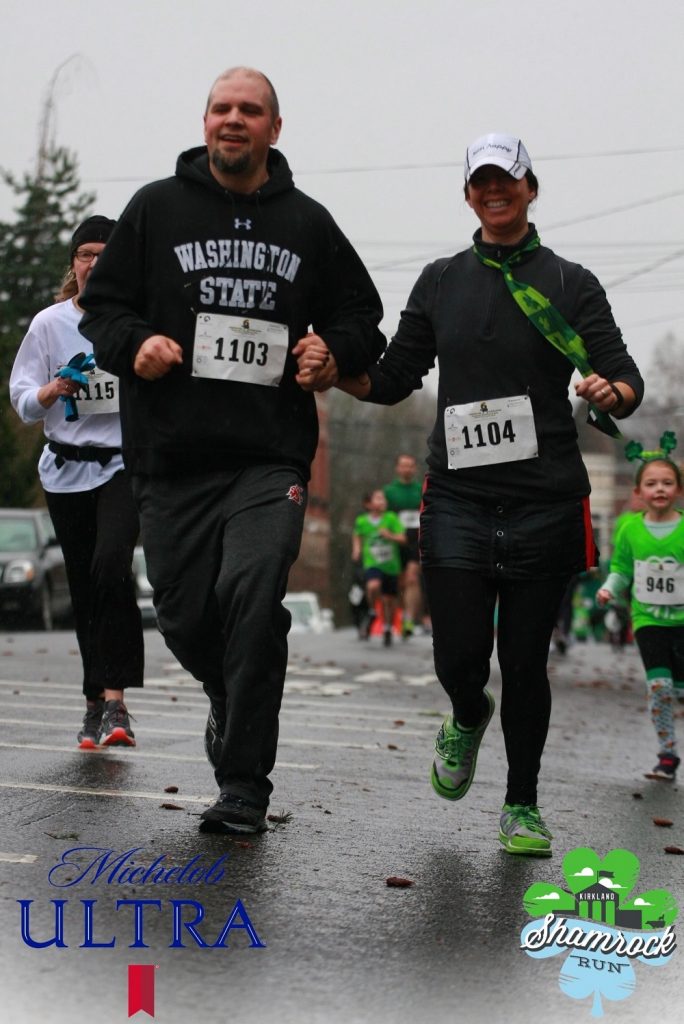 Mile 3 was great. It started (again, I think it was the beginning of Mile 3 because there were no mile markers), on a steep downhill. My shoe came untied, so I told the hubs to go ahead and I would catch up. This was great because I got to fly down the hill, which I love to do. I even got to sprint a little at the bottom. I am such a nerd.
Anyway, most of this mile was near the water, so we had a nice view of Lake Washington. It was really raining pretty hard now, but we were almost done.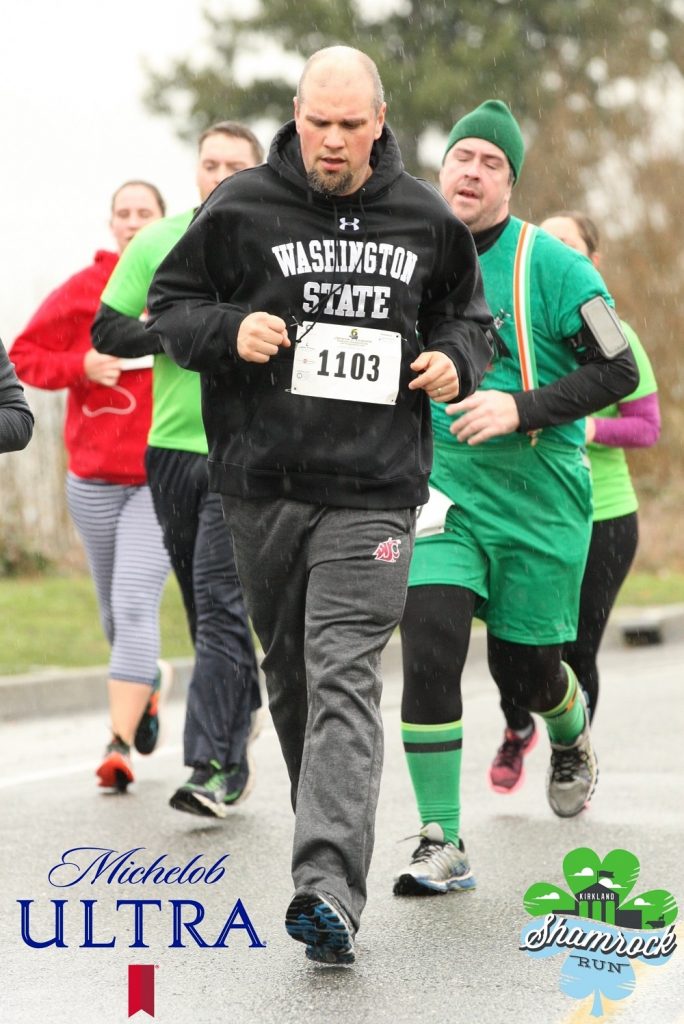 Soon enough, we were rounding a corner into the finish-line chute. Is it just me or do you love corners right before the finish chute? It feels awesome, right?
I told the hubs to go ahead and I would follow his lead because it was slightly crowded. And then, what does he do? Like father like son because he totally takes off in a sprint and cuts around a group of people, so I could not catch him. No cute finish line photo for us.
This might be a good time to talk abut the photos. As you can see in the hand-holding photo, the quality isn't too great. I will cut them some slack on that because it was raining pretty hard. My biggest complaint is that there were only like four total photos of us (I am only in two of them), and we passed at least four photographers. There were no photos of us at the finish line. Not one—I even scanned through all of them in case our bibs weren't visible. The nice thing, however, is that the photos are free. So, how can I complain? I'm just being nit-picky now, really.
One thing that I thought was really cool was that Orca Running had a PR bell set up near the finish line! I wish all races had that. Hubby got to ring it as it was his firt race and, hey, automatic PR!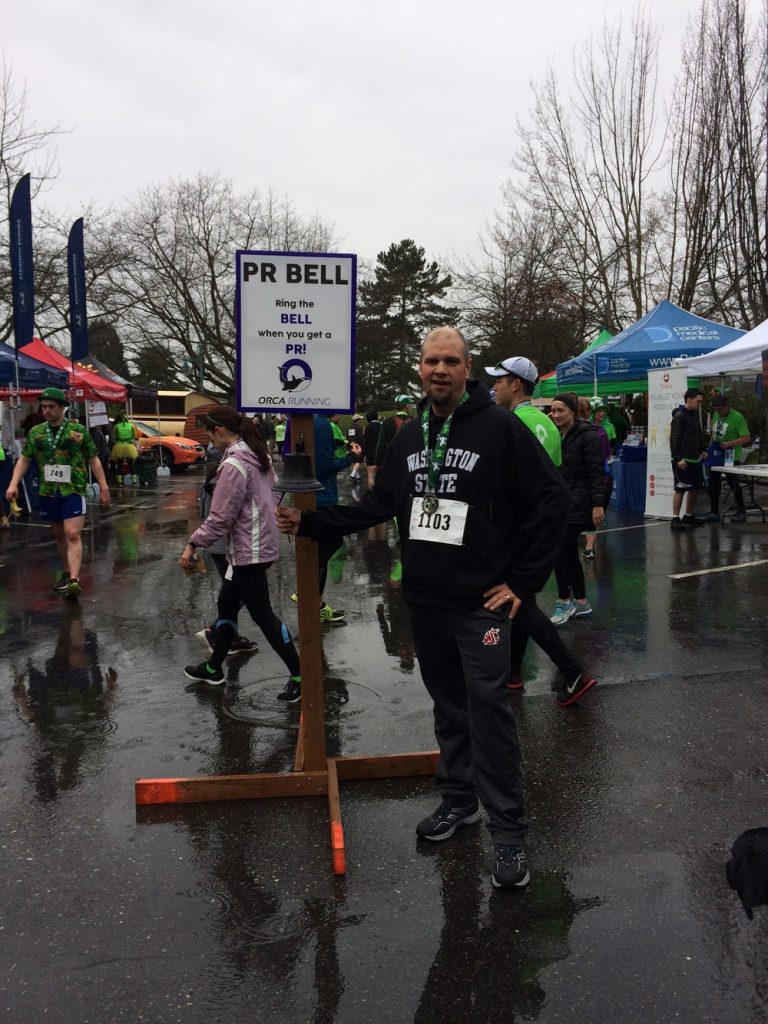 As you can see from the photo, it was very wet by the end, so we did not stick around for any festivities. We really only stayed long enough to get a quick picture in front of the backdrop, which I appreciated. (Again, age of Instagram, people.)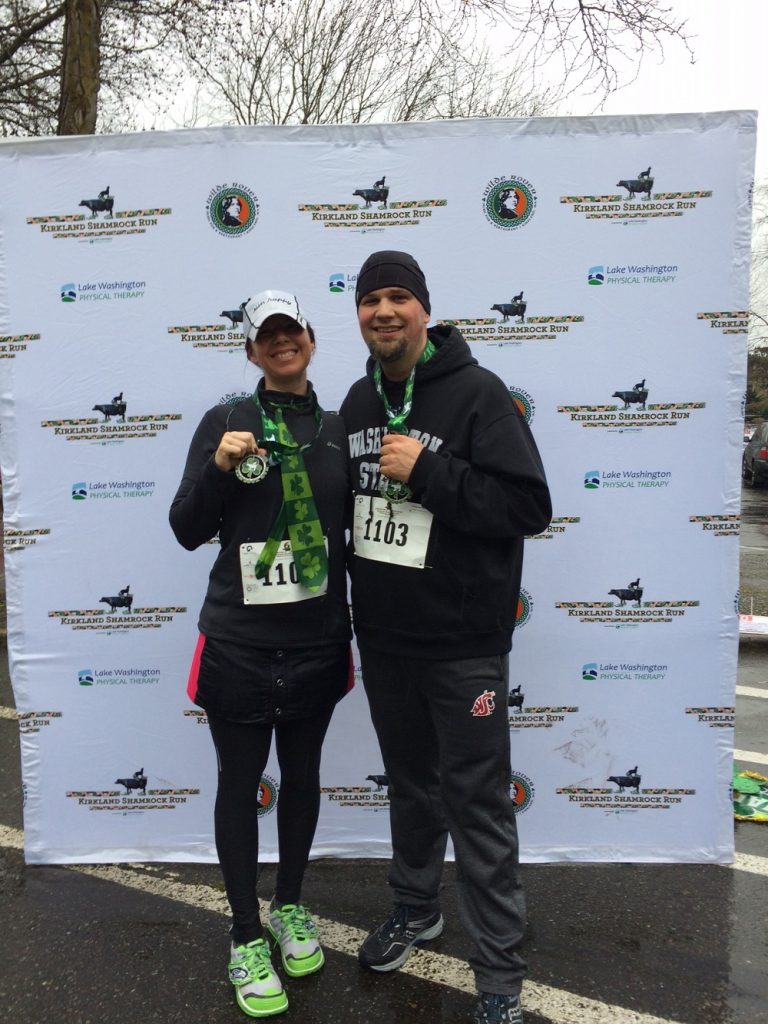 The medals also were really well done and very big, especially for a 5K. They have a cute shamrock in the middle that spins around. Very nice bling indeed! In addition, the race shirts came in both male and female cuts, so that's a major plus because I hate unisex shirts, and I think most women would agree with me.
Overall, the race was very well organized. There were good snacks afterward, too (I had Red Vines!), and I also think there was an after-party in the pub nearby, but we had to get home to pick up our kid.
Thank you Kirkland Shamrock Run and Orca Running for a great first race for my hubs!
Our times: