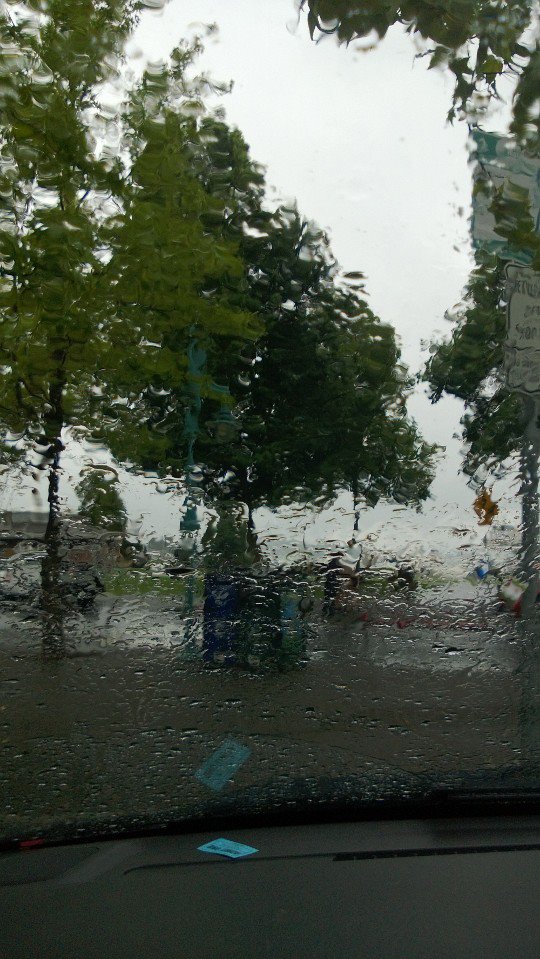 …if you're an idiot.
Which luckily me and Chelsea are comfortable in our own idiocity because we totally rocked stand-up paddleboarding for the first time in rain and wind.
I was early to arrive at Marina Park in Kirkland. It is a small park with well-manicured grass behind the half-moon shaped pebble beach.
I parked across from it and stayed in my minivan, watching the rain pelt Lake Washington. A sleek, white Mercedes parked on my passenger side. A woman with magazine-cover makeup emerged, clutching her sun hat to her head to protect her silky blonde hair.
She and a man joined more beautiful people. I marveled at the women running on the toes of their wedges and spike heels down the pier to their cruise yacht. Okay, okay, I was waiting to see if anyone tripped.
The Northwest Paddle Surfers kid set up a tent for check in on the lawn finally. I made my way to the grass and stood under it in my flip flops, bike shorts, and a dry-fit jacket and hat.
"I was really hoping my boss would call and say I didn't have to work today," said the kid. He looked like he was probably on break from college.
"Sorry 'bout that," I said.
"Looks like you guys are the only ones."
By "ones," he meant: Idiots who want to go stand-up paddleboarding in a rain storm.
Welcome to summer in the Northwest. Wait. No. Welcome to my luck. It hadn't rained for 50 days before Friday.
I considered bailing on this adventure. I ran back to the van and checked my phone. "Be there in 5," was the last text from Chels.
Damn. I guess we're doing this thing then.
And we did. And we had fun…for a little bit.
Out in the choppy water of Lake Washington about 20 minutes into it, Chelsea says: "This would be a lot more fun if it was sunny."
Really? Really, Chels? You think?! (She's trying to steal my Captain Obvious title.)
Twenty-five minutes or so after that, we were seated inside The Slip with a couple of beers.
It was a beautiful day for fish and chips.