Thanks Kris from Fight Hard, Finish the Race and Alma from Average Woman's Running Blog for tagging me. I think these things are fun to write and read, so here we go!
Rules:
1. Post these rules.
2. You must post 11 random things about yourself.
3. Answer the questions set for you in their post.
4. Create 11 new questions for the people you tag to answer.
5. Go to their blog and tell them you've tagged them.
6. No stuff in the tagging section about you are tagged if you are reading this. You legitimately have to tag 11 people.
My 11 random things:
1. I'm getting my parathyroid checked out…again. Blood levels are off, so I have to go get an ultrasound and stuff. I really don't understand what a parathyroid does or anything, but the doc said to get it checked, so I will. I did this a few years ago and there didn't seem to be any conclusions, so I sort of let it go.
2. Bennie and I went to obedience class on Thursday night. The first half of class was completely embarrassing. He was the worst behaved (and oldest and biggest) dog there — jumping 5 feet straight in the air and barking mostly because there was a boxer puppy in the class and he thought he should get to play with her. The instructor just kept saying, "Wow," and laughing. I think he got tired during the second half of the class because he eventually calmed down.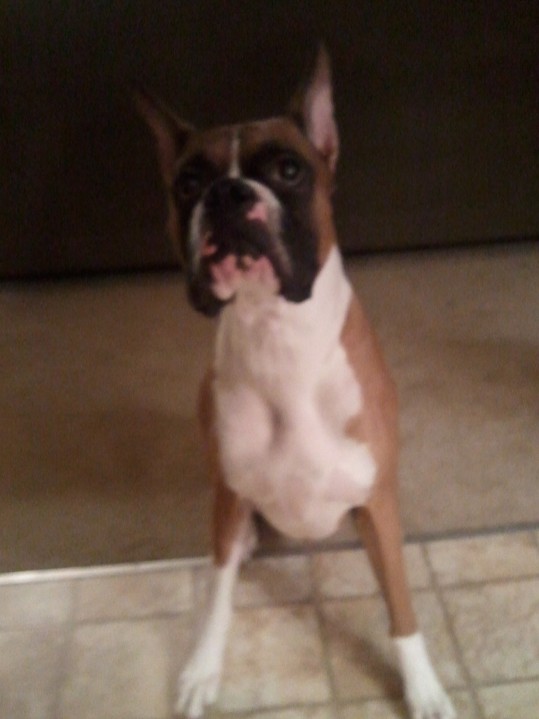 3. I have a bunch of reviews to do on this blog! So far, all of the products are awesome, too! Look for a review on 2Toms Sports Detergent (the best sports detergent I've used yet, and I'm not just saying that because I blog for them!). Another one will be coming on a product from Outside Interactive — it's a video of a race route you can watch while you are on the treadmill, and it has several different pace settings. Love it, too! And the Jabra Sport wireless Bluetooth headphones. Amazing!
4. I've been getting my hair highlighted. I'm slowly going blond.
5. Amazing Race is my favorite TV show.
6. I "organized" my pantry this week. I bought plastic bins for everything that didn't have a designated Tupperware container. I got the idea from Pinterest, of course. I usually organize my pantry about once per year and it slowly becomes disorganized…kind of like the garage.
7. We bought a minivan before we had a child to put in it. We got it for dog-showing. Yes, we were those people.
8. Speaking of…we are going RV shopping this weekend. The motorhome will be for vacations and…dog shows. Yes, we still are those people.
9. One more thing about dog shows: If me and Mr. T fight (like legitimate rude talking and even yelling — WHERE'S THE CHEESE?! YOU WERE SUPPOSED TO BRING THE STRING CHEESE!!!!!), that usually means our dog is going to win. If I had to pick one couple to describe our "dog show personality," it would be Meg and Hamilton Swan from Best in Show.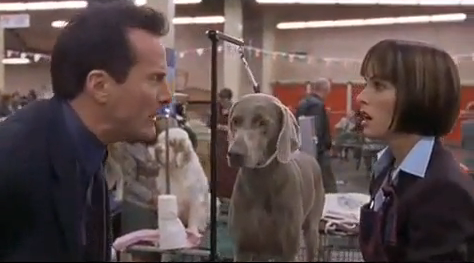 10. I was watching a late-night episode of Seinfeld when I went into labor with T Junior. Wish I could remember which one!
11. Best gift from Santa this year: a heated queen mattress pad/cover. I will never be able to go another winter without this.
Answers to 11 questions from Kris:
1. Where is your favorite place to run?
I would have to say along the ocean, although it's been a long time since I have been able to do that.
2. What's your favorite distance to race?
I really like the half marathon.
3. If you could go anywhere in the world where would you go?
Right now? Somewhere warm with sand, ocean and fruity acoholic drinks like Maui.
4. Why would you go there?
It's where me and Mr. T went for our honeymoon, and we've been talking about going back so I keep daydreaming about it.
5. What's you favorite type of food to eat?
Bread-heavy food: pizza, sandwiches, soup in a bread bowl, cinnamon rolls, etc.
6. What's your favorite "fashion" clothes brand?
I love Carolina Herrera's dress designs. So classic and elegant. Wish I could afford to buy her clothes.
7. What's your favorite sport besides running?
Soccer.
8. Do you like to dance?
Not really.
9. What type of music do you listen to?
I like a lot of different types, from pop-crap to classical.
10. If you could meet one person (dead or alive) who would it be?
I'm horrible with questions like this. I really cannot choose. Um, how about John Denver.
11. Why would you want to meet them?
LOL! I sort of had a crush on him when I was younger. I just really love his voice. Plus, he seemed like a really nice person.
Answers to 11 questions from Alma!
1. What is your preferred method of re-fueling after a long run?
Chocolate milkshake!
2. Do you keep a food diary?
Sort of. I've been keeping track of my food on MyFitnessPal.com. (It's public, too, so if you want to see how bad I eat…)
3. Do you typically run alone or with others?
It's probably about 50/50.
4. If you could get paid to run, would you?
Um, YES.
5. Desiree, Shalane, or Kara?
Desi (but the other two are awesome, too).
6. What/where is your "dream" race, the race you would love to do over all others barring any limitations in resources or ability?
Greece!
7. What are you most proud of accomplishing in 2011?
So much! First marathon, Hood to Coast, sub-2 half marathon! Worked my bum off in 2011.
8. Have you ever changed careers?
Yes! I was an editor; now I'm a copywriter.
9. What podcasts (if any) do you listen to?
I don't really listen to any regularly, but I like TBTL.
10. If you had to pick, where would you go in 2012: Japan, Iceland, Mexico, or Spain?
Japan!
11. How much longer do you think you'll continue to blog?
Forever!!!!! (Or until I decide to stop.)
Thanks for tagging me Kris and Alma! This was fun! I have to tag 11 people now, but I have no idea who has been tagged yet. How about the last 11 MvM commenters:
1. Marissa at Let's Move It Mommas
2. Jess at Run With Jess
3. Karla at Running on Eagles Wings
4. Kendra at Mama Loves Medals
5. Jen at Runner…Maybe?
6. Marie at Why She Runs
7. The Jesse at Journey Through Life
8. Ricole at Ricole Runs
9. Alicia at Running Around in Circles
10. Marlene at Mission to a(nother) Marathon
11. Lindsay at Chasing the Kenyans
Here are my questions for YOU:
1. Why do you blog?
2. What is your favorite childhood board game?
3. Coffee with or without cream?
4. Tell us about your favorite vacation ever.
5. What is your favorite movie quote?
6. Best bling from a race:
7. If you could live anywhere in the world, where would it be?
8. Why would you live there?
9. The one song that gets you superpumped to run is:
10. What did you have for dinner last night?
11. Why did you start running?
(Play along if you want, but this did take me longer than I thought it would, so no worries if you don't have time!)