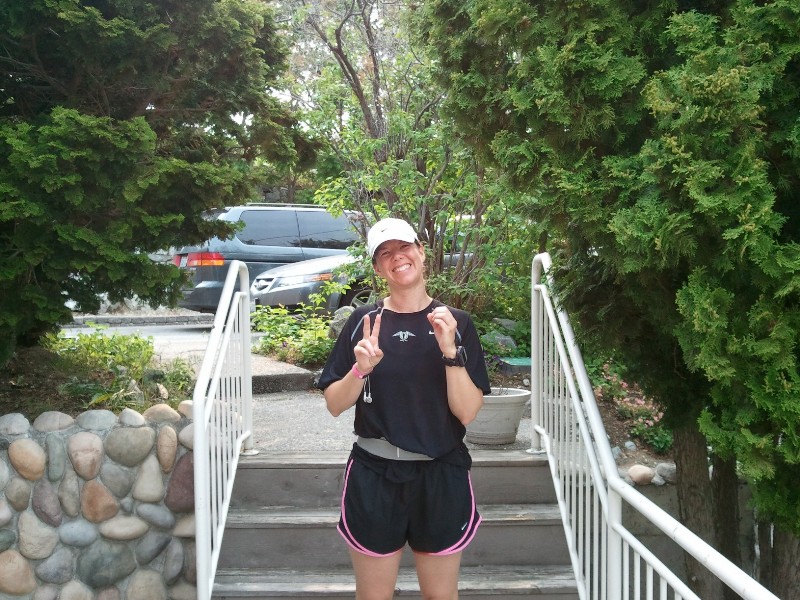 Done! That's a 2 and a 0 in case you can't tell. I was a little out of it.
If training for a marathon were like climbing Mount Everest, then Sunday I would've been at the spot before the summit where you have to turn on your Oxygen tank. And if I were on that mountain on Sunday, I would've been placing my mask on my head and asking my Sherpa, "Why am I doing this again?" But he would just shake his head at me and wonder what I was saying, so I might as well have been talking to myself, which is completely normal.
I would've signed up for the trip to the Himalayas after some really smooth travel guy with a British accent sold me on the glamorous side of Everest: its beauty, its people, its bragging-rights! "Yes!" I would've exclaimed. "Yes, yes, yes! That sounds totally fun. I'm in!" But, of course, he would've neglected to mention (or I would've been too mesmerized by the fun way he pronounced his O's and T's) the unglamorous side of the mountain — you know, the risk of death and all that jazz — and it wouldn't have really sunken in till I was already in it so far that there was no turning back. Well no turning back without looking like a total dumbass anyway.
I suspect my brain has been faking a British accent to sell me on this whole marathon thing.
PRE-RUN
Over the long weekend, our family, along with two other families, stayed together in a friend's house on the shore of Lake Chelan. Chelan is a major vacation area for Seattleites, especially during long weekends like Memorial Day since it's a relatively short drive (about three hours). We left early Friday to avoid traffic jams over Snoqualmie Pass in the Cascades. Friday was also T Junior's birthday, though, so along with sand toys, food and sunscreen, we packed birthday presents and candles. And, of course, my running bag got shoved into the car, too, since I needed to run 20 miles over the weekend. I can't do it next weekend and then after that, it's too close to the race.
So there we all were in Chelan and I felt like a total dork having to explain why I needed to go to bed at a decent time on Saturday night so I could wake at 5 a.m. and hit the road…er, the shoulder of it actually. There was one upside, though, I ate whatever I wanted — carbs galore!
If I was smart (insert your own crack here), I would've planned to do the run Saturday morning. But I'd promised to make breakfast and dinner on Saturday as we would be celebrating T Junior turning three that day. Instead, 20 miles loomed in the distance like dark clouds over snow-capped mountains although I didn't realize it at the time. I just thought it was lack of sleep. Rooming with a three-year-old is not advised pre-long run. I got about four hours of sleep Friday night.
Saturday was a busy day. I made breakfast, the kids played on T Junior's new jumpee and we hung out at the beach. I did a good job avoiding the plethora of adult beverages and sticking to water. Then I made dinner and we had the Thomas train cake that T Junior requested from the "makers," and not his mother.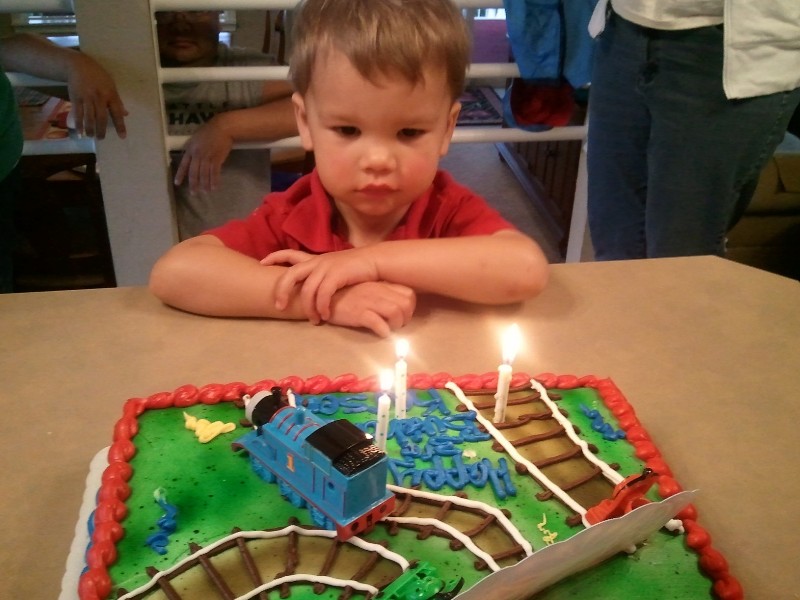 He was really excited about the cake, but got pissed when
we started to sing The Birthday Song.
I was about to go up to bed Saturday night when I heard T Junior crying upstairs. He was not feeling well. Mr. T went to the store and brought back every possible remedy. Finally, T Junior, Mr. T and I fell asleep around 11 or 12. Honestly, I'm not really sure. I set my phone on vibrate and hoped it would wake me at 5 a.m. for my longest run ever.
Of course, I woke up on my own at 4:45. Wide awake. So I got up and slipped into the shared bathroom to get ready for my run. I brought my camo skirt, but in a quick decision in the bathroom, I went with my Tempo shorts. It looked cold outside. It rained overnight and, at that moment, shorts and my soft and roomy Issaquah Salmon Days 10K race shirt (from my first race in 2009) sounded a lot more comfortable to me.
I felt nervous. But not about the run. I was more worried about waking someone up. I skipped the normal toasting and peanut-buttering of my Thomas English muffin and ate it as it comes right out of the package. I also had a banana. I felt a little uneasy about changing up my pre-run food, but my body felt good. I'd had two full days of rest. I snuck out the door between 5:30 and 6.
I was above the shoreline for most of the route. The highway goes inland for a little under
two miles before the turn-around in the town of Chelan.
THE RUN
Outside, it was cool, but warm enough that I knew I would be fine once I started running. First, I walked in the opposite direction of my route to warm up. Then I alternated walking and jogging (as instructed by my physical therapist) for about a quarter mile. I then did a quick soleus stretch. I probably should've warmed up a little more, but I'm sorry, if I'm going to be running 20 miles, I'm going to get warm on the run, thanks.
The plan was to run from my friend's house to the town of Chelan, about five miles, and then back. Twice.
The sign before this section read, "ROCKS." No kidding.
Finally, I started my Garmin and began my routine of running five minutes and walking one minute. I felt great, but a little nervous about running along the highway. It's a two-laner up above the lake. It's mostly flat, but it twists and turns. There is one short curved section that has a wall of rocks covered in netting. Yeah, I crossed to the other side on that part. But the other side is a man-made rock wall that drops into the lake. Pretty. But pretty scary if a car's coming. I had to pay attention, which is probably a good thing.
The view was vineyards and mountains and rippling water and dry grasses and trucks hauling boat trailers and roadkill and a guy doing the walk of shame in his party jeans and chest-revealing black club shirt. The sounds were buzzing boats, car
s wooshing by and chirping birds. The smells were rain-soaked pavement, dirt and a sulfur scent I suspect is from well-water.
The sun hadn't come up yet on my first out and back. I smiled and enjoyed myself. I passing car gave me a friendly honk. I was running a nice pace. Or I thought I was.
Around Mile 2, I realized my Garmin was freaking out a little. Most of the highway has a power-line canopy and it was messing with my watch. I stressed about it for a couple miles, then decided to just run by feel and hope my watch could get itself under control every once in a while. Once I turned around and was on the other side of the road, it was fine, but I spent Miles 3-5 trying to get a "feel" for a nice pace.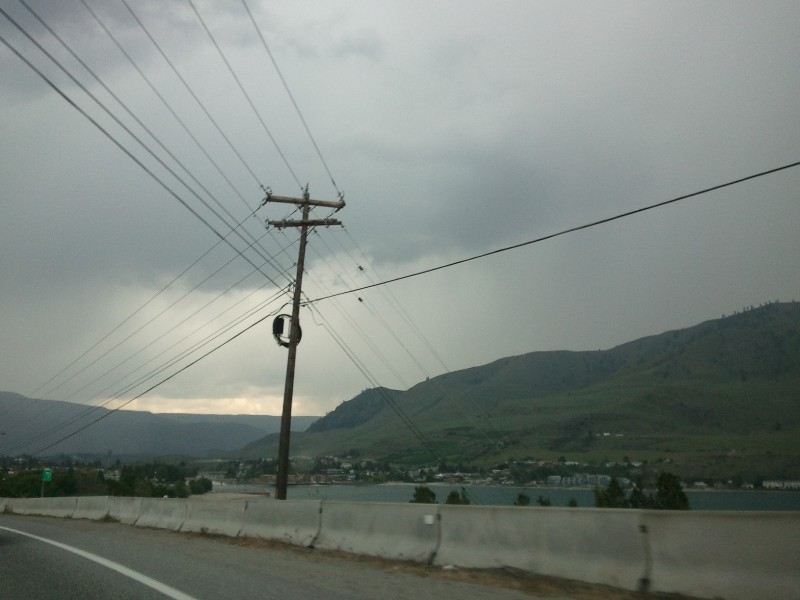 Vineyards across the lake. Photo taken on Monday.
Mile 4 had me descending into the town of Chelan just before the turn-around. I thought, Oh boy. This'll be a fun climb after 15 miles.
Mile 1: 10:17
Mile 2: 10:33
Mile 3: 10:46
Mile 4: 11:12
Mile 5: 10:31
I turned around in town. Used a crosswalk, in fact. It was quiet. Nobody had awaken from last night's festivities yet. I climbed up the hill out of Chelan. Around Mile 7 or 8, the same car that'd passed me at the beginning of my run, drove by again offering up a friendly honk. Made me smile. I don't really remember much else about the first out-and-back except that when I was done with it, it felt like it was over pretty quick. I went into the house to refill my water bottles with NUUN and make a pit stop.
Mile 6: 11:03
Mile 7: 9:47
Mile 8: 10:12
Mile 9: 9:35
Mile 10: 9:36
One of my friends was in the kitchen making eggs for her 1-1/2-year-old son. I chatted with her as I refueled and it was around 7:30 when I pushed off again, thinking: The next time I'm back here, I'll have run 20 miles. Woohoo! 
Now, the sun was rising above the large foothills on my left. The lake reflected red and orange. I felt relaxed and I just kept on truckin' and reliving all the things I'd seen on miles 1-5, crossing the street at the sign that said "ROCKS," and recognizing pieces of trash and dead animals. This time, however, there were more cars. I waved to another smiling runner going in the opposite direction. People were up!
Around Mile 13, I realized that I had not spend enough time in the bathroom. Sorry, TMI, but I had to go and knew I had nowhere to go, so I had to just deal. I decided that I will most definitely have to use a Honey Bucket in the race. In fact, I may even plan one to avoid the stomach cramps I had to run through on Sunday. Looking back, I could've run to Safeway or Starbuck's, which were both just past Mile 15 in town, but it didn't cross my mind at the time. I even ran farther into town on this leg because I was just shy of hitting 15 miles before I turned around, but I turned around earlier because a pack of partiers looked daunting up ahead.
Mile 11: 10:00
Mile 12: 10:27
Mile 13: 10:52
Mile 14: 10:07
Mile 15: 10:16
I felt pretty good at the turn-around despite my tummy troubles. I'd been taking a gel (Hammer gels — vanilla is delish! — or Powerbar gels) about every 30-40 minutes and I wasn't too hungry. I was also being good about drinking my NUUN. Taking a swig or two just about every other walk break. My music turned itself off a couple of times because I think my earbuds came loose, which was annoying, but no big deal.
As I started on my last leg, I felt anxious to get done. I'd been faithful to the run-walk, only really forgetting to stop and walk a few times along miles 15 and 16. When I'd remember, then I'd just start my walk a little late. But around Mile 17, I just wanted to be done with the run.
My tummy was urging me to get to a bathroom and I could feel a couple blisters on my toes. Walking started to become more painful than a relief, and so I decided to run the final 5K.
My legs loved this. My feet and tummy did not. Just hold on, I told my stomach. I passed more runners going in the opposite direction, which gave me bursts of energy as they were all friendly smiles and waves.
I knew when I got to "ROCKS," I'd only have less than a mile left. I couldn't wait for "ROCKS." My stomach was giving me warning after warning, and around Mile 19, I thought, This is dumb. (More on this at the end.)
 Soon, there it were those rocks. Never been so happy about rocks. Yippee! Except when I got to my friends house I still had a little mileage to make up for my early turn-around back in town. Dude!


I ran  past the house and tried to figure out how far I needed to go before turning around. Fail. I had to run back past the house and then go back again! Luckily, the house is set below the road so it's not like they were all inside wondering what the hell I was doing. Oh yeah, going down the steep driveway hurt like crazy! My quads were on FIRE.
But I was done!
Mile 16: 11:04
Mile 17: 9:57
Mile 18: 9:49 (no walking)
Mile 19: 9:49 (no walking)
Mile 20: 10:10 (no walking)
Total time: 3:26:16
Average pace: 10:18
POST-RUN
I smelled the promise of bacon and French toast inside and could not wait to eat! But first, I dragged my friend outside in her PJs so she could take a picture (at top of post), and then I had to get in a cold bath like NOW. I considered standing in the lake, but the thought of walking down the hill to get to it was less than appealing. Also, I still needed to use the bathroom.
I sat in cold water, then bathed and put my pajamas back on before going back downstairs to the kitchen. Everyone had finished eating, but there was plenty left for me. I ate, but then I had to go to the bathroom again (and that's how it went for the rest of the day actually — eat…then five minutes later run to the bathroom).
I was also in a lot of pain. My muscles hurt and my feet hurt more than normal. I just kept thinking, 20 isn't that much more than 18. I don't get it? Why so sore? I took two Ibuprofin and then rested on the bed for about 30 minutes. Guess what? It went away. I was still a little sore after that, but not bad at all.
Still. Here's my final thoughts on marathon training, since I'm done with my long runs and on the downhill side of the plan now: Half marathons are the way to go. Three and a half hours is too much running. It wasn't fun anymore. It was homework.
I don't want to be a downer, but I cannot wait to get this marathon out of the way so I can enjoy running a half with my friend Chelsea (most likely her first one!) and training for a sub-2 half in September, and maybe even going for Half Fanatic status with my lo
ng-run buddy Zoë, who ran her first 20-miler on Sunday, too. (Funny story: A little later after my run on Sunday, I texted Zoë to see how her run went, and she replied that she'd just finished! Another weird thing: Our times were less than a minute different.)
Anyway, this runner girl just wants to have fun. So I need to ask you for a future favor: When my brain starts using a British accent and talking about bragging rights, can you please remind me about the ice crevasses and non-English-speaking Sherpas and cramping of the large intestine? Thanks.