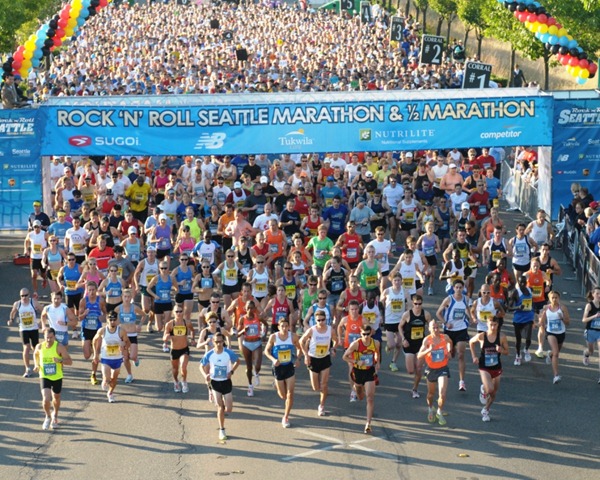 Technically, there are three things here. But they all center around achieving full mary glory!

Finish my first marathon.
That's it. That's all I want. When that's over, I'll solidify some more goals. I have a couple in mind, but they all depend on whether or not I cross the finish line at Rock 'N' Roll Seattle on June 25.
Mentally, I know I can do it. I feel like, if I had to, I could do it tomorrow. (Don't worry. I know, physically, that would be a disaster.) Now, it's just a matter of staying healthy. No shin splints. No fractures.
There are some smaller goals that I want to go for, too:
Lose 15 more pounds by the end of March.
Right now, I'm hovering just under 160 pounds. It's not bad, but at 5'7", I'd like to be closer to 145 to make running the long distances easier on my body. Heck, I'd take just under 150 at this point. I've sort of stalled out since my trip to Florida in November. I managed to keep my weight in check over the holidays, but now I want to get back on the "losing" wagon. And I want to get the weight down and stable before the end of marathon training — when it's important to eat "enough."
I'm sort of frustrated with the weight thing, actually. I am wearing this BodyBugg thing and it appears I am in a calorie deficit almost every day, but no loss. I've gained or stayed the same. I feel like Jillian is shaking her head at me and claiming I'm "throwing" my weigh-ins, but I swear I am not! (Did you see Dan and Don last night? What was that all about?) I will be meeting with a "coach" from the program to see what's up with that.
Get faster.
I'd be lying if I said I didn't have a time in mind for the marathon. I don't know if I'll share it. But, really, if I don't hit that time, I'll still be just fine with simply finishing the full 26.2 miles. It's my first one and I don't want to ruin the experience with unrealistic expectations. There are just too many uncontrollable factors.
But after the marathon, I'd like to improve my 13.1 time. I'm thinking something close to 2:00:00. A girl can dream, can't she?!