Have you ever seen Go, Diego, Go? Why must the children in this show yell when they talk? Oh, and then they encourage the viewers to yell back at them. I mean, freaking Diego even says, "Everybody scream!" Hey, here's an idea, how about, NO. Let's not everybody scream.
But T Junior is sick, therefore, I'm basically letting him watch television all day and eat animal crackers for every meal. Hey, it's what I'd do if I was sick.
Because my treadmill is so loud, I had to turn this Diego clown up to 35 so T Junior could hear it. And there was no way I was running without music, so I had my speakers on, too. Between Kelly Clarkson, the stomping and whirring, and that screaming cartoon child, I'm surprised we're not all deaf.
Luckily it was an easy day. Yep, "3 easy" on the plan. I walked a half mile to warm up, ran 3 at about a 9:30 pace, and then walked a half mile to cool down.
My left shin and calf are pretty tight, but that usually happens after I run on the treadmill. I ran on that thing two days in a row now. I must do something funky with my stride on there. Luckily, T Junior's fever seems to be gone and I can get back to some outdoor running — especially since we've had sun the last two days. Of course we did…on days I couldn't even go outside.
Crazy that the cooooold photo below is from six days ago: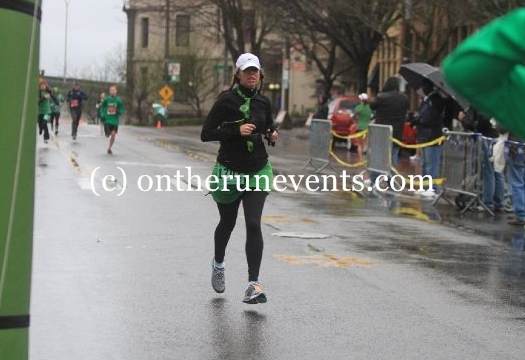 What I DO like about this picture is that both feet are off the ground. That's pretty cool.
What are you doing this weekend? I will be running somewhere new! What do you eat when you are sick? I usually go for toast with lots of butter. Man, I love toast.