1. Our treadmill is coming tomorrow! It's three days early! I'm so excited for it to arrive so I can begin my new schedule of NOT having to get up at 4 a.m. during the week to run. I will be able to run in the evenings. Obviously, I could do this at the gym, too, but going to the gym is a whole ordeal. You gotta layer on extra clothes, get out the door, drive there, take off the extra clothes, get your music situated, run, put the extra clothes back on, drive home, shower. That takes away precious time with Mr. T. But Mr. T now has the option of being with me in the room while I run (I bet he's excited about that). Actually, Mr. T has been doing a little walking and running himself, so we can alternate in the evenings. I guess I'm just looking forward to simplifying.
2. On Monday, T Junior and I went to TJ Maxx in search of a lamp. We found one, but I also found some Thorlo running socks for $3 (these are usually $12+) and a pair of New Balance running sunglasses for $7! They have a rubber grip on the nose so they won't slide off. That was really driving me crazy last summer, so if when we ever get some sun here in Seattle, I'll be able to test 'em out.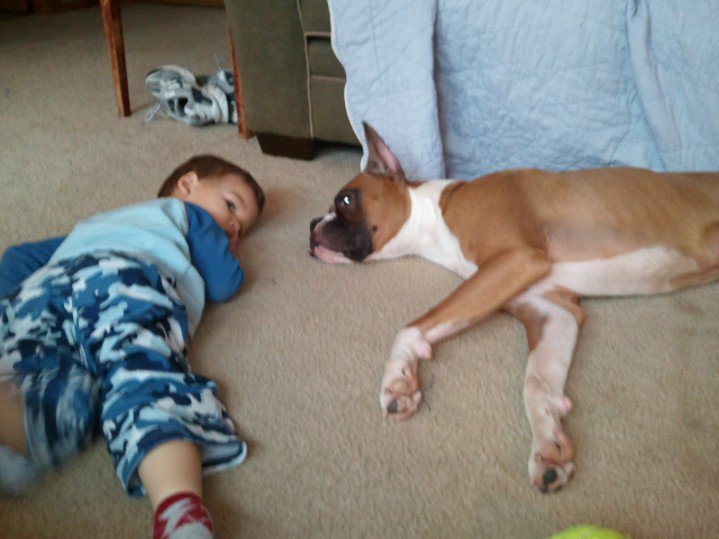 Bennie chills with T Junior, who was recovering from the flu.
3. Bennie has his second ever dog show this weekend. Let's hope he's not a total spazz. I'm sure it'll make for some good blog posts. Since I started this blog, we have not had a dog to show as Lucy was already "finished" (a champion) and AJ was sick therefore retired. But Bennie is coming up on one year and he's a nice looking boxer. The only issue is that, well…to quote someone else, "He's an airhead." But you don't have to be bright to win beauty competitions. Right? Either way, dog showing is something fun that me and Mr. T (and now T Junior) enjoy together. The dogs have fun, too, because they get to go in the car, they get lots of extra attention and treats. Being a show dog is pretty great. Just ask Lucy, who was not happy Bennie got to go to dog show school on Tuesday and she had to stay home.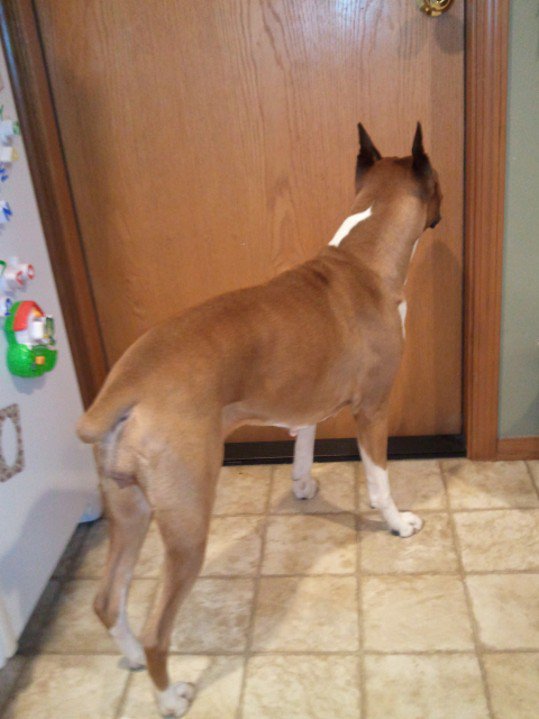 Wishing she got to go to class.
Also not thrilled about T Junior being in her space.