Want to get fit? Well, you better get used to the fact that exercise is uncomfortable.
Getting what we want is not always easy and fun…despite what all the advertising says. Sometimes (most of the the time), it's difficult and uncomfortable.
Author, speaker, scholar Brené Brown says in her book, THE GIFTS OF IMPERFECTION: "We develop a hopeful mind-set when we understand that some worthy endeavors will be difficult and time consuming and not enjoyable at all."
Here are five times I got super uncomfortable in order to achieve something:
A college degree. But first I had to leave home and live on my own in a different state. Super scary and uncomfortable. Worth it.
Having a child. First of all, I was super scared to be pregnant. Second, pregnancy is uncomfortable as hell. Worth it.
Buying a house. Oh my gawd. What if we lose our jobs and can't pay the mortgage?! Worth it.
Completeing a marathon. Two actually. I know you all know that's some uncomfortable shit right there: thigh chafing, blisters, lonely hours spent on a long run. Worth it.
Building a better body. I'm in the middle of this uncomfortable process at the moment. Things hurt and my hands have blisters.  But I'm getting stronger. Worth it.
What makes us weak
Think for a second: When has being comfortable ever gotten you anything you wanted? I mean, besides ordering shit on Amazon from your couch.
Go ahead and think about it…I'll wait.
I'm trying to think, too.
Nope.
Not coming up with anything.
I was listening to Brown on a podcast recently and she totes agrees with me. "We're the most medicated, addicted, in debt, and obese Americans in history. Our tolerance for discomfort is zero," she said, "…it's actually our inability to be vulnerable that makes us weak."
Ouch.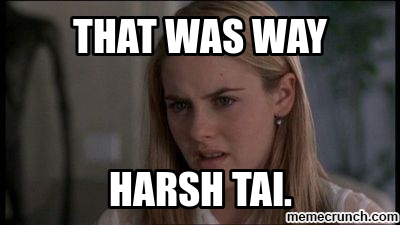 Exercise is uncomfortable
Exercise is not comfortable. If anyone tells you it is, they're a g-d liar. Exercise makes you sweat. It makes your heart pound. Things sometimes rub together. It takes up precious time. And sometimes you pee your pants. (Right? Right?! Moms, I'm looking at you to back me up on this!)
But here's a little secret about exercise and being uncomfortable:
It only takes a little while for exercise to become less uncomfortable.
That's right. If you keep doing it on a consistent basis, the less uncomfortable you'll be with it and it'll be for you. Sure, you'll still sweat, your heart will beat fast, and the pants-peeing thing doesn't really go away (right?!). But you'll be comfortable with being uncomfortable.
And, guess what? Pretty soon (like in a matter of a few months) you'll realize you're TOO COMFORTABLE! Won't that be funny? And you'll have to change what you're doing to make yourself uncomfortable again.
The evolution of comfortableness
I've definitely had this experience without really thinking about it:
I went from being uncomfortable walking. Then I got comfortable with it.
Then I got uncomfortable again and started run-walking. I got comfortable.
So I got uncomfortable again and started running. I got comfortable.
I got uncomfortable again and challenged myself with distances like the marathon. I got comfortable with that…wait, not really. But I knew I could do it and so, in my mind, I was comfortable with it.
So, I got uncomfortable with a triathlon.
Then I got uncomfortable with sprinting.
Then I got uncomfortable with dumbbells.
Now, I'm getting uncomfortable with a barbell.
And that's where I am in my workouts now.
So, what have you done to be uncomfortable today? How can you make yourself vulnerable and, therefore, stronger?