I did something yesterday that I never thought I'd do. Been too afraid to try.
After my morning hill workout, and after everyone ate breakfast and had time to digest, I took Bennie (the crazy dog) and T Junior (the crazy 3-year-old) for…wait for it…
Duhn-duhn-duhn!!!!


A run.
Yikes.
The plan: tire them out.
Just getting ready to go had me feeling tired. But we made it out with only a few obstacles: T Junior opening the door and setting the dog free being the most stressful. (He was a good boy and came to me when I called him.)
Anyway, I'm happy to report, the plan worked. Afterward, Bennie snored, twitched and dreamed, and T Junior looked like he was going to fall asleep while eating his peanut butter and jelly sandwich, although now I can hear him playing in bed. Probably because I gave him chocolate milk (best recovery drink ever). After all, he did run an entire mile.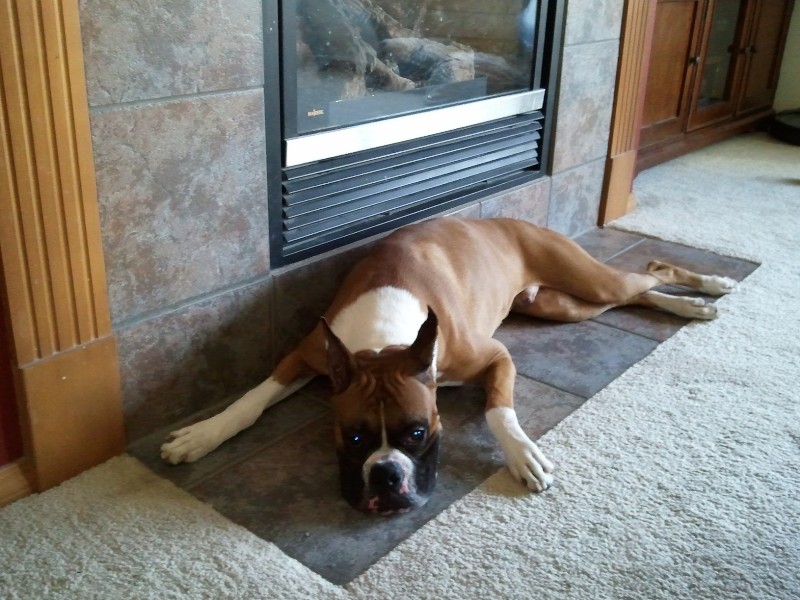 The coolest place to rest is, surprisingly, in front of the fireplace.
T Junior's mile was slow (he has little legs!), but he ran the whole way. I kept asking him if he wanted to take a break and letting him know it was okay to walk, but he refused.
The only time he wasn't running was the moment he stopped right in front of two passing women to tell them: "I'm going for a run! I'm going for a run with Bennie!" The women doted on him, telling him he was a good runner. "Thank you," he yelled over his shoulder as he resumed his run.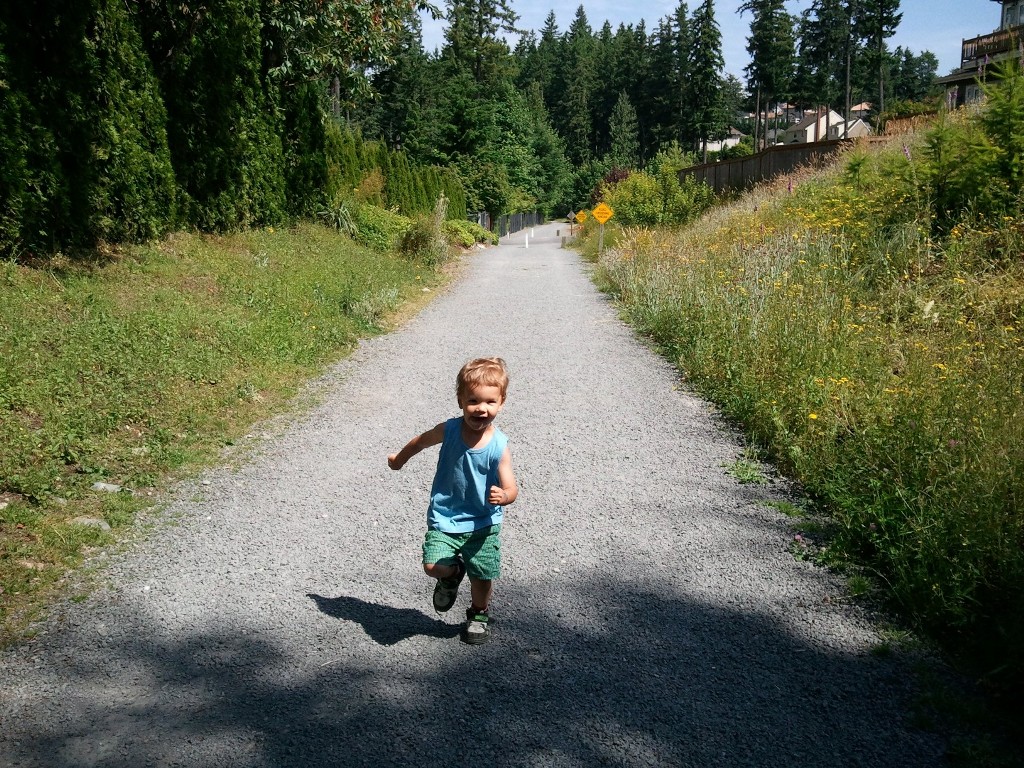 Somebody get this kid some running shoes.
Later, he told me, "We're exercising!"
"That's right," I said. "Are you having fun?"
"Yes!"
I almost cried.
The walk home, though, was brutal. His little legs were tired and getting home took forever. I offered to carry him, but he wouldn't let me. He also kept getting distracted by: a dude on a bike, a leaf, a stick. I'm talking about the kid even though these are the same exact things the dog was distracted by. Hmmm. 
Next time, I'm bringing the jogging stroller and he can ride home. The kid; not the dog.
The dog, however, was relatively good. Not too many people on the trail on a Monday afternoon, which was nice. Bennie was hot, though. Next time, I'm bringing him some water. I'll put it in the jogging stroller.
Despite the little problems, now I know I can take the kid and the dog "running" together! I loooove to multitask and I burned a few more calories. Another fear conquered! I'm on a roll this week.
Do your kids like to exercise? Are you brave enough to take them and the dog?