So Chelsea, running buddy extraordinaire and writer of the blog Will Run for Food, drove me on a tour of Saturday's big race, which I can't even remember the name of because I am so busy with work this week. Oh yeah, Seattle Rock 'N' Roll FULL Marathon. I felt a little sad because this was supposed to be Chelsea's first half, but she is injured. I KNOW what that is like to watch all the excitement and not feel like you are a part of it. Spectating and friend-support is so important, though. I didn't realize that last year. I hope Chelsea does and I'm excited that I will get to see her around Mile 7. We even drove past the spot she will be cheering. And, yes, she will be ringing the very cowbell I rang last year.
Below is a partial preview of the Seattle Rock 'N' Roll course. Go HERE for full turn-by-turn. We skipped the city and the I-90 portions on Saturday because I've run through there before/driven it and I know what it's like: hilly.
Miles 1-3 look a little industrial, but then you turn into some neighborhoods and make it out to pretty lake views by Mile 5 where you run until the half/full split begins around I-90.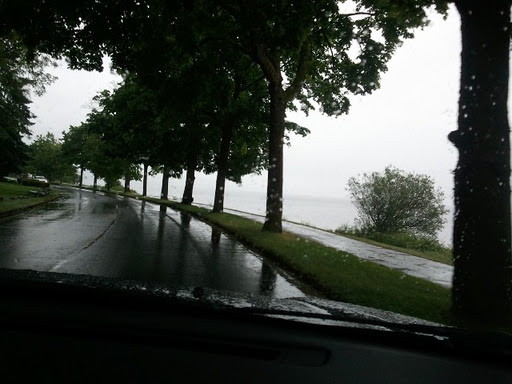 Along Lake Washington Blvd./Lakeside Drive. Mile 5.6-8.9.
Little hill here. Along Lake Washington Blvd./Lakeside Drive. Mile 5.6-8.9.
"Where is THAT road?" Chelsea looking for her spectating location.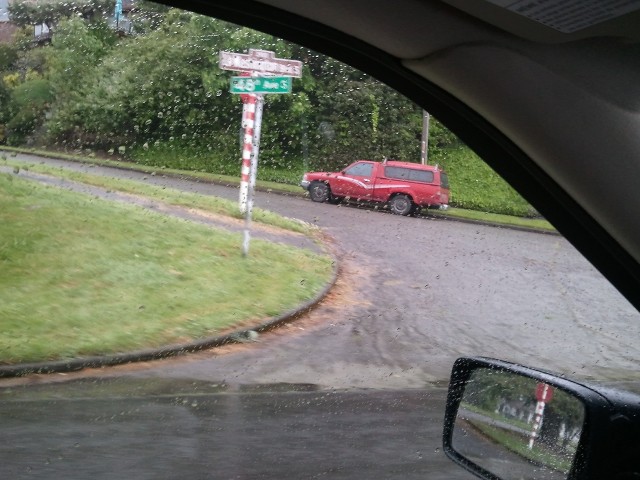 "There it is!" Look for Chels on the corner of 48th Ave. S. and
Lake Washington Blvd. around Mile 7. Wow, that sounds hookerish.
After the split, the full marathon runs the I-90 bridge (Mile 9.2-13.8). I'm slightly nervous about this portion. I've heard it's lonely (and windy) because there's minimal spectators. Zoë (Run, Zoë, Run) and I are planning to run together, though, so I'll have a friend. Take that, I-90!
After we get off that bridge, we take some turns through downtown Seattle till we get to the Alaskan Way Viaduct (Mile 14.5-17.8ish) and head for another bridge: Aurora Bridge. Yeah, it's an incline, but then we turn around and go back toward downtown. 17.8-19.2.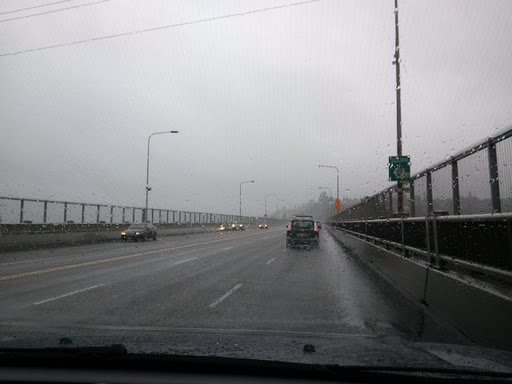 Driving across the Aurora Bridge (in "the back" part —
the bridge is an out and back). Mile 17.8-19.2.
After that, the marathoners make their way back across the Alaskan Way Viaduct toward the finish line at Qwest! Mile 19.2-26.2.
And one more little tidbit from my trip to Chelsea's neck of the woods…
You probably won't see this along the course. Back in Chelsea's neighborhood,
we caught the end of the Solstice Parade, an annual event that bring out nakey bike riders.
Check out the strategic raindrops in this photo!