If we weren't blog-buddies last year, you may not remember THIS. Or THIS. Or THIS.
THAT is why I'm paranoid. It is hard to explain in words how badly I want to run a marathon. I need to. It's like, without it, something will always be missing. I'm totally one of those girls on America's Next Top Model, who says (while "smizing," btw), "Nobody wants this as much as I do."
NOBODY!
I will not get hurt. I cannot. Which is why I recently took a week off. And why I've been using the ActiveWrap Knee/Leg Heat Ice Wrap, a product I was sent to test and review. And a product that I don't know how I lived without.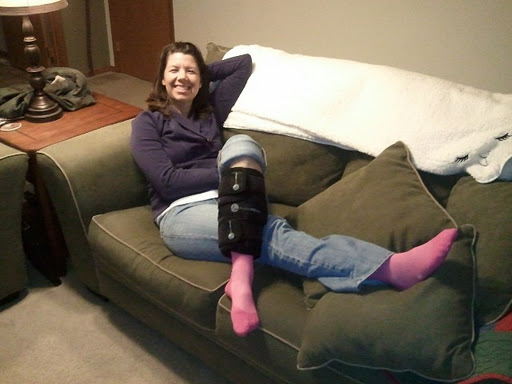 Chillaxin' with my shin all nice and icy thanks to ActiveWrap.
Here's what ActiveWrap says about the Knee/Leg Wrap:
"The ActiveWrap knee system includes 2 large reusable heat and ice packs, and a durable active medical plush compress support. Complete with generous 3-inch wide plush compression straps that can be spiraled around the support to provide focused compression and fastening. Designed for injury specific adjustability and freedom of movement. Full one year warranty. Washable and built to last. Patented design allows the soft hot/cold packs to be adjusted and positioned anywhere throughout the wrap for targeted relief. Use support without thermal inserts to provide support and retain therapeutic warmth to the knee. One product provides heat, cold and mild-moderate support for the knee."
I love that…
…you can make the wrap really tight to get the benefits of compression and icing.
…the Velcro is super-strong and holds the wrap tight.
…the packs stay cold for a very, very long time.
…the freeze packs are thin and don't take up too much space in our already-full freezer.
…the freeze packs don't turn into bricks – they are soft and mold to you.
…the freeze packs only need a couple hours in the freezer (read: it's OK if you forget to put them in overnight).
…you can ice after a shorter run (read: you don't need to submerge your entire self in a full ice bath).
…I can now eat my peas.
I have not used the heat yet because I haven't had a need for it. I know my running buddy, Zoë (of Run, Zoë, Run), uses it to warm up baby Goober's crib before putting her to bed. Genius! Hey, maybe I'll do that with my bed since it's the end of April and it's expected to snow on Thursday.
Get $5 off of any ActiveWrap product by using the code blog5 from now until 5/30/2011!
A big thank you to ActiveWrap for giving me the opportunity to try out this product. If you have any more questions about my experience, please feel free to ask here or e-mail me at kerrie (at) sanitydepartment (dot) com. To learn more about ActiveWrap, go HERE, and follow them on Facebook HERE and/or on Twitter HERE..
I received ActiveWrap to review for free. I truly like the product and the above post reflects my honest feelings about it.