Have you ever made fun of an overweight person?
Tuesday, on the stationary bike in the Secret Gym, I continued reading my "fun" book, Bitter is the New Black by Jen Lancaster (pictured in the black and white photo on the right). I'm laughing out loud, smiling and gasping at the events in this book, which the author says is a memoir, but that she's "taken a few liberties for the purpose of moving the story forward."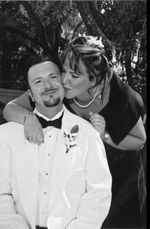 There's a point in the book, when Jen admits she's gained a "few" pounds. And, by a few, she means 50. I don't know where she was starting from or how tall she is, but she does allude to a Size 14.
I've gained 50 pounds before, and I'm not talking about when I was pregnant because I gained waaaaay more than 50 then.
In college, I didn't have to work hard to fit into my faded Size 9 Calvin Kleins because a) I walked everywhere on campus and WSU is hilly, b) I had access to healthy eating choices (lots of salad) at the dining center, and c) I played intramural soccer and I took advanced soccer for credit. (I loved that class! All we did was scrimmage and we got to play on the football field in Martin Stadium. I got some pretty bad turf burns on my knees and elbows, though.)
A few weeks after college ended, my real-world job as a copy editor for a daily newspaper began. I worked in the newsroom. All that movement I had in my life disappeared overnight. Suddenly, I was sitting at a computer all day and eating fast food for lunch…at my desk.
There was a small workout facility, about the size of the Secret Gym, in my apartment building, but I'd never "worked out" before. I'd only played sports. I felt like a fool with all that equipment and no idea what to do with it. And, oh yeah, I had to cook for myself. I made $10 an hour. I remember one week, I bought a loaf of French bread at the QFC and I just had some of that for dinner each night. I paired it with a cheap red. This was before my roommate graduated from cop school and moved in. Obviously, this was a low-point for me.
So I know how Jen felt when she gained a "few" pounds.
But there's a situation that happens in her book that floored me. It has to do with the Chicago Marathon. A friend from out-of-town asks her to go to the expo and pick up her husband's race packet. In an e-mail, her friend tells her what to do. Jen responds:
"4:50 p.m. from allaboutjen: I can't believe anyone would voluntarily run 26 miles. Sometimes I sit on the couch cross-legged because I don't feel like walking to the bathroom."
Okay, that made me laugh! Then, at the expo:
"All of a sudden it hits me…This is a health and fitness fair…AND I AM THE ONLY FAT PERSON HERE.

"I break into a cold sweat, as it dawns on me that everyone else in this building is planning to run 26.2 miles on Sunday…which means these people never perspire while eating dinner. Or have to stop for a breather when climbing the stairs. They use their exercise bikes for exercise and not just to dry hand-knit sweaters and – HOLY CRAP! – they're looking at me wondering how on earth I'm going to complete this race!"
And a little later:
"With each step I take, I feel cellulite blossoming on my arms, my stomach, and my calves. Stop it! I think my chin just multiplied and my thighs inflated. No! Deflate! Deflate!"
She keeps going, and I had to smile because I've been there. When she picks up the race packet for her friend's husband, the person hands it to her and says, "This isn't for you, is it?" She has a snappy retort. But, okay, the person may have just been referring to the fact that the packet said "Peter" on it.
But then, she's deeper into the fair when a woman turns to another woman and says, "I thought this was a fitness fair, not Lane Bryant," and Jen reaches her breaking point. She gets in the woman's face and throws it right back to her because that's who she is and it's part of what makes the book so good.
But really? Did this really happen? Did someone actually say that?
I'm still 30-40 pounds heavier than I should be or want to be. I'm in decent shape, but I don't have the body of the stereotypical marathoner. Not even close. Then again, my full marathon training doesn't start till this weekend.
Am I getting made fun of when I'm out running? I don't mean by the people at the stoplight sipping their grande mocha as they peer over the wheel of their Mercedes SUV. I'm talking about by other runners.
When I was in the crowd at the starting line at the Seattle Half in my skimpy tights that show every dimple and jiggle, and clingy shirt revealing my Jell-O tummy, was there a marathoner nearby snickering about my belly overhang?
Man. I hope not. I certainly can't imagine any of you doing that. It just doesn't seem like the kind of community I think we have here. I hope that was just a couple of bad apples.
What do you think about this? Has anything like what happened to Jen, happened to you? Have you witnessed behavior like this?