Moms get stretched in all kinds of directions, don't they? For the sake of this article, I'm going to use moms as the example, but we all know this applies to both parents. One minute you're interviewing local dignitaries on the phone, the next you're fishing a Hot Wheels car out of a toilet. One minute you're doing track repeats, the next minute scrubbing dog poop out of the carpet. (No? Just me?)
Yep, us moms and dads have a lot going on. Which is why we also need to be flexible with our workouts. We NEED to have time for ourselves like I talked about in yesterday's post in which I was angry, but of course, life happens. Kids happen. Work happens. Date nights happen. (Am I the only one who always arranges long runs on the same days as date nights? I doubt it.)
You know what else happens? Running buddies. Monday night, I had a text from Mel: "Run this week?" I've been so focused on my 5K training that it hasn't left a lot of time for running with my buddies. I miss it. I texted her back: "Yes!" I incorporated the run into my plan. I would just swim and run on Tuesday. Yeah, that's it.
But when 5 a.m. rolled around Tuesday, the swimming seemed excessive. I would already be running. I should sleep in…for 15 minutes. Yeah, that's it.
And…my workout plan for the week changed. Now, I would have a nice run Tuesday. I'd move my swim to Wednesday and I'd do my tempo on Thursday. So flexible! It's part of what I like about the Run Less Run Faster training. There are only 3 runs per week, so moving them around to accommodate my schedule and how I feel is easy!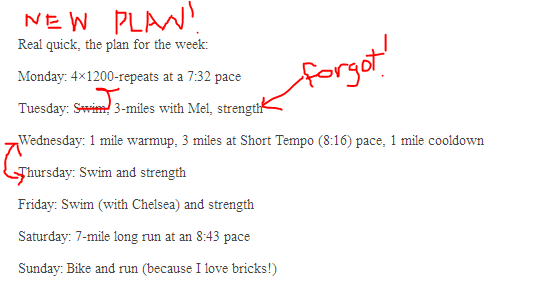 Tuesday's Run Recap
Mel (Tall Mom on the Run) and I met for a nice, conversational run during lunch. It was so refreshing! Yes, the weather was crappy, but who cares when you're running with friends, right? She offered to run faster, but I told her I needed to take it easy since it was technically an "off" day.
Still. I logged 3.5 miles in 32 minutes (a 9:08 pace).
Wednesday's Swim Recap
And on Wednesday, I went to the pool closer to my house, the CAC. Its lap swim hours don't work for me on Tuesdays and Thursdays, but after this morning, I'm going to work around the pool's schedule. The CAC is so much nicer than the one near work. The staff is superfriendly and it's a lot cleaner.
At the pool near work, I barely get a grunt from the lifeguard/money-taker woman, who is probably, I'd guess, in her 40s. At the CAC, I was barely in the door and the young woman behind the cash register, sang, "Good Morning!" As I walked by the lifeguard, another young woman, she smiled and also wished me a good morning. Even the older lady who was changing in the locker room when I left told me to have a good day! I never hear a peep out of anyone at the other pool.
I think I will happily pay two dollars more, $6.50 (yes, $6.50!), to swim at the CAC. Customer service is still worth something these days, people!
I also got a lane to myself at the CAC. And you know how I feel about that.
Today's workout was:
50 free warm up
3x this set: 25 easy, 25 fast; 50 easy, 50 fast; 75 easy, 75 fast; 50 easy, 50 fast; 25 easy, 25 fast
150 cool down (combo breast stroke, back, free)
Do you have a favorite gym or pool? What makes it your favorite? How much do you pay per swim? And are you a flexible runner? Or do you hate changing your schedule?