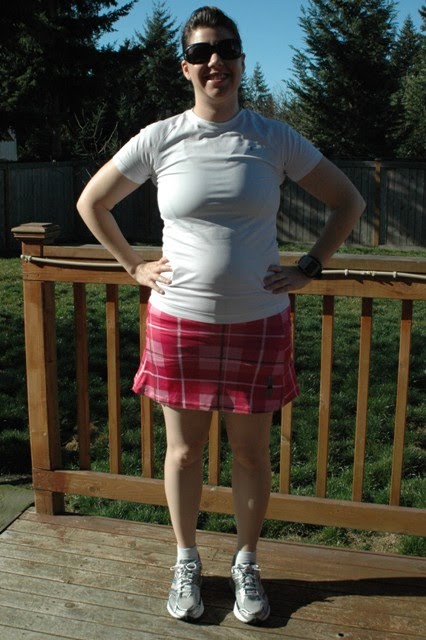 Recently, Body Glide sent me two products to test: Original Anti-Chafe Balm and Liquified Powder.
ORIGINAL ANTI-CHAFE BALM REVIEW
I'll start with their Original Anti-Chafe Balm. Here's what their Web site says about it:
"BODYGLIDE Anti-Chafe balm is the recognized leader for comfort. It helps prevent and relieve hot spots on feet, and chafed, chapped and cracked skin from head to toe; good during and after activity. It penetrates the skin and creates an invisible, comfortable barrier against friction and moisture – without clogging pores or trapping perspiration; feels 'dry' to the touch."
I was highly skeptical of this product, even though I'd heard great things about it. Highly skeptical. I've never been able to wear the shorty short-shorts or, more recently, running skirts without getting some chafing. I tried a Body Glide competitor and it didn't go well. After that 3-mile run, I had red raw inner thighs. They were almost bleeding and it took a few days until the pain went away. Finally, they scabbed over. So, again: I was skeptical.
I have big, squishy inner thighs. I've always had them — even when I was swimming, running and playing soccer in high school.
But I actually first used Body Glide near my armpits on the Million+ Inch Run. I was wearing my Champion sports bra and it comes up a little too high under my armpits, so I put some BG under the seams. Worked great! No chafing there after 16.3 miles!
The next time I used it was Friday. I wanted to wear my new pink plaid RunningSkirt. The original BodyGlide comes in a deoderant stick-type container. It has no scent and goes on clear. But it doesn't go on quite as smooth as deoderant. BG is stickier and tends to crumble a little at the edges of its container, but I just took those crumbly pieces and rubbed them in to my inner thighs.
After I put the BG and my skirt on, I was still skeptical. My thighs felt sticky. How is this going to make my thighs not rub?
But after running for a few minutes, I could tell the Body Glide was going to work! In fact, the farther I ran, the less sticky my thighs became! I finished my 3-miler chafe-free and happy.
Still, I knew I needed to give the BG a longer test. So, on Saturday, I decided to wear my skirt for 8 miles. That's a long time for thighs to be rubbing together, but that's how confident I was.
I really slathered the stuff on thick on Saturday morning. I rubbed the stuff in all over my thighs and anywhere else that I've had rubbing or chafing before. I was really pushing the stick of BG pretty hard and the top of the stick broke off and tumbled to the floor. I picked it up and stuck it back in, and continued putting it on,  but it fell out again. One more time, I stuck it back in the container. Luckily, it didn't have too much fuzz on it or anything. (I may have been applying it too forcefully.) I ended up taking the crumbly pieces and rubbing them into my thighs and in between my toes. When I finally felt like I'd covered every possible area that could get chafed, I put on my skirt and left for my run.
I actually wanted to bring the stick of BG with me in case I needed to re-apply, but I forgot it. I guess this will be the ultimate test.
My thighs definitely felt sticky again when I started running, but soon that went away and everything was smooth. I had no chafing pain at all while I was running 8 miles (1 hour and 25 minutes) in the sunshine. I was sweaty, too. My toes did not get any new blisters! (More on that in a minute.)
However, I noticed later on Saturday that my thighs did get a little red. Even though I didn't feel pain, I guess they rubbed a little. But I still don't have pain, just a little red. I probably could've reapplied the BG just for good measure. Still, I love this stuff.
I have FOUR running skirts and now I'm excited that I will get to wear them all this spring and summer!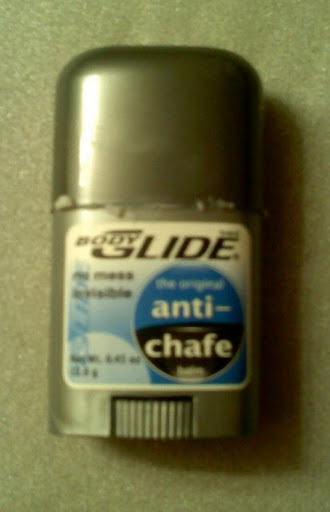 What I Like:
-No painful chafing burns!
-Compact container for portability (although, they have different sizes you can purchase)
-No scent
-Goes on clear
What I Don't Mind:
-Feels sticky at first
-Felt like I put on a lot
What I Don't Like:
-Crumbly
LIQUIFIED POWDER REVIEW
The company also sent me a tube of their Liquified Powder. Here's what their Web site says about it:
"BODY GLIDE Liquified Powder, is a technically advanced cream that transforms into an evenly disbursed, effective, yet dry and protective skin lubricant. It helps reduce rubbing and friction that cause skin irritation. helps maintain optimal skin comfort by creating a silky smooth barrier against friction and moisture, while permitting skin to breath; feels 'dry' to the touch."
I have only used this lotion-type product on two long runs on my toes because that seemed to be the best fit for it. You rub it in like lotion. It has a really pleasant smell — almost a peppermint scent, but very light. One run was six miles and it seemed to work. But, most significantly, I used it on my 16-miler. It worked for a while — about the first half of my run — and then I probably would've needed to reapply it. My feet were plenty wet and sweaty and my toes rubbed. I have quite a few blisters. So, I would not recommend this product on your feet for long, long runs. But, I'd be interested to see how it works on other areas on the body.
What I Like:
-Feels silky when I put it on
-Smells refreshing
What I Don't Like:
-Sort of messy; it can leave a white powdery residue on clothes and around nails (washes off easily, though)
-Doesn't go the distance I need it to go; only seemed to last about 8 miles
I really, really love the original Body Glide balm. I'm so glad it lived up to my expectations!