I posted a pic on on my Instagram story about my burger in a bowl—I've never received so many questions about an Insta story! But a Burger in a Bowl is pretty sexy, I realize.
I've adapted this Burger in a Bowl recipe from another recipe on Pinterest. This is my version. You could make your own version. It's so simple—it seems absurd you haven't tried making it before!
And it's easy to adapt for other members of the family who may not have the same dietary restrictions as you. For example, I am not supposed to eat gluten, so I don't buy buns (*giggle*). But my son can have wheat, so he gets his burger on a piece of whole wheat bread.
I portion out the meat with this awesome patty shaper from Amazon. I freaking love this thing. I used to make burgers and the edges were always splitting and breaking off. This helps keep everything tight.
Turkey or Beef
I like to make turkey burgers because turkey is a leaner protein than beef. If you go for beef, choose grass fed and the leanest ground beef you can find. I sometimes choose beef because I struggle with anemia and want that extra iron.
I also like to use pre-shredded lettuce. It's cheaper to buy and wash your own lettuce, but I'm a busy person and there are a lot of other things I'd rather be doing than making food.
Toppings
Don't skip the carbs. We need carbohydrates. But some carbs are better than others for fat loss. For example, a few slices of sweet potato is going to be better than a whole wheat hamburger bun. Thus, this whole burger in a bowl concept.
Don't forget about other burger toppings: a few slices of avocado and tomato. How about some pickles. Need more fat? Put an over-easy egg on top. I throw some onion slices on the grill (or grill pan) with the burgers—adds a ton of flavor.
Remember to dress your lettuce first. I use olive oil and lemon juice. Fresh lemon juice is probably better, but I use lemon juice from a bottle because who has time to squeeze lemons? Mix it up, then put it in your bowl.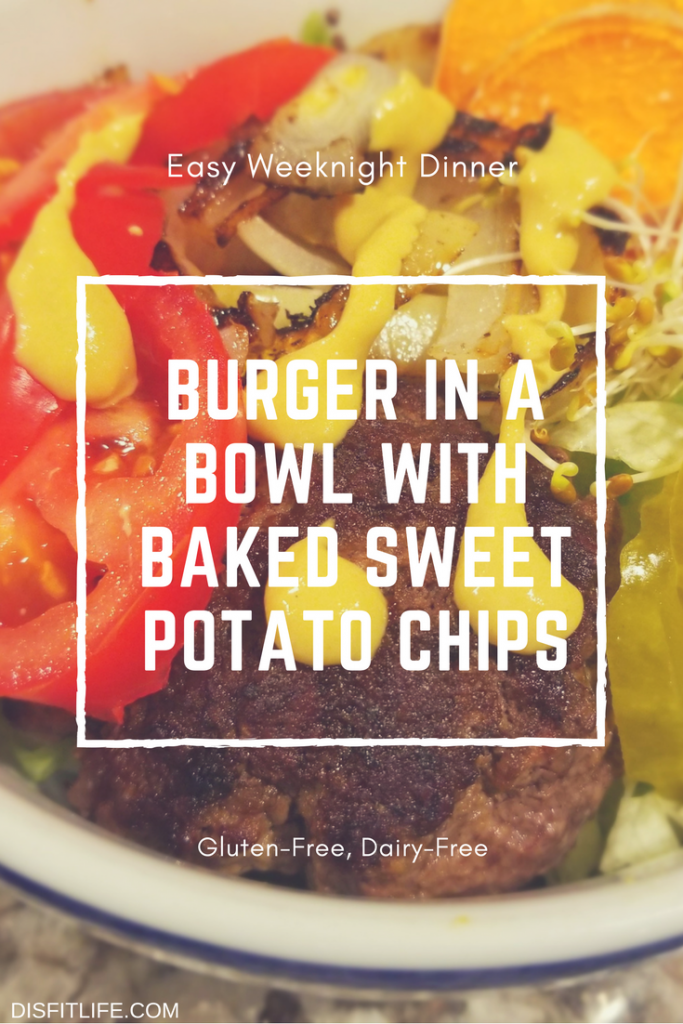 Ingredients

16 oz. grass-fed beef or lean turkey

1 bag of shredded iceberg lettuce

1 white or sweet onion

2 tomatoes

3 Tablespoons lemon juice

1 avocado (optional)

1 sweet potato

1/2 Tablespoon olive oil

Olive oil spray (optional)

Pickle chips (optional)

Alfalfa sprouts (optional)

Condiments like ketchup, mustard or BBQ sauce

Salt and pepper for seasoning the beef

Instructions

Heat the oven to 375 degrees Fahrenheit. Slice the sweet potato in thin rounds. Line a baking sheet with foil or parchment paper. Place rounds on the baking sheet. Spray with a thin amount of olive oil if desired. Place in the oven to bake for about 15 minutes or desired doneness (you can check with a fork).

While the sweet potato chips are baking, divide the beef into four sections and press into patties (I use this handy tool here). Sprinkle with salt and pepper as desired. Place on a grill or grill pan on medium to medium-high heat. Slice onion and place on the grill pan to caramelize while the burgers cook.  Let burgers cook for about 5 minutes per side (depends on desired doneness).

While the burgers cook, put shredded or chopped lettuce into a large bowl. Dress the lettuce with the lemon juice and olive oil. Divide into bowls. Slice tomatoes and any other vegetables you want on your burger (like avocadoes).

Once the burgers and sweet potatoes are done, make each bowl. Place a burger on top of the lettuce. Add some caramelized onion slices. Add a few slices of sweet potato next to the burger. Add tomatoes, avocado, pickles, sprouts and other veggie toppings. Drizzle with ketchup or mustard (I like Dijon) or BBQ sauce or leave plain. Enjoy!
Adapted from Burger Bowl at FollowtheRuels.com
Looking for some breakfast ideas, read this post.