Cooking is about the last thing I like to do. But recently, I had to get creative and I made a couple of things I LOVED. One is a breakfast meal and the other could be dinner or lunch.
BANANA, PEANUT BUTTER & CHOCOLATE OATMEAL
1/2 cup dry oatmeal
1 Tablespoon crunchy natural peanut butter
3/4 to 1 whole banana
1 Tablespoon mini milk chocolate chips (or dark chocolate, if you have them)
Cook the oatmeal in about 3/4 cups of water for about 2 minutes in the microwave. Stir in the peanut butter and chocolate. (It's better to do this first and when the oatmeal is really hot because it melts the PB and you won't turn the banana into mush.) Chop the banana and stir into the oatmeal.
It's like eating pie for breakfast — but not quite as bad. It's sort of high in calories for what I'm supposed to have, so I usually don't have it unless it's a running day.
One of my friends on my Mom vs. Marathon Facebook page HERE suggested stirring in chocolate and pumpkin instead of the banana and peanut butter — it's lower in calories. I bought some pumpkin, but I have not tried it yet.
It's about 380 calories for this 1 serving.
BROCCOLI, TOMATO & FETA OMELET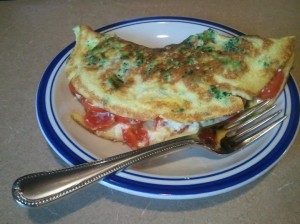 2 eggs
1/2 Tablespoon milk
1/2 cup chopped, cooked broccoli
5-6 grape tomatoes, sliced
1/8 cup of crumbled feta cheese
salt
pepper
Pam or olive oil spray
Spray a pan with Pam or olive oil, and heat the pan on medium-high. Beat the eggs and the milk in a bowl. Mix in the broccoli. Pour the broccoli-egg mixture into the pan making sure it spreads out evenly. Cook until the edges firm up, about 1 minute. Loosen the edges with a thin spatula so that the uncooked egg flows underneath the cooked one. Continue to cook until the center is still moist, but not runny, about 3 minutes.
While you wait, slice the tomatoes and get the cheese ready. Then arrange the tomatoes and the cheese over one half of the omelet. Fold the omelet over to cover the filling. Reduce the heat to low, cover, and cook until the egg is set, about 3-4 minutes.
I found a recipe for something similar on Allrecipes.com HERE and altered it a bit to get this.
It's about 300 calories, and it's a big serving.