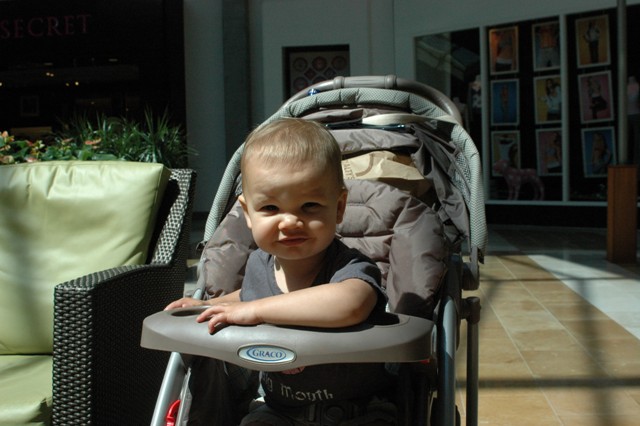 What does one wear to do laps at the mall?
Before we left today for our adventure, I had this dilemma. I finally decided on my chocolate brown walking shorts (hey, perfect!) and a turquoise t-shirt. But then, what should I do about shoes? Easy black flip flops or dusty running shoes? In the end, I pulled on my white athletic ankle socks and laced up my New Balances even though I knew I'd look like a total mommy mall-walking dork.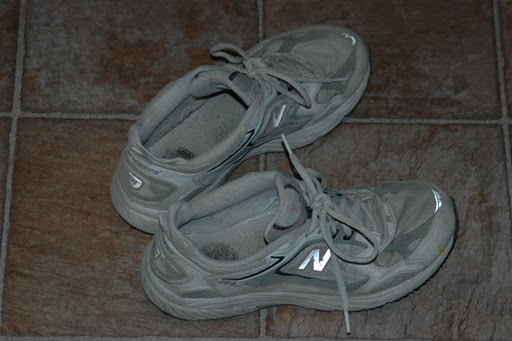 Man, I really need some chic workout gear.
But, I'm thinking Bellevue Square may not be the best place for exercise. Around every corner was a Mrs. Fields, an Auntie Anne's or a Seattle's Best. Luckily, I thought to buy lunch for us at Specialties before we started walking (so we would be ready for the book club meeting at noon and, okay, so I wouldn't be tempted by mall food): a mini three-cheese quiche and a banana for T Junior, and a Turkey Cranberry sandwich and bottle of water for me.
I stashed our to-go bag in the stroller. Then, we rode the glass elevator to the second floor and we were off. We only had a half an hour to walk, though. We ended up making the 45-minute drive to the city before the meeting because T Junior's morning nap was extremely short and I knew he would be ready for a second one earlier than normal.
We did a couple of laps on Level 2, which included going in and out and in and out of all the off-shoots. It was a lot like navigating cul-de-sacs in suburbia, except instead of dodging sprinklers, I had to weave in and out of shoppers. Ugh.
But at least it was cool. Well, cooler than outside. (Ninety-seven, according to the bank by my house.) Bel-Square has lots of beautiful natural light, thanks to some really big skylights, but it did heat the place up a bit and I was sweaty when I went to meet my friends for our discussion of The Kite Runner. At least I thought to pack my Tevas, so I peeled off my shoes and socks in the parking garage and slipped the flip flops on before the meeting. Ahhhh.
Anyway, it was a lot of work for not a lot of working out. And, I ended up buying a Vanilla Creme Frappacino at Starbucks because all the tables outside of the store where my club normally meets were taken and I felt bad eating "the competition's" food at one of the tables inside.
Then, between talking about the book and feeding T Junior, I somehow ate my entire mayo-covered sandwich, a little bit of quiche and drank nearly the whole 3-dollar milk shake (because that's really what it is, am I right?).
I did do 60 crunches on the ball this morning, but the rest of my workout today was pretty much the opposite of running.