"Not even the cyclists are out today," said Zoë around Mile 10.
"Yeah," I nodded and water dropped off of the saturated bill of my baseball cap. "Wimps."
My running buddy, Heather, couldn't meet this morning, but Zoë from Run, Zoë, Run said she'd join me for one last long run before our first half marathon next weekend. That's right, next weekend is the real deal, people. Me, Heather, Zoë, Amanda from 5 Miles 2 Empty and thousands of other nutso runners will brave the cold, rainy, windy November weather and Emerald City's hilly streets for 13.1 miles in the Seattle Half Marathon.
It's a little crazy…kind of like this morning's 11-mile run in the pouring rain. I was so thankful Zoë wanted to meet because I would've been miserable by myself. Having someone to share the experience with made it fun!
We were scheduled to meet at 7 a.m., but I was 5 minutes late because I didn't make my to-do list last night. This proves I must make one next weekend. I wore my Issaquah Salmon Days race t-shirt, which has short sleeves, underneath my new rain jacket, and I clipped on my Nike fuel belt so I could take my Honey Stinger gels and some water. I also brought gloves, but they only lasted about a mile before I peeled those suckers off and stashed them in one of the handy zipped pockets in my coat. Zoë was seriously challenging the rain in a long-sleeved running shirt, a vest and capris! Crazy girl!
We set off on our run toward the south end of Lake Washington on the Cedar River Trail from Ron Regis Park along Highway 169. I got a little nervous at first because I could feel we were running faster than I have in the past. But I wasn't uncomfortable, and Zoë and I were able to talk pretty much the whole way!
The first few miles flew by and soon we were down on the part of the trail that is right on the bank of the river. Actually, it was more like part of the river since the water was coming up over the brick path. We had to run single file for a few steps.
When we got to the turn-around spot next to Boeing and Lake Washington (which is actually 4.5 miles from Ron Regis park, not the 5 I had previously thought), I snapped a picture, ate a few gels and threw back some water. Here we are:
On the way back it was COLD. Way colder than it had been on the way there and I had checked the temp before getting out of the car: 39 degrees (Fahrenheit). The wind stung my nose and poor Zoë's hands were freezing! It didn't help that our feet kept landing in puddles. Once we got away from the river, the wind seemed to die down.
I think it was around Mile Six that Zoë looked at her Garmin and told me we were running at about a 10-minute pace.
Surprised, I looked at her. "WHAT?"
"I think you're faster than you think you are," she said.
Okay, that made my day because it IS faster than I thought I was. We decided she is a good pace coach for me. And, guess what? Our last couple of miles of the day got down into the nines*! Yes, the nines! The rain was motivating, that's for sure.
We started to have some wardrobe malfunctions toward the end of the run. My jacket wasn't really holding up in today's heavier rain. I told Zoë I could feel water pooling in my sleeves under my elbows. And somewhere in the ninth mile, Zoë's knees started to get sudsy, which was really funny because she had just told me a story about a friend who had soapy knees on a recent rainy run. "At least your pants will be clean," I said.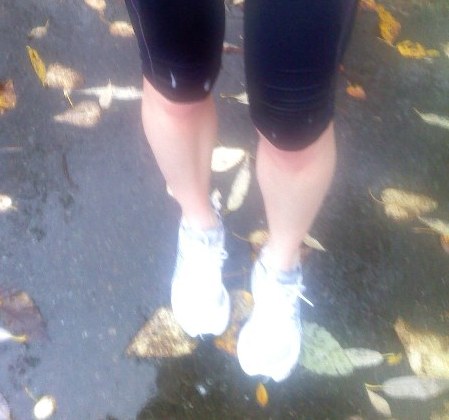 We were about at Mile Ten when we finally saw another runner. And, who should it be, but LB of Muddy Runner all the way from sunny Southern California! He is in Seattle on business and was on about Mile Seven of an 18-mile run on one of the wettest days we've had this fall. A brave and determined man, that LB is. I made us all stop so I could take a picture. I took more like five or six, though, because I kept cutting the two outside people out. Zoë gently suggested I turn my phone horizontal. Oh yeah, duh! Then I got it on the first try!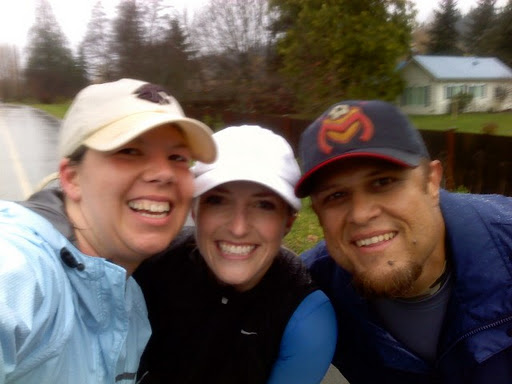 LB, we are very jealous of your tan.
Restarting is always hard, but we had a little less than a couple miles to go. And we were ready to be done and out of the rain, so it went fast. We ran around in the parking lot to get in that last .1, then walked over toward our cars to stretch. I was using a tree to steady myself for a quad stretch when Zoë started laughing.
I gave her a puzzled look and she pointed to my arm. "Did that water just pour out of your sleeve?"
I started to laugh, too. "I told you. You could swim in there."
She was smart and brought a towel for the car. I was happy I remembered to bring something, and I replaced my soaked jacket with a dry, fleece one.
When I got home and Mr. T saw me, he asked, "Didn't you wear your rain coat?"
Yes, the rain was that bad. But the run was so good.
Bring on 13.1!
*Thanks to Zoë's Garmin, Gus, I will have splits for this run as soon as I get them. Thanks, Zoë!