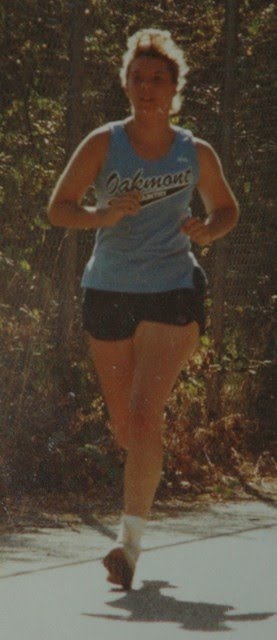 The ol' navy, baby blue and white days. Can you tell what year it is by the height of my socks?
I have a very faded memory of buying my first pair of running shorts with my mom this year. It would've been 1993. I think we went to Big 5 in Roseville (Calif.), and I'm pretty sure I complained a lot about having to wear these skimpy things. (Yet, I was perfectly fine hanging out in my bathing suit at a swim meet all day. Go figure.)
I don't recall why I decided to join the cross country team that year. I think someone told me I should check it out because I was running the mile on the track team and losing. I was not a sprinter and the mile in track is a sprint race. But I could play 90 minutes of physical soccer and not be tired. And I was a decent swimmer.
Someone probably just threw it out there like it was nothing and I grasped onto it thinking it would be my new favorite sport, even though nothing could overtake soccer. I love playing that game. Especially in the mud.
But I felt special being part of the cross country team. It was so extreme! Non-running kids in school were like, "You ran THREE miles? That's crazy!"
Of course, this makes me giggle now because three miles is supposed to be an
easy
run! Now, it's more like, "You ran
11 miles
? Why?"