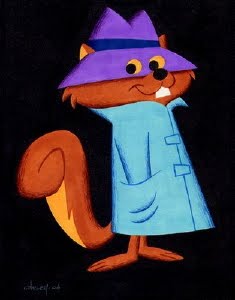 There is a gym close to where I work.
It's a Secret Gym in a quiet, small room with soft, green carpet that's been freshly swept. It is filled with equipment just waiting, waiting for someone to use it. It is Wonka's workout factory.
The Secret Gym's walls are lined with resistance bands in every color of the rainbow. There's a BOSU, which I'd never seen before, and an exercise ball. There are weights in every size plus a weight machine, and a bike, a stair climber, yoga mats, a step for aerobics, cubbies storing perfectly folded towels, music and current gossip magazines! And, oh yes, there is a treadmill.
The room has two mirrored walls on one side and windows on the other. It is bright and clean. And empty.
Nobody seems to know about this gym. Nobody, that is, except my co-worker, who shared it with me today. I have no idea how she found this place.
Today, I joined her during our lunch hour where I swished the pages of a glossy, lightly read, OK! magazine and ran two miles on a newish, and slightly squeaky, treadmill.
There's something to be said for treadmills. I knew how fast I was going, my pace per mile and how far I ran. I started slow because it has been years since I ran on a treadmill and I was scared I might fall on my face. I slowly increased my pace until I was doing a 9:20-mile for the last quarter-mile. After two miles (about 22 minutes), I slowed the machine to cool down and walked for another quarter-mile. I liked being able to experience what fast (for me) felt like. I know this is why people have Garmins.
I was extremely sweaty after my workout because I had planned on running outside, so I only had my tights with me. Since it's been in the 20s here*, I brought a turtleneck with me and my running jacket. Luckily, I had a clean short-sleeved shirt in my gym bag, so I didn't have to run indoors with a turtleneck on. That would have been really hot…and weird.
So the mileage was not what I had planned because we had to drive* to the Secret Gym and change and then change afterward and drive back. But that's fine with me.
Now I know how to get there. But don't ask me for directions.
I won't tell.
*Because of the extremely cold weather, my poor, sad minivan had to be towed from the end of my driveway to a nearby shop in order to unfreeze my emergency brakes. Luckily, my co-worker lives nearby and gave me a lift to and from work today. Oh, and to and from the Secret Gym. Two hundred bucks later and I have my Odyssey back. Apparently, I'm not the only one this happened to. There were many, many cars at the Motorplex today…all there for the same thing. I bet that place made a killing.