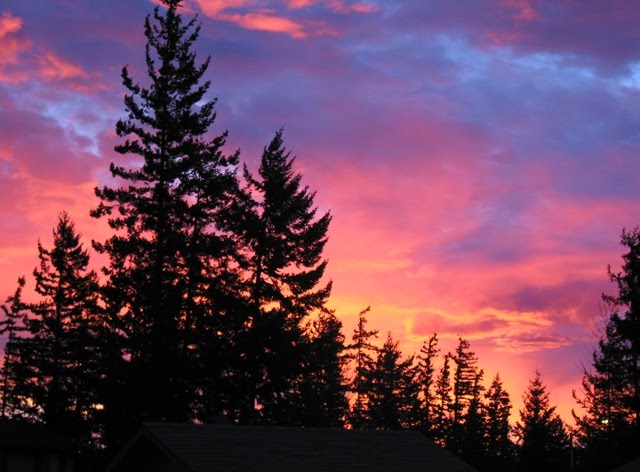 I have a little cold. Basically, my nose is stuffy when I get up in the morning and then it goes away around 3 p.m. It's really not that bad, so I'm pretending it's not there. Forget I said anything about a cold. Cold? What cold?
Last night, I decided I would go for a morning 5-miler. I had a ton of stuff to do Friday (today). Holidayish stuff. The thing is, though, as I was drifting off to sleep last night, Brain was already giving me permission to skip the run. Sabotage!
When my alarm clock went off at 6, I got up. I was already sort of awake because my head was all stuffed up. I'm not sure why. I don't have a cold. While I blew my nose a thousand times, Brain and Body had a fight. Body won because it told Brain it would have to carry Running Guilt around all freakin' day if we didn't go. (Brain is lazy and thought the run would be easier.)
So, I weighed myself (exactly the same weight as last week despite cookies and chocolates), put on my running clothes, had a piece of toast with peanut butter and a glass of water, and stashed my Zune in my iFitness belt, which I love (by the way). Outside, it wasn't raining and it wasn't even that cold.
It was a great run and I'm so glad I got it done this morning! Afterward, I decided the Pros of morning running totally outweigh the Cons.
PRO
– Getting it over with.
– The energy boost you get lasts all day.
– Having more time in your day.
– The sunrise (depending on the time of year, of course).
– Feeling awesome about doing something healthy before everyone else is out of bed. (Breakfast and coffee taste so much better after a workout.)
– It jump-starts your metabolism.
– It puts you in a good mood.
– There are not a lot of cars on the road.
– NO RUNNING GUILT.
CONS
– Waking up early.
– It's dark outside, so it can be a little scary because you can't always see things. (This morning I thought a leaf was blowing across the sidewalk, but then as I got closer to it, a bunny bolted in front of me. I nearly had a heart attack. I almost stepped on a bunny!)
Do you run in the morning? Any Pros I missed? Any Cons?