DAY 188
Thursday is a rest day. Normally, I do a volunteer service over the phone on my lunch hour, but I had to cancel because we had a department thing scheduled at Red Lobster. Crab Week, I heard was the reason. I ordered Beer Battered Fish and Chips and took a little bit of grief for it. It seemed a safe bet. I'm not a seafood fan, unless it's extremely fresh and well-made and, no offense if you are a RL fan, I didn't feel like chewing on lobster that is the same consistency as medical tubing.
When my Beer Battered Fish and Chips were finally dropped in front of me, I noticed the breading looked a lot like Shake 'N' Bake and the fries like the generic brand I sometimes buy from the freezer section at Safeway. Did that stop me from eating the entire thing?
Nope. Besides, I had a lemon slice and a side of tartar to cover it all up with. And I threw in a few of those, surprisingly yummy but extremely salty, cheese rolls for good measure. Of course, my tongue felt like a dried up sponge later and I wanted to crawl under my desk and take a nap Costanza-style.
The day of gorging gets worse, folks.
Mr. T called on his way home from work and when I announced that he could have leftover stew for dinner because I had a big lunch (understatement of the week), he was disappointed. Turns out he had exactly the opposite kind of eating day. But he said he'd figure something out.
A few minutes later, I was on the phone with a friend and I had a genious idea! "What are you guys having for dinner?"
We agreed to meet at Red Robin because it's loud enough for kids and it's close. My plan was: salad (but not one of those giant ones; I was thinking house).
Well, one soup (French onion smothered in cheese) and salad (with ranch dressing) combo later…
I know what you're saying, Okay, that's where it ends, though. No biggie.
Oh no! When I sabotage my diet, I go all the way! I had a vanilla Skinny Cow in a bowl with…
wait for it…
a teaspoon of strawberry jelly. At least it was the low sugar kind.
DAY 189
Up in the dark again to go running before everyone wakes. First, I had to weigh myself. I did the walk of shame from the master to the guest bath and stood on the scale. Up 2.8 pounds from my lowest weight in a long time (which was 173). I should not have been surprised, but I was hoping that my good eating behavior everyday except fall-off-the-wagon Thursday would swoop in and save me. And I ran three miles on Monday, Tuesday and Wednesday. Curses!
Downstairs, I put on a couple of the things that Champion sent me: their Double Dry Compression Vented Sports Bra (which I love, full review coming later this week), and the Double Dry Body Balance shirt (which I ALSO love, and again, full review to come).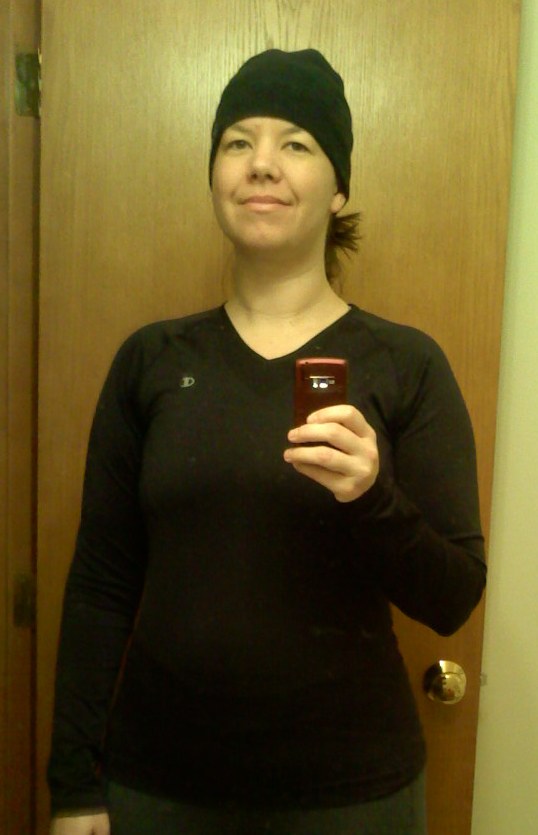 Not robbing a bank. I promise.
I started a little later than normal, 7. I did the loop that goes out of my neighborhood and through the center of town. It's about 1.5 miles, so two loops is about three (just thought I'd help ya out in case you are as bad at math as I am).
Toward the end of the loop there's a house on a corner that has a chain link fence around its back yard. The house has a lot of evergreen trees in the back yard. It's hard to see in there, not that I want to. Just an observation. Anyway, they have a couple of dogs that run at the fence and bark at people. They are harmless. All bark. But it can give you a scare if you are not expecting it.
I was expecting it, so I left the sidewalk and ran on the street when I went by. No dogs. Probably too early. They're probably in the house sleeping.
On the second loop, I was hauling-a$$ in the middle of a fartlek on the sidewalk and approaching the fence. Just as I was about to turn the corner, the two big dogs charged. I was not expecting it.
"Oh sh*t!" I screamed and jumped off the sidewalk and into the street, but kept running, my heart beating wildly. I rounded the corner and there were three kids waiting for their school bus. Oops.
1/22/10 – 3 Miles – 30:48
Average pace: 10:15
Mile 1: 10:39
Mile 2: 10:07
Mile 3: 9:59
DAY 190
Saturday morning, I woke up dreaming about a race. Well, not the actual race. I was looking for the portable potties pre-race. When I came to, I realized my t-shirt was soaked in sweat. Then I realized I was up an hour and 15 minutes before my alarm clock was set to go off. I changed and went back to bed until 6:45.
After I washed my face and brushed my teeth, I remembered it was Saturday and that I could run in the afternoon if I wanted during T Junior's nap. Duh! Why am I up so early?!
T Junior went to bed around 11 and I changed for my 8-miler. I had to dress for rain because it had been drizzling steadily since that morning. And it was cool, about 45. With my tights, I wore a new flourescent green sports tank top (that I bought Friday for treadmill running) and my black stay-cool Moeben arm sleeves under my light blue rain coat. I'm happy to report, this was the perfect combo for the conditions! I didn't get too hot and I felt dry the entire run.
I ate 5 orange Sport Beans and some water before I left. This is a new ritual for me. It seems to give me a boost of energy so I can get off to a good start.
Before I left, I didn't know where I was going. I just ran from my house and somehow ended up on the trail. But instead of continuing on the trail, I took a different path to the lake's community lodge at the end of the lake.
I ran behind the lodge and toward the lake. I stopped to take a photo around Mile 2.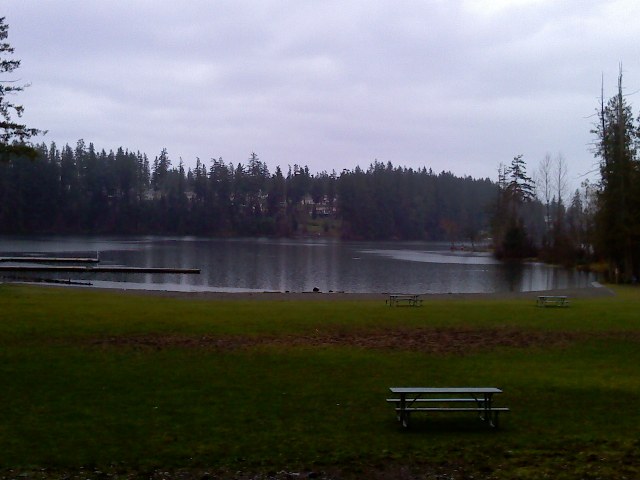 My normal trail is up by those houses you can see on the other side. I continued running around the lake, through the parking lot at a park. I stopped to use the bathroom. Back through the parking lot I passed a mom, dad and two kids with beach towels! I did a u-turn in the boat launch and then I went up a street I'd never been on before. I knew it must go around the lake because it ran parallel with it. I hoped it ended at the trail closer to my house. I took a few wrong turns before I found the correct street.
 
I finally knew I had the right road when I started up a monster hill. I knew because the trail I normally take (as I pointed out before) is way up there and I had been, well, way down here.
 
The hill was a hill with rolling hills within it. Does that make sense? It has to be the worst hill ever. But, I got an awesome photo at the top.
 
 
You can almost see the lodge and where I was lakeside when I took the first lake photo — waaaaay at the opposite end. Actually, my camera makes things look farther away than they actually are.
 
Anyway, the nice thing about hills is that they go down again. But then I had to go up some stairs to get back on the trail. That was at about Mile 4, and I realized I was going slower than I intended. I planned to stay around an 11-minute mile, but was actually running closer to 11:30s. I tried to pick it up a little bit, but I didn't get closer to where I wanted to be till Mile 6. 
 
A round then, the balls of my feet began to ache, which I think is from crushed rock and debris on the trail. The insides of my ankles hurt, too, and I do not know why. I'm crossing my fingers that it's not the shoes. My legs were pretty worn out after the run. I think I need to go back to cross-training and strength mid-week. I think those extra treadmill runs may have worn my legs out a little. I'm guessing, though.
 
I was mostly blister-free, though, after Saturday's run. I only had a couple little ones. I get them in between my toes on long runs. It's not my shoes fault. To combat it, I recently learned I could put a no-chafe gel (I used Asics) in between my little piggies, but after about 7 miles, I guess it wears off. I wonder if Vaseline would work just as good, now that I think about it.
 
1/23/10 – 8.13 Miles – 1:31:22
Average pace: 11:14
Mile 1: 11:26
Mile 2: 11:24
Mile 3: 11:25
Mile 4: 11:44 (monster hill)
Mile 5: 11:27
Mile 6: 10:45
Mile 7: 11:06
Mile 8: 10:36
.13 miles: 10:45
 
UP NEXT
I wore my Champion sports bra on my 8-miler and it was great. I'll write a review this week. Today (Sunday), is a rest day and Mr. T is making red beans and rice for dinner in honor of the New Orleans Saints game. If they win, he'll be making yummy cajun food for the Super Bowl. Go Saints! Monday morning, it'll be back to the grind, with an early morning run, and I'm going to stick with my plan for cross and strength on Tuesday and Wednesday. And I will also focus on eating well this week. I will! I swear!