My sister and her boyfriend arrived on Friday. Since then, we have eaten out or ordered in four times. For lunch? Left over restaurant food. It's starting to take a toll. That and Daylight Saving Time.
DAY 240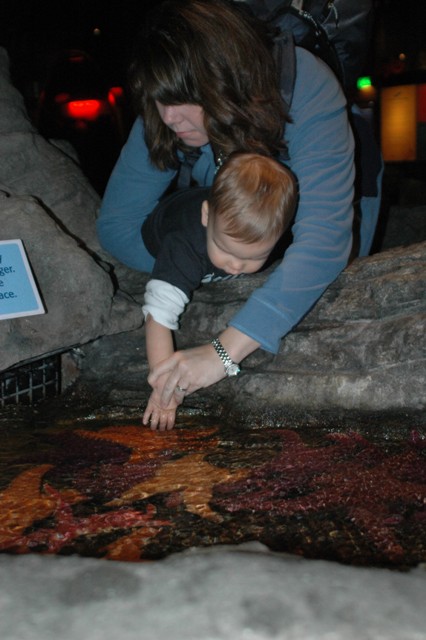 Saturday's 11 miles was a confidence-booster for me. I felt strong during the run and was not sore afterward, except for a little tightness in my calves. And I was surprised at how good I felt, muscle-wise, on Sunday, too.
Sunday was a rest day and Daylight Saving Time. Forcing my body to accept the hour change, I set the alarm clock for 7 a.m. (the old 6 a.m.). This plan worked until mid-afternoon. I needed sleep, but we were meeting "Auntie Pit" and J at the Seattle Aquarium.
T Junior was not yet walking the last time we went. Taking him in and out of the stroller was a workout. Steering him through and around groups of people was annoying.
This time was different. T Junior steered himself with his own two feet, from the hands-on tide pool to the sea otters. Occasionally, we picked him up so he could see better, but he basically walked the entire time, pointing and informing other aquarium-goers that there were, in fact, "bish in der." Just in case they didn't see 'em. I love watching my kiddo react to new experiences.
DAY 241
Monday was not a rest day, but I wished it was. I've been feeling run down since the time change and all the dining out was starting to get to me.
Now that it is light out in the evenings, I will probably run after T Junior goes to bed. Or, I'll take him after work on those days I need to do that. But since my sister is in town, I didn't want running to take away any time I had to spend with her and J, so after they headed out to be tourists in downtown Seattle and before T Junior's nap (which just can't be missed as I was reminded on Saturday), I got out the BOB and buckled my little dude in.
On the schedule: 3 miles, including hill repeats. Well, I wasn't doing hill repeats with the jogging stroller, so I settled on just the mileage. Since the Mercer Island Half Marathon is Sunday, I'm giving myself permission to take it easy this week anyway.
It was warmer outside than I expected on Monday – mid- to upper-50s – and my capris and long-sleeved (albeit lightweight) Seattle Marathon shirt were too hot.
I took T Junior on the hard-packed dirt trail by my house and was feeling okay, but knew I was probably going pretty slow. I didn't want to look at AJ II because I was afraid of what numbers he'd show. But I'm typically sluggish on Mondays anyway, so I wasn't too worried about it.
Despite my slow pace, however, at about a mile, I felt like I was working too hard. I was very sweaty and breathing heavy like I do when I am sprinting. I felt like I could manage it, though, and blamed it on only having one arm to swing.
This is another out and back that is slightly downhill on the way out. Why are all the trails I run like this? Why can't the way out be slightly uphill so I can have it easier on the way back?
I mentally prepared myself for the slightly uphill trip back and was doing okay…at first.
Then, at about 2-1/4 miles, I got what felt like heartburn and a side-ache rolled into one painful ball in my trunk. Next, a wave of nausea. I kept running thinking it would go away, but it didn't.
All of a sudden, another wave hit and I panicked. I really could have used a Honey Bucket along the trail right then. I didn't know if I was going to throw up or do something worse, but I didn't want whatever was going to happen to happen right there on the semi-busy trail.
I kept going. My brain was hyper-aware of every little thing my body was doing. I slowed to a shuffle. I didn't want to walk. Too slow. Needed to get home. Now.
AJ II alerted me to 3 miles, but I still had a little ways to go – I'd miscalculated the running math and didn't turn around quite where I needed to. Luckily, a few minutes later, the waves calmed, just lapping the shore instead of crashing onto it.
I continued my shuffle, though, till I turned onto the sidewalk in front of my house, happy that the emergency had been downgraded. But I felt low about the run and nervous about my second half.
A trip to the park after T Junior's nap cheered me up. For some reason, Monday was the day he decided to get over his fear of the slide. He had a blast and I enjoyed every second of it.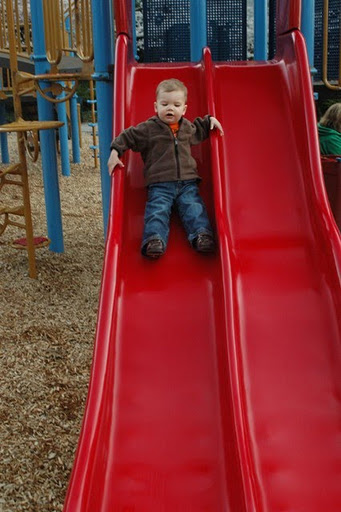 DAY 242
I feel like I'm wearing sausage casings today. My size 10s are always snug when I put them on post-dryer and then they stretch out, but the stretching out part didn't happen today. I've got a serious muffin-top that I'm trying to hide under a zip-up hoodie.
Worse, I ate a ginormous muffin at my desk this morning, brought in by a well-meaning co-worker. I couldn't resist its warm blueberry-carbohydrate scent. It didn't help me feel better about myself mentally or physically. I needed a post-muffin nap. (She brought in pretty cupcakes, too! What is she trying to do to me? I didn't eat one, though, so yay me!)
It didn't help that I woke up at 3:30 this morning and could not fall back asleep until about 30 minutes before my alarm clock went off. I'm not sure why I woke up, but I was hot and the room smelled like dirty socks. A shower and two cups of coffee later, I still felt like one of Zoë's "nekkid" semi trucks ran me over.
Then, Mr. T called me at work this morning because T Junior wanted to talk to me on the phone. Mr. T said he was being clingy (before day care) and that made my heart hurt. I should be at home with him.
Today is an unscheduled rest day. Not because I feel like crap, though.
I'm working on a freelance article and have had some problems getting sources lined up for interviews. Nobody would return my requests! Finally, I got some call-backs yesterday and had to squeeze in a phone call during my lunch hour today. I'll write the story later, but this evening, I will spend time with my sister before she leaves.
I will not run.
Before I wander away from the computer, I just want to say how much each and every comment from all of you means so much. The past couple of days have been mentally tough, as far as running goes. But every time a comment pops up in my e-mail, your words make me smile and I feel re-energized. It sounds cheesy, but you keep me going. So, thanks!