I hurt myself a year ago. Well, it might've been before that and I just didn't know it.
Sometime in my life, somehow, I injured my back. I herniated a disc. The lowest one. And last year, this month, it returned with a vengeance.
The strange thing is, I remember the very first time I felt the shooting pain starting just above the left side of my rearend and spiking down my leg and into my toes. I was brushing my teeth in the bathroom of the studio apartment me and my boyfriend (aka Mr. T) shared. He stood next to me, toothbrush in hand.
I leaned forward and spit paste into the sink. "Ouch. What is that?" I stood up, rubbing my bum. "I guess I pulled a muscle." I played on an indoor soccer team at the time, but I was out of shape. Out of college for less than a year and working long days in a newsroom, eating poorly and sitting a lot. So, I very well could have injured the disc playing soccer then.
Or, as my chiropractor would later tell me, it could have been when I was extremely active in high school sports. When I was running a cross country race and then playing a full soccer game in one day.
And, it didn't help that I put stress on it in December 2007. I was about 5 months pregnant and decorating the Christmas tree. Bending over and leaning to reach the low, far branches. The next day, I bent down for any number of reasons and a lightning bolt of pain zapped my lower back, down my left leg andinto my foot.
It hurt to stand, sit, walk, lay down. If I bent over, I couldn't get back to a full and upright position. Sometimes, I walked hunched over. Sometimes, I gritted my teeth and forced myself through a brief moment of excruciating pain so that I could be upright. One night, I simply rolled out of bed and landed on my hands and knees to crawl to the bathroom. I pushed myself to a stand using the side of our soaking tub.
But it gradually got better and better. Then, I had T Junior and forgot about it. A quiet pain hovered in my lower back and leg, but I had other things to deal with.
In March 2009, I was picking up my 10-month-old son when the pain stabbed me and shot down my leg into my toes…again. This time, it never went away. I hobbled around in constant discomfort. I was cranky, sad and probably a little depressed. I was also overweight and sedentary.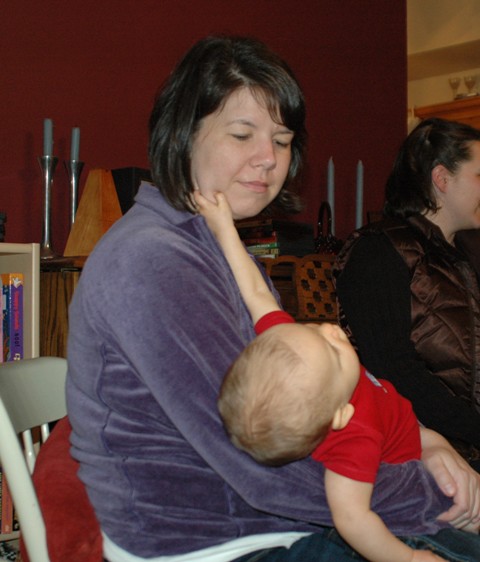 Finally, I couldn't stand it anymore and put out a call for help on my mom blog (here) and Facebook in May. A chiropractor (or several, actually) were suggested and I made an appointment with one. I learned a lot of things: stretches, icing and what the maximum amount of Ibuprofin was that I could take. But I was also told to move. You know, off the couch.
But it hurts too much, I told myself and left it at that.
Then, in early June, the pain worsened. I cried about it a lot. The chiropractor ordered an MRI and then he told me surgery might be the best option.
I limped into the surgeon's office with T Junior in front of me in an umbrella stroller. The doctor talked in a hushed voice. I could barely hear him over the plastic container filled with Cheeries being shaken by my child. I made out about every other word. Essentially, he told me that surgery would be the absolute last option and that the disc might, in fact, heal itself if I could be patient.
First, a cortisone shot. Oh, the happy day I got that needle in my a$$ cheek! I felt great! I could move again. But I knew the novocaine would wear off and then I would truly find out if the cortisone worked, which it didn't.
Or did it? Because a couple weeks after I got the shot, I felt good enough to take T Junior for a walk around the neighborhood in his red plastic car. I favored my right leg in my flip-flops, but I went. And then we went the next day. And, guess what?
My chiropractor was right, of course. I needed to move! After a few days of walking, I wondered about running. Could I? Would it hurt?
In July, I jogged a few feet in my rubber flip flops as I pushed my son in his car. Hey! That wasn't bad! That didn't hurt much at all! I only felt the same dull pain I already had.
The next day, I pulled a dingy pair of white-and-pink New Balances out of a dark corner in my closet. I don't remember when or why I bought them, but it wasn't for running. I decided they would have to work. I strapped T Junior in the jogging stroller and we went down to the dirt trail by my house.
I alternated walking and running for as long as I could: 20 minutes. Twenty minutes!
Sweaty and proud, I came home, put my son down for his nap and started this blog, which has had such a positive impact on my life. My original goal was to run a half marathon by next summer — the summer of 2010. How could I have known I would have finished two by then and be all signed up for a full marathon in June 2010?!
With exercise, the pain got quieter and quieter until it was basically gone early last fall.
On Sunday, at the Mercer Island Half, I let gravity pull me down an intense hill. I got a little out of control, to be perfectly honest, and had to yell ahead to warn runners I was going to pass them. It was a bad idea.
At the bottom of the hill, Zoë said something about how I was hauling. But I wasn't proud of myself because I could feel something shocking me in my lower back. I knew I hurt myself again.
Tuesday night, I went for a 6-miler. My body seemed relaxed during the run, but when I stopped, I could feel it stabbing me. At home, I iced my back and my right shin, which has been tight for a couple of weeks. I went to bed and expected any back pain to be gone in the morning.
to be continued…
3/23/10 – 6.06 Miles – 1:05:18
Average pace: 10:46
Mile 1: 10:15
Mile 2: 10:42
Mile 3: 10:38
Mile 4: 10:49
Mile 5: 11:13
Mile 6: 11:00