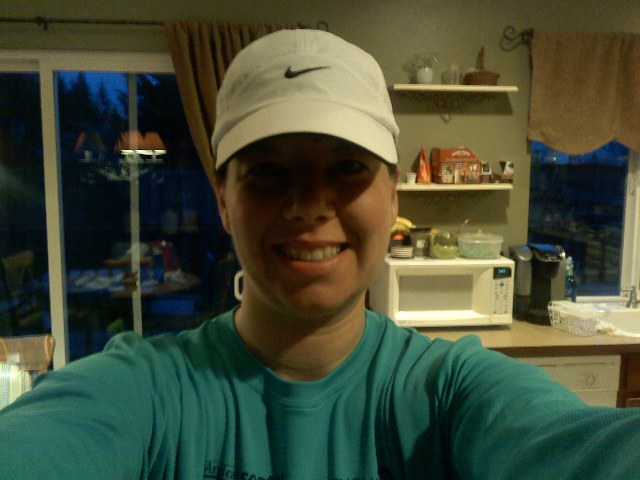 Ignore the messy kitchen. See the fading daylight out the window? Yeah, that was all gone by the time I got out the door for 7 miles.
Seven miles on a Tuesday night! Who am I?
Oh yeah, I am the woman who went to Sports Authority and purchsed a new tube of BodyGlide and some pepper spray during lunch.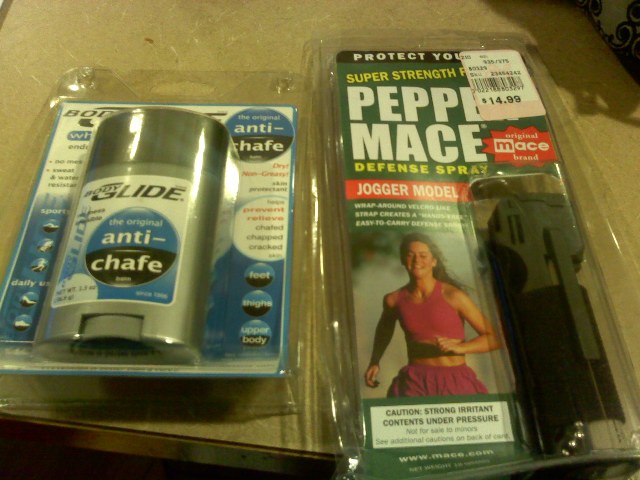 I hope I never have to use it. The pepper spray, not the BodyGlide. I use that on every run between my toes.
Despite being armed that night, I was still scared about running in the dark. So I stuck to the neighborhood (read: cul-de-sacs).
Unfortunately, the route only adds up to about 2 miles. That meant, I would have to do the same exact streets three times. But what other option do I have?
It was much colder than I thought it would be outside because of a chilly wind, and it took me a good mile to warm up. My calf muscles, and ankle and knee joints were tight, stiff. I was having a difficult time, but I just kept running.
I could only see my watch in the sparse street lights (I can't remember how to push the light button on AJ II and I don't want to mess up my times). Sometimes the screen showed 9:45 pace, sometimes 12:14. I felt all over the place. Slow.
Upon completion of my second loop, I decided to do the route backwards to change it up a little. I hit 5 miles and my feet screamed, especially the neuroma in my right one. A light, cold rain began to fall.
At Mile 6, I was almost back at the beginning of my loop. I saw a woman standing still on a treadmill through an upstairs window in a house at the end of the street. Jealous. She's warm and safe. I hurt and wanted to quit. A car drove by, the headlights making me squint and duck my head. I wondered what the driver thought of this stupid woman out running after 9 p.m. on a Tuesday. Out late on a school night.
Then I had a conversation with myself. What is YOUR problem? What's a little pain? You are a runner. Get this done.
Immediately, my posture straightened, my hands dropped and I felt tons better. I decided to do my last mile as an out and back on the well-lit part of my town loop, which runs out of my neighborhood, past the fire station and turns around just after the Dairy Queen (only one car in the drive-through line Tuesday night).
Finally, after an hour and 14 minutes of running in the dark, I stepped through the front door and into the light, happy to see Mr. T, Lucy and Annie.
I still can't get over that I ran seven miles on a weeknight. I'm used to seven being a long run on a Saturday or Sunday morning. Seven on Tuesday night! Who the hell do I think I am?!
3/31/10 – 7.06 Miles – 1:14:08
Average pace: 10:30
Mile 1: 10:21
Mile 2: 10:34
Mile 3: 10:40
Mile 4: 10:31
Mile 5: 10:32
Mile 6: 10:33
Mile 7: 10:19