I was thinking about food this morning as I washed my hair and did ankle rolls simultaneously.
Not about how I was hungry post 3-miler, but more about how running has helped me think differently about food. I used to look at food as an everyday pleasure, a reward (every day!), and I wanted to get as much of it as possible. After nearly a year of running, I realized I don't think of food like that anymore.
Food is fuel. What I put in my body will help me get what I want to out of my body (talking about energy here, you sickos). If eat a fast food burger for lunch with curly fries and a Diet Coke, I'm going to need a nap. Even the caffeine can't keep me up. I can't afford a nap. Too much to do.
If I eat a green salad with cherry tomatoes, some avocado, a few croutons and a half-tablespoon of light Ranch, plus a turkey sandwich and water, I'm ready to go. I'm practically buzzing with energy. Not as much as after two cups of coffee, but buzzing enough that I can make it through the day. Or at least until my Greek yogurt at 2:30.
Sure, I still reward myself with food. In fact, me and Mr. T have dessert almost every night. But it is small and light (Skinny Cow usually), and it is based on how I ate throughout the day. Of course, I still have weak moments (ginormous piece of cheesecake at Tall Mom's house last weekend).
But day-to-day, I am making smarter choices. It has to do with having energy for running, biking, swimming, playing with T Junior, surviving the after-work scene at home (toddler, puppy, etc.).
And, yeah, it has to do with jeans, too.
DAY 331
My alarm clock went off at 4:15. I jumped up, hit snooze and went back to bed. I was tired because I had a headache last night (again!) that made falling asleep difficult. I finally caved and took an Ibuprofin.
So I didn't really want to wake up less than six hours later. But now that I was awake, I wasn't falling back asleep. I debated.
Get up and run? Try to fall back asleep/lay here till 5, then run at lunch?
A lunch-time run sounded like way to much work. Plus, I was already awake. I got up, put on my running clothes that I set out the night before, and went for a run.
I did 50 jumping jacks and 20 ankle rolls on each leg to warm up.
I don't know how far to run right now. I don't have a race to train for. I just want to stay in shape. I was looking at a 10K training plan and early in the plan it calls for 2.5-mile runs. But that just doesn't feel like enough for me right now. So, I opted for 3 (even though I probably really only had time for 2 since I sort of stalled before leaving my house because it was darker than I anticipated).
I ran cul-de-sacs in my neighborhood with my pepper spray. I've been feeling chicken lately.
I concentrated on my stride again. I'm not convinced yet it's the best thing to do. Friday, I am seeing the running coach-recommended podiatrist who does a gait analysis and deals with athletes. I'm hoping he's able to help me.
On the run through my neighborhood, I saw two petite women running. I nodded and smiled.
Nothing.
Hmm. Maybe they didn't see me. Then, as I was heading to go up the hill, there they were (taking the route down the hill, I am adding). I nodded, smiled and said, "Hi."
Nothing.
That so bugs me. You can't even lift a finger to acknowledge me? I know sometimes you are so into your run, it is hard. I've been so focused that I didn't say hello to everyone I passed on a run before. But I have NEVER not reciprocated a greeting. I know most of us are friendly. Just needed to rant.
I added some fartleks on my last mile and it felt good to push myself a little. I finished three miles, then checked my watch: 5:18. Yikes! I needed to stretch still, shower, get dressed, make coffee.
6/16/10 – 3.08 Miles – 30:36
Average pace: 9:56
Mile 1: 10:02
Mile 2: 10:02
Mile 3: 9:43
I hustled home, stretched my calves on my front step, then ran up to the shower. While I waited for the water to heat, I did a couple more stretches. Then I did ankle rolls (both directions) while I washed and conditioned my hair.
Anyway, just as I suspected I did not regret getting up and going for a run. Not only do I feel great afterward, but my skin freakin' glows.
The lack of sleep caught up with me, though, by the end of a busy day. I had to write tons of brand new copy for a bunch of new products today. I was a machine! Tomorrow will be the same.
So I was exhausted by the time I picked up T Junior at day care, but thrilled that Bennie did not crap in his crate. Not cleaning up poop: WIN!
After T Junior went to bed, I did Dimity's Core Workout:
2×25 crunches on the ball
2×15 squats with ball against wall
2×15 pushups on ball (hurt my knee when I fell off the ball on the second set)
2×15 lunges with ball (each leg)
2x 25-sec. planks
tricep dips (1st time: 10; 2nd time: 12 — getting better!)
2×30 oblique twists on the ball
Maybe the most exciting news of the day is that I purchased tickets for Grease Sing-A-Long in July! I'm going with two friends and cannot wait! Should I go as a Rizzo?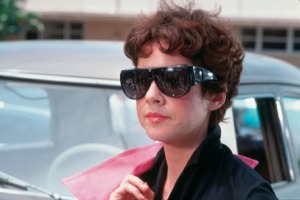 Or Sandy?