A good running buddy can be hard to find, especially for a mom who runs with a toddler most of the time.
That's why I'm lucky to know someone in the exact same situation as I am.
Today, T Junior and I went on a scheduled 2-mile run with my friend and her one-year-old. It's a good match because we both have a little boy to push in a stroller. Well, that and we have tons of stuff to bring with us: snacks, sippy cups, toys, wipes, extra diapers, bibs (which I forgot), sun hats (which she couldn't find), sunscreen and loads of the other stuff moms need. Plus, after the run, we had lunch and then the kids played at the park.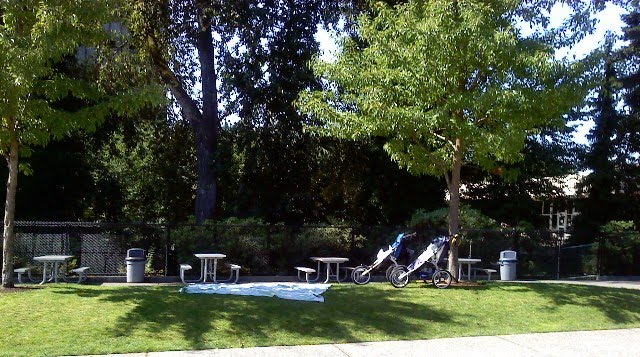 Good thing we ran a couple miles because I brought smoked salmon and she brought homemade tiramisu! I felt like a total northwest girl.
The run was nice, too. I've got a week left of the schedule I'm on before I start a 12-week Half Marathon schedule, which will require more mileage than what I've been doing.
And, it's official. I am registered for the Issaquah Salmon Days 10k!